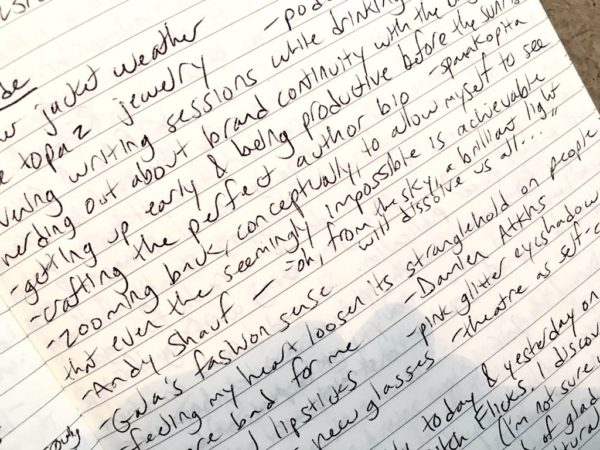 April 11th
So here's what I learned from this break-up:
Firstly, sex and feminism are two hugely important issues for me and they need to be ironed out with a partner before we get serious, put labels on each other, make promises, etc. I can't date someone who denies or perpetuates the patriarchy, and I can't date someone who's not as libidinous, sexually adventurous, and communicative as I need them to be.
Secondly, I need to stop rushing into things. I jumped on this opportunity because I desperately wanted a boyfriend and S___ seemed (through my rose-colored glasses) to fit the bill. My mind filled in the blanks and paved over some problems to round him up to boyfriend-worthy material, when he is so clearly not a good match for me. In future I should give people a trial run of at least a month before we jump to labels and/or commitments, because that's how much time I need to get a sense of compatibility and problem areas.
Thirdly, like many people in our sex-shaming culture, I have internalized the notion that sex problems aren't a "good enough" reason to break up with someone. As if sexual resentments don't bleed into the rest of the relationship. As if sex isn't an important mode of expressing affection, attraction and adoration. As if sex isn't vital to my career, my community, my identity, my happiness. I should not let anyone bully or slut-shame me into de-prioritizing sex, because it is important to me and that is not a bad or unreasonable thing.
Fourthly, maybe I am not as desperate for an emotionally committed partnership as I thought I was. Being emotionally intimate with someone is work and it requires time, effort, emotional labor, and vulnerability. I will be ready to go there again when I meet the right person and when my mental health steadies a bit more, but at the time being, I'd kind of rather my sex life be primarily fun and flirty and light and breezy, rather than weighed down with partners' feelings and baggage. (Cruel, perhaps, but true.)
Fifthly: my friends and family's opinions on my beaux are of great importance to me and color how I perceive said beaux. For the most part this is good, because they have my best interests at heart. But I should be careful not to introduce beaux to the other people in my life too early; it makes it even harder to end things if I need to. They feel so entangled in my life.
August 20th
This morning C___ and I talked over a Sneaky Dee's breakfast about how I think I have to break up with B___. I lamented to C___ that I fear I'm too picky – I never seem to stick with anyone lately, no one's good enough for me – but he told me that a lot of unhappy marriages and nasty divorces could be avoided if folks were pickier. He also said (I'm paraphrasing hugely) that every relationship has a cost attached to it – time, energy, etc. – and if it doesn't replenish/uplift you, then the cost may not be worth it.
It's amazing how C___ can be such a wise mentor to me at times, despite often being a key source of my emotional distress. I started to feel nauseously heavy and sad while discussing B___ with him and it was partly because of the words at the back of my throat that I couldn't say: "No one is as good for me as you. I'm scared that no one ever will be as good for me as you. I'm sad that you still don't want me."
The way in which I like him is dumb and all-consuming.
August 31st
I am constantly and newly amazed by the ongoing discovery that the way I think about a thing – the words I use to describe it, the mental categories I sort it into, and so on – can have such a huge effect on my perception of that thing. See, for example, how drastically my opinion of blowjobs changed when I sort of just decided I liked them. See, too, how these past couple days I've sort of just decided that C___ isn't my crush anymore, and it seems to be working.
Granted, things may be different when I see him in person again. But I've been so good. I haven't looked at his tweets. I haven't texted or sexted or snapped him, though I've wanted to. When songs of his have come up on shuffle, I've shouted "NOPE!" and skipped them. The times he's crossed my mind, I've felt less smitten and more annoyed, disillusioned.
And interestingly, I've felt sane, even lacking the anchor of a central focus on this man. I've been reflecting on how, for a literal year, this crush has felt like the biggest thing in my life. Nothing else has received so much gossipy dissection, creative unpacking and mental energy, so many tears, journal entries and hopeful daydreams. A year is a long time to be that singularly focused on something that was never going to lead to anything. It feels like I've – at least for the moment – broken the spell, escaped the thrall, untangled the web and stepped out of it. It feels like such a relief. It feels like I have so much more love to give and so much more emotional energy at my disposal now that I'm not actively spending it on some insensitive dingus who doesn't deserve it.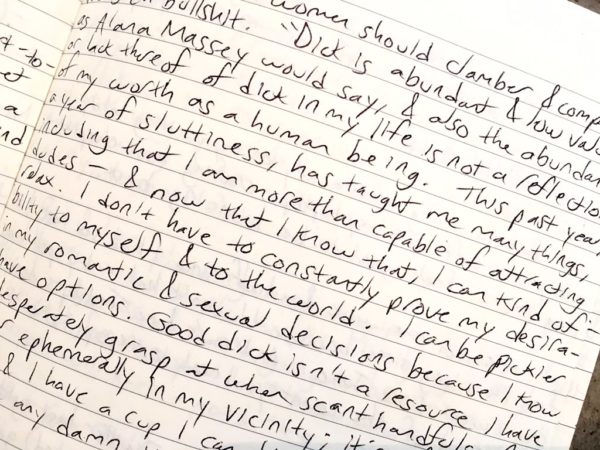 September 2nd
Reflecting a lot lately on the patriarchal myth that the romantic and sexual attention of men is a scarce resource for which women should clamber and compete. It's such bullshit. "Dick is abundant and low value," as Alana Massey would say – and also, the abundance (or lack thereof) of dick in my life is not a reflection of my worth as a human being.
This past year, a year of sluttiness, has taught me many things, including that I am more than capable of attracting dudes – and now that I know that, I can kind of relax. I don't have to constantly prove my desirability to myself or to the world. I can be pickier in my romantic and sexual decisions because I know I have options. Good dick isn't a resource I have to desperately grasp at whenever scant handfuls of it appear ephemerally in my vicinity; it's a free-flowing river, and I can dip into the constant cascade any damn time I want.
September 4th
T___ was flirting with me on Twitter last night, and I was into it, and it made me ponder my own (limited) gayness. I still don't really have a sense of how much of my vagina-reticence is an actual lack of attraction and how much is just anxiety and uncertainty. After all, there was a time, just a few short years ago, when the idea of sex with dudes held very little appeal for me, because it scared me – and now I'm like, GIVE ME ALL THE DICKS! So I wonder if I would take to pussy like a fish in water if I were to dive in and try it out already. Frankly T___ is a total babe and I would be DOWN. Hmm.
What I'd really like is a situation I briefly talked about with C___ earlier this summer: I want the two of us to threesome with a pretty lady (N___ or T___, ideally) and for him to watch over me and give me advice/direction as I do stuff to her. I don't know what it says about my kinks or my "daddy issues" or my concept of C___ that I want him to play a watchful-mentor role in my sexytimes, but to me that just sounds so lovely and comforting.
(I know, I'm not supposed to be writing about him or thinking about him, etc. but this is in a mentor capacity and not a person-I'm-in-love-with capacity, soooo…)
October 24th
So, I don't feel especially romantic or sexual toward C___ anymore, but I do still feel emotionally fixated on him, and it's weird to parse and process that distinction. Every moment I spend with him feels critically important and worth memorizing, and once I say goodbye to him, I typically enter into a mini-depressive episode that lasts 12-48 hours or so. I keep trying to figure this out. I think it's for two reasons:
1. My brain is just used to responding to him in this way, like how alcoholics probably get a little boost of dopamine when they see or smell booze. Habit and conditioning and all that. Bex compared this to how my iPhone thinks I mean "duck" when I type "fuck"; there's nothing for it but to keep gently correcting its mistake until it learns. And likewise, I just have to keep gently reminding my brain that C___ is not the perfect, everlasting source of comfort, happiness and rightness that I once believed him to be.
2. We have almost the exact same sense of humor; he is really funny and smart in a way that just jives with my brain – that's not my dumb crush talking, that's just factually true, unfortunately (?) – so the emotional "drop" after that intense level of joy and amusement can be rough. But I guess I just have to reorient my thinking around that. When I go see an improv show that makes me laugh a lot, I don't mope around afterward because the show is over and I'll never get to see it again; I just appreciate that I DID get to see it, and I pursue yet more things that will make me happy. Life is a processional; you can't stop or look back. It doesn't work. You trip and fall and get trampled and hurt yourself. Keep walking, ya dummo.