It's the 21st century, so our lives are documented most vividly in hastily-snapped smartphone selfies. Flipping through the selfies folder on my phone is an emotional journey: big smiles, momentous days, fond memories. It was hard to choose just seven selfies to tell the story of my year, but I think these are the best ones to do that.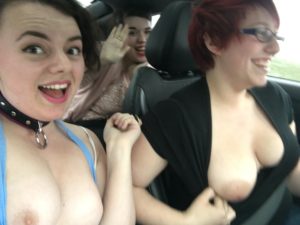 In April, I went on a road trip to Minneapolis by way of Chicago, with Bex, Taylor, and Caitlin. There were some long, long days of driving – days when we'd be on the road for 10 or 11 hours at a time. We rarely got bored, because we had each other's company and our phones to keep us entertained (except when Bug Tussel fucked up our cell service briefly), but at one point the road became so monotonous to me that I began sexting a fuckbuddy back home out of sheer desperation. He politely requested a boob selfie from me and Bex, and we reminded him, "Subs respond better to direct orders!" The reply came back, "Okay: topless pic. Now." In the middle of a rainstorm on a highway somewhere in Wisconsin, we whipped our tits out and snapped this silly shot (with Caitlin in the background). "That was like the boss fight of nudes!" Bex declared afterward.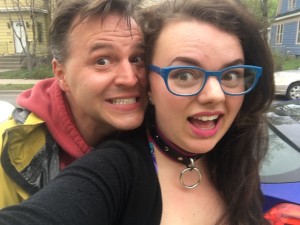 Remember that time I met one of my lifelong heroes, Kidder Kaper, while visiting his hometown in the midwest? Remember how he drove me back to my Airbnb and then asked me if I wanted to kiss?! Remember how, immediately after that kiss, we got out of the car and took a bunch of goofy selfies together? I will treasure these shots forever, I'm sure. This one, in particular, makes me smile. Kidder looks as impassioned as ever, and my facial expression is the exact blend of delight and astonishment I was feeling about the whole situation.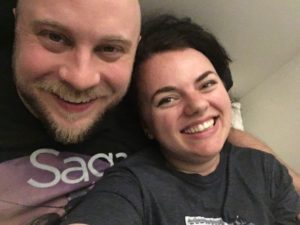 My friend Brent is one of my favorite people on earth. We connected on Twitter by chance last year when I started listening to his podcast and tweeting at him. Then we met in person when he spent some time in Toronto developing Use Your Words, and instantly bonded over a shared love of showtunes, good booze, and bad puns. (Plus he understands that I am the Queen of Wands.) We took a fair number of selfies together this year, at various shindigs, but this one is my favorite. That glowy, giggly grin on my face? That is how happy this dude makes me, with his jokes, his songs, and his friendship. (Sorry-not-sorry fer gettin' all sappy on you.)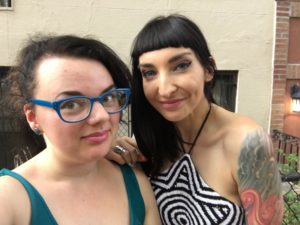 It was pretty freakin' momentous for me to meet Gala Darling in person this year; she's been my hero since I was 15. She was preternaturally kind and encouraging, at a time in my life when I needed her exact brand of tough-love mentorship even more than usual. We snapped this selfie together on an East Village side street while waiting for Gala's astrologer friend to come meet up with us. It's cliché to say I felt like I was dreaming, but I did: how else could I possibly be in New York City with my role model/spirit mama?!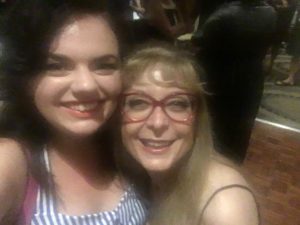 I was stoked as hell to meet porn legend Nina Hartley at the Woodhull Sexual Freedom Summit. She was a total sweetheart and I now have bragging rights for the rest of time. But what I think about, when I look at this photo, is the minutes that led up to it. I'd told Bex I wanted to meet Nina but was too nervous to go and talk to her. Bex, ever an encourager of my dreams, calmly told me that I was going to go talk to Nina; there were no two ways about it. Bex grabbed my hand, led me over to Nina, and introduced me to her. I feel so blessed to have friends who care about me enough to give me tough love when my anxiety is being an idiot. If not for Bex, I never would've gotten to tell Nina about that time my first boyfriend quoted one of her videos when going down on me!
When I was targeted by a bunch of misogynist trolls in July, one of them wrote a blog post about me and gleefully linked to this photo of me in my Aslan Nicki harness as if it were some horrible, disgusting thing that could not ever be unseen. I had to laugh when I clicked through and saw which photo he'd linked to. It wasn't anything I'd consider ugly or embarrassing; in fact, I look babely as hell in this picture. I felt hot that night and wanted to celebrate it, commemorate it. That's why I took this shot; that's why I take most of the selfies I take. Never let anyone shame you for expressing your glorious, gorgeous self in a reverential self-portrait; you deserve to be immortalized in this way.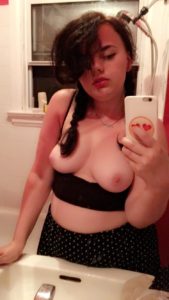 The night this was taken, my friend Cadence had invited me over to catch up, which amounted to me basically crying at her about boys all night. We ordered sushi, drank a lot of whiskey, and I told her about the rejections, break-ups and betrayals I'd been through recently. Getting that all off my chest, and laughing with my oldest friend, made my problems seem surmountable for the first time in a long while. I ducked into her bathroom, glanced in the mirror, and saw a foxy babe staring back at me, instead of just a hollow, depressed shell of a girl. So I pulled my shirt down, fluffed up my hair, and snapped this shot. I felt powerful, defiant, and uncharacteristically capable. I felt like things were going to be okay.
What are your favorite selfies you took this year?