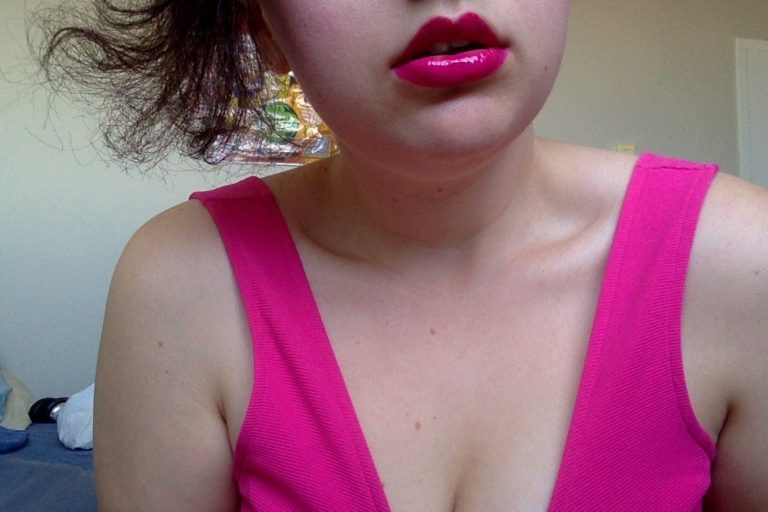 December is here, and therefore, so is 12 Days of Girly Juice, my year-end wrap-up series! In the next month, I'll summarize my whole year in selfies, sex toys, sexual encounters, tweets, and more. But today, we begin with a subject that's dear to my heart: beauty and fashion! Here are my top 12 must-have femme items of 2017…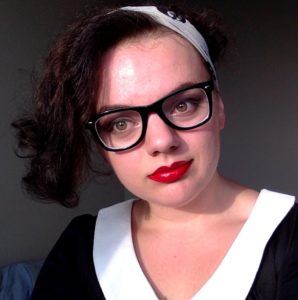 Giorgio Armani Rouge d'Armani lipstick in "Lucky Red"
Last November, I went to Rome with my mom, and it was momentous. All day every day, we walked around that ancient city soaking up world-famous sights. It was almost too much beauty and history to handle, and made me feel like I was buzzing right out of my body with deep glee and meaning.
One day, we visited the Spanish Steps. Sitting on those stairs surrounded by other tourists, I felt called to buy something that would remind me of this place. I didn't want gimmicky miniatures or boring old postcards, so I did what any consumerist femme would do: I walked into Sephora. (Yes, there is a Sephora opposite the Spanish Steps. Yes, it is a strange, anachronistic place. It's like femme purgatory: surreal and always bustling and highly unlikely.)
I wanted a lipstick, since that's the cosmetic item I use most often and also the one I associate most with glamour. I figured it would make me happy in subsequent months to be able to think of said lipstick as a souvenir from glorious Rome, and to tell people that when they asked about it. Suitably, the one I went with was by Italian brand Giorgio Armani. It's a cool-toned, bright red that makes me feel like a 1950s movie star or a high-gloss spy. It goes on satiny and dries to a slightly more matte crimson that stays put better than almost any other lipstick in my arsenal (which it damn well better, for $43). It's my favorite red lipstick I've ever owned, and I have owned a lot. And that mystique only has a little to do with where I bought it.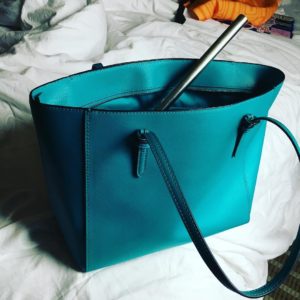 Coach turnlock tote in turquoise crossgrain leather
I bought this on sale for half-price last holiday season, and it has served me well all year long. Not only is it the most aggressively, delightfully vivid shade of turquoise I've ever seen, it's also roomy enough for almost all my various adventures. I've taken it as an overnight bag to sex-dates at beaux' houses, as my carry-on when shuttling back and forth between Toronto and New York, and as a gig bag when en route to photoshoots or porn-y events that required wardrobe changes. It has lots of pockets, which I tend to stuff with extra tissues, mints, love notes, bobby pins, lipsticks, vibrators, business cards, supplements, and lube samples. It's my dream bag and I adore it.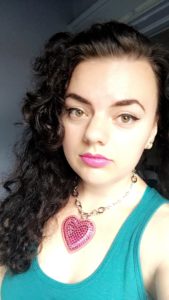 Tarina Tarantino heart necklaces
I have three of these now: one small purple/green/turquoise one, one larger one emblazoned with Queen Alice, and (my favorite) one giant pink sparkly one that attracts stares and compliments wherever I go. I bought the Alice necklace direct from the company during a sale, and snapped up the other two on eBay, since they seem to have been discontinued. They make me happy every damn time I wear them.
My heart necklaces function like day collars for me: they sit heavily around my neck, grounding me, reminding me of how good I am, keeping me on task. In times of emotional turmoil, they also feel like shields for my heart, deflecting negative energy and keeping me safe. I hope to collect a couple more – maybe a blue one and a black one – because we all need more sparkly hearts in our lives!
Perfume
It's hard to pick a specific perfume here, because I've loved so many this year! Under the influence of The Dry Down, a mega-poetic newsletter about the philosophical and emotional side of perfume, I started buying perfume samples galore to try out. This is much cheaper than committing to full bottles of particular scents, and also makes more sense with the mercurial way I tend to fall in love with a perfume for a while, then move on to a different one.
Some of my 2017 fragrance faves: John Varvatos, a spicy, masc-leaning gourmand. Leatherstock, which smells like straight-up leather and which I like to combine with other scents for an extra kinky dimension. Tom of Finland, which is like pressing your nose against the pheromone-laden skin of someone attractive and comforting. Memoirs of a Trespasser, the scent of a rugged, babely adventurer come back home to roost. Carnal Flower, which smells like (per Helena Fitzgerald) "monied femininity." Good Girl, a somewhat heavy, almost overbearingly feminine scent that reminds me of slutty honey. And most recently, Noel au Balcon, a hyper-festive wintertime scent that reminds me of cloves, oranges, honey, and the champagne-fizzy excitement of a tipsy conversation with an interesting stranger at a holiday party.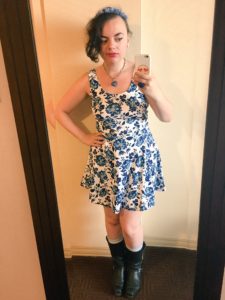 H&M skater dresses
H&M did a wonderful thing this year: they made what is basically the perfect dress, as far as I'm concerned, and released it in 15+ different colors and prints. Best of all, they priced each dress at $15.
I own said dress in 10+ different colorways now, and they get more wear than practically anything else in my closet. They're just exactly what I want from a dress: comfortable, flattering, versatile. This year I wore them on dates, to shows, in photoshoots. I danced in them, kissed in them, partied in them, even occasionally fucked in them. They are perfection and I'm so glad I stocked up.
Yo Sox
Last month, I settled in for a phone sex session with a handsome gentleman, and he asked me – as phone sex suitors are wont to do – what I was wearing. I'd promised to wear something nice for him, something that made me feel sexy, even if he wouldn't actually be seeing it. "I'm wearing a T-shirt, some panties, and a pair of kneesocks," I told him, truthfully. He made a sound that was half-gasp, half-growl. I smiled.
My enduring love for knee-high and thigh-high socks comes partly from the predictable reaction they get out of many men, and partly from how they make me feel in my kinky little heart. When I'm putting together an ensemble designed to make me feel like a babygirl, girly socks are a vital part of the look. This year I discovered Yo Sox, a company that sells whimsical socks both online and in their brick-and-mortar store on Toronto's Queen Street West, and I swiftly fell in love. It's hard to feel sad when there are unicorns or whales prancing across your feet!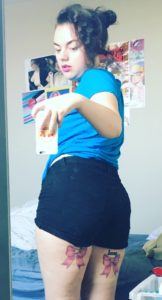 Tiny black shorts
Another H&M acquisition, I bought these minuscule shorts for $15 on an impulsive shopping trip in April. They ended up being a go-to for me all summer, garnering tons of compliments and making me feel cute in a way I rarely feel when my chubby bod is being shown off so flagrantly. They work well with crop tops, bralettes, and even over tights for a more cool-weather-appropriate outfit. I even wore them a lot while mired in post-breakup depression, because they felt effortless and accommodating.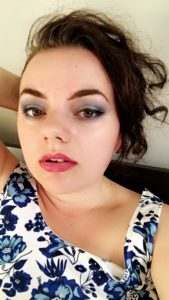 BH Cosmetics Smokey Eyes palette
I didn't do full-on fancy faces as often this year as I have in previous years, because frankly, most of the time I just couldn't be bothered. But I did buy this eyeshadow palette on the recommendation of a femme friend, and it has served me well for many dress-up occasions this year.
The deep blues and purples flatter my hazel eyes. The silvers and greys allow for striking smoky looks. The pinks fulfill my deepest femme desires. In summation: this palette rules.
BH Cosmetics spooley brush
Another great find from this cosmetics company: the best eyebrow brush I've ever used. I've written before about Anastasia Dipbrow, my go-to brow product, but I've neglected to mention the importance of the brush you use to apply it: Dipbrow is finicky as hell and you gotta have your tools on point. This one has a spooley (i.e. eyebrow comb) on one side and an angled application brush on the other, so I can flip back and forth quickly between shaping my brows and filling them in. I use this every day and it has made my makeup routine both more efficient and more joyful!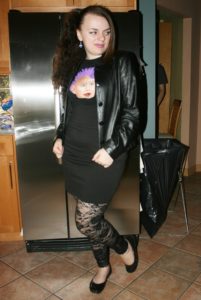 Danier vintage leather jacket
Leather was important to my aesthetic this year. In fact, I'm possibly developing a bit of a leather kink (she wrote, having recently fallen asleep cuddling a leather impact toy to her nose so she could smell it all night long). One of my most beloved leather possessions is a jacket I inherited from an older cousin years ago. It's simple, sexy, and classic. And it makes me feel like a total badass.
Many times, I've considered upgrading to a more classic motorcycle style, but having tried on many such jackets, I think they're boxier and more boyish than I can comfortably pull off. The blazer-esque fit of this one seems to match my aesthetic better and I like it. Although, I must say, if I ever encounter a hot pink leather biker jacket, I might have to buy it on the spot…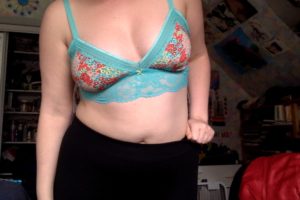 Lacy bralettes
There is something about cute bralettes that makes me feel adorable and put-together even if I am essentially wearing underwear in public. My favorite ones are by Aerie, as they strike a balance between aesthetics and comfort that one rarely encounters in the realm of lingerie. Most of the ones I currently own are either turquoise or pink (how predictable) so I'd like to expand my bralette color palette in the coming months. Maybe I need one in red, yellow, or black…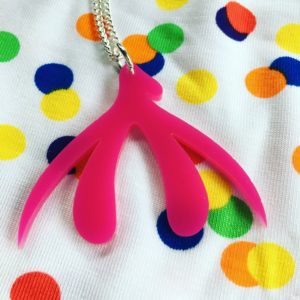 Animal Hair internal clitoris necklace
I bought this necklace to advertise my sex-nerdiness and it certainly does the trick. Everywhere I go, people either say, "What is that?" or "Oh my god, it's the internal clit!" I enjoy the way its hot pink shade sets off pink lipstick and pops against all-black ensembles. Animal Hair makes a light blue one too, so I think I'm gonna expand my clit collection in the new year!
What were your favorite fashion and beauty items of 2017?