12 Days of Girly Juice is a year-end celebration of all things girly, sexy, pleasurable and fun. Y'all know the kind of stuff I write about: sex, relationships, beauty, fashion, self-improvement. That's the stuff I'll be highlighting on this here blog, in big juicy year-end lists, for all of December. Today, we begin with femme goodness. Enjoy!
I have the type of personality where I get obsessed with things for short periods of time and then move on. That's especially true when it comes to objects designed to be used up, upgraded and replaced, like beauty and fashion items. (Oh, dat consumerist escalator. It never stops!!)
That said, there are some femme obsessions that endured through most or all of my 2015. Here are some of them…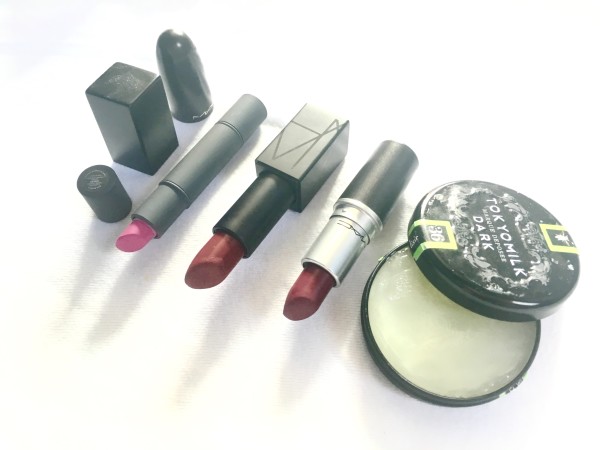 Lip Products
If I ever stop thinking Bite lipstick in "Violet" is the most beautiful hot pink I've ever seen, you have my permission to check my pulse to make sure I'm not dead. Because I have a feeling I'll be in love with this babe for a very long time.
Creamy, pigmented, and long-lasting, its formula is so gloriously on-point that I can throw it on and not worry about it for the rest of the night. And the shade – somewhere between fuchsia, purple, and Jem-and-the-Holograms neon pink – lights up my whole face and just makes me feel like me.
Another favorite lip hue this year was NARS Audacious lipstick in "Charlotte." I stalked it on swatch sites, ogled it at Sephora, mercilessly Googled it, trawled its Instagram tag. I was a girl possessed. When I finally got my hands on it, it wasn't quite all I had hoped – it gets crumbly and patchy if I dare to drink a coffee while wearing it, let alone eat an actual meal – but that color. Oh, that color. It is the sexy cranberry of my most glamorous Christmasy dreams. I dutifully reapply as needed, even if that's 3 or 4 times a night, because it makes me feel like a starlet in a climactic, snowy love-confession scene.
My lipstick list would not be complete without MAC's "Fashion Revival." It came out in MAC's limited-edition Matte Lip collection and I SNAPPED THAT SHIT UP because it is the most, most, most perfect fall/winter color. Described as a "deep raspberry," it's somehow a pink with all the drama and glamor of a great red. Fuck. Yes.
While TokyoMilk Salted Caramel Lip Elixir doesn't lend any color to my lips, I had to include it in this list because it's been my go-to "gonna-get-kissed-tonight" product since I got it. It's thick and moisturizing without being sticky or gross, and of course, it tastes like caramel. I've known a lot of boys who refuse to kiss lipsticked ladies, but it's hard to turn down kisses from someone who tastes this good.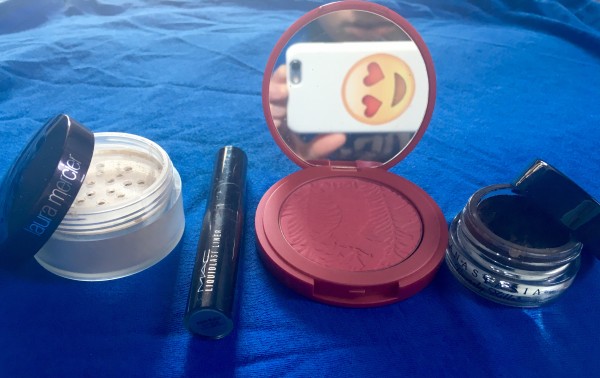 Other Makeup
Laura Mercier translucent loose setting powder was a recommendation from Jaclyn Hill and I'm sure glad I listened to her. I dust this on top of my foundation with a brush, or pat it on with a makeup sponge, and it keeps my face oil-free for… well, until I next wash my face, whenever that might be. As someone whose T-zone would ordinarily make a fantastic Slip 'n' Slide for tiny people, I have to say this is pretty damn impressive.
MAC Liquidlast eyeliner is the real deal. Cry, walk through a rainstorm, sweat, rub your eyes, get fucked with your face buried in a pillow, and the rest of your makeup may smear but your eyeliner will still look fresh as hell. It's gloopy and hard to apply and the brush is weird, but it's still the only eyeliner I'll wear if I think I might be crying, sweating, and/or having sex. Which, let's face it, is most days.
I used to be terrified of blush, because I blush a lot as is. Tarte Amazonian Clay blush in "Natural Beauty" converted me, though. It's super pigmented and easy to blend, and the color really does look natural. It also straddles the line between pink and red, so I can pair it with just about any lipstick. Perrrrrf.
I would be remiss to leave Anastasia Dipbrow Pomade off this list. It's such a daily staple for me, such a given and a must-have and a "duh!" part of my beauty routine, that I almost forgot it. But it is vital to my look. My eyebrows are like Samson's hair: without 'em, I'm nothing. Thanks, Dipbrow, for another year of power brows.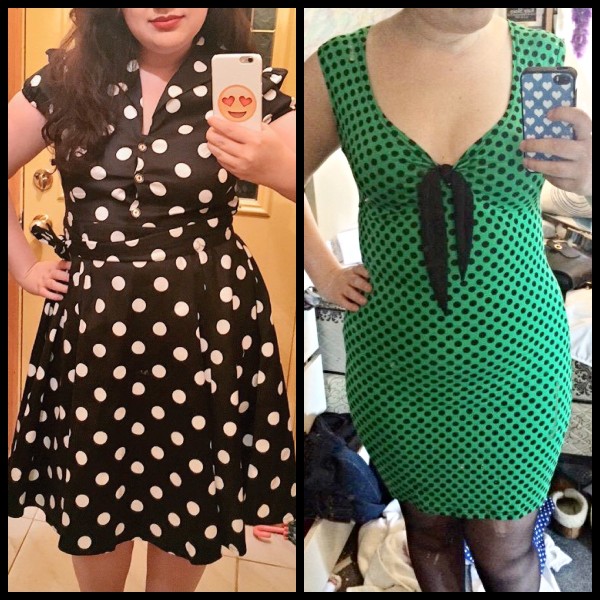 Clothing
I'm cheating a little by lumping all my polka-dot dresses into one item on this list. OH WELL. When I look back at what clothing made me feel reeeeal femme 'n' fabulous in 2015, these dresses take the cake. I bought blue and black ones at Loveless Boutique, a goldmine of rockabilly gorgeousness I serendipitously discovered next door to my hairdresser's salon one day. The green one was a thrift-store score, and makes me feel like a Scooby Doo character. Too lovely!
I've been obsessed with thigh-high socks for a long time, but this was the year when I started wearing them on a regular basis. Whether rainbow-striped or sporty, from American Apparel or Sock Dreams or anywhere else, I just love them. And as a bonus: in my experience, wearing thigh-highs gets you a lot of sexual attention…!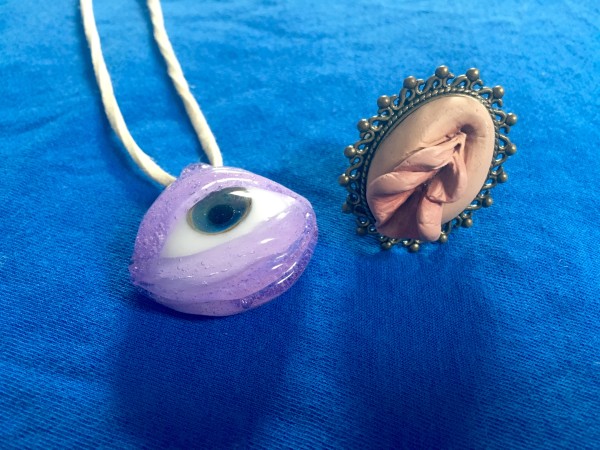 Jewelry
If you've seen me in person at a sex-related event in the past few months, I've probably forced you to look at my vulva ring. It's a custom job from Catstache Accessories and I'm obsessed with it. There is nothing quite like the reaction I get from people when they realize it's a vulva… and then when I tell them it's my vulva, specifically.
My other fave accoutrement this year was my eyeball necklace. I spotted the pendant in a display case at the Lincoln City glass studio where we made our own glass dildos, and it was so strange that I just had to have it. I threaded it onto some white suede string and now it often holds a place of honor between my breasts, staring creepily back at anyone who dares to ogle me.
What were your favorite beauty-and-fashion items in 2015, my loves?