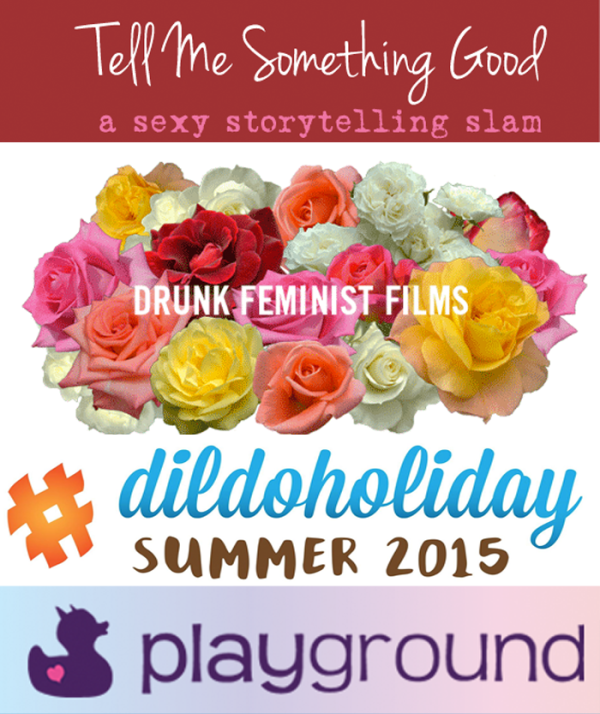 I'm so, so lucky to get invited to cool sex-positive events on the regular. One of the key ingredients of happiness is having something to look forward to, and I always do, thanks to these events.
It was hard to choose the 4 that I loved most in 2015, but these were really the ones that transformed my life the most, gave me the most fun and laughter, and brought me together with incredible people.
Tell Me Something Good
I attended my first TMSG in December 2014, as a guest judge – and immediately, I was hooked. It's a sexy storytelling event; there's a different theme each month, and attendees can volunteer to tell their best (TRUE) sex story related to the theme. Judges appraise the stories and the best ones win prizes at the end of the night.
Despite there being judges and scores, there is no sense of competition at TMSG. It's all about community, commonalities and commiseration. Stories can be funny, or sweet, or sad, or strange – or all of the above. The only rules: stick to the theme, stay under 5 minutes (unless you're really interesting), and keep oppressive -isms and -phobias out of your stories.
I've never once had a bad experience at TMSG. Never has someone told a story that made me uncomfortable, or reacted to my stories in a gross way. Getting sexual sagas off my chest at TMSG has become a monthly ritual, a joy I avidly look forward to. The community there is like this cool little club that comes together monthly just to reassure each other: "Yeah, sex is weird. But that's okay."
Drunk Feminist Films
I first attended DFF when they screened Fifty Shades of Grey back in April. It's an idea so simple and yet so genius: a bunch of feminists get together in a movie theatre, feminist drinking game rules are distributed, and everyone (optionally) drinks their way through a gender-problematic movie.
Here are some samples of DFF rules. Drink every time Anastasia Steele tells Christian Grey what to do and he does the exact opposite. Drink every time one of the characters in Bridesmaids does something that would get them arrested (or worse) if they weren't white. Drink every time a woman in Love Actually sacrifices her happiness to take care of someone else.
But DFF doesn't just tear down troubling shit; it also celebrates what's good in the movies it highlights. We were encouraged to twirl tampons in the air and shout "AGENCY!" every time Ana Steele made her own decisions, and we chorused "BFFs!" each time female characters supported one another in Clueless. Even though most of the movies shown at DFF are dumb comedies or dry dramas, I've found tears welling up in my eyes at almost every screening, because the feeling of feminist solidarity packed into that cinema is palpable.
A common criticism of the feminist movement is that we're "too angry." And yeah, it's perfectly reasonable to get angry – nay, furious – with the state of gender equality in the world today. But anger is exhausting. Sometimes I just want to laugh and drink and relax in the company of other feminists. That doesn't make me less of a fighter for the cause; it just makes me human. DFF understands that, which makes it one of my favorite events and most valued spaces of 2015.
DildoHoliday
Seven sex bloggers walk into a beach house…
Nope, that's not the beginning of a joke. That's what happened at DildoHoliday. It was a bloggers' retreat organized by Piph, Bex and Aerie, and it was, without a doubt, one of the highlights of my 2015.
I finally got to meet all these people I had only known through the internet, and they became much more real to me. Those friendships deepened and became some of the most solid and supportive alliances in my life.
For days on end, we laughed, watched porn, posed for nude photos, masturbated, skill-shared, live-tweeted, and lounged around. We made our own dildos, snapped endless sex toy photos, and pranked each other with a stone cherub.
Being around like-minded people is relaxing in its own right, so combine that with an idyllic environment like an Oregon beach house and you've got a recipe for a super rejuvenating vacation. I truly feel like these memories and friendships will stick with me for life.
Playground Conference
It's an oft-repeated piece of wisdom amongst my friend group that sex conferences are usually fun because of the people and the after-hours events, not so much the actual conference sessions. Playground did what few conferences can do: both the sessions and the "extracurriculars" were fun, informative, and enlightening.
It was one of the best weekends of my year. I got to spend time with friends visiting from afar, have big delicious meals at brunch restaurants, and ogle steel dildos in the expo room. I had an impromptu threesome, a sex-tinged hotel-room cuddle pile, and a quiet late night getting sleepily fingered by a dom gentleman. I learned about sex and depression, sex and self-care, sex and gender identity.
At the end of the weekend, I was exhausted, but I also felt pumped up with new knowledge and new experiences. It was, in short, exactly what a sex conference should be.
What events rocked your world in 2015?