Yes, it's that time, folks… Time to reflect back on 2015 and choose the toys that most tickled my fancy and improved my life. If you've been following along closely, you can probably guess most of these in advance. Oh wellz – here they are!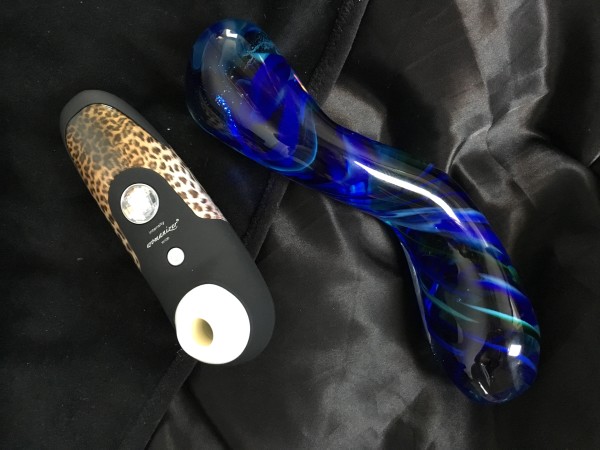 9. The Womanizer has a terrible name, costs a prohibitive amount of money, and is 100% the ugliest sex toy I've ever seen. But (she admitted with a sigh of resignation), it also produces a sensation that is certifiably unique and quite often orgasmic. So, while it needs a massive branding overhaul, it still snuck into this list because when I want it, I need it. (Available at PinkCherry US, PinkCherry Canada, SheVibe, and Sex Toys Canada.)
8. Is it cheating if I put a toy on this list that I've only used one time? My one-of-a-kind, handmade Seaside Steamroller is too humongous for my vagina on all but the limberest of days, but it's so beautiful that it works well as a display piece nonetheless.
7. I've wanted a Liberator Throe since this blog first launched; I'm so glad I finally got one. It keeps me from soaking through to my mattress on the rare occasions that I squirt, and it's also surprisingly classy and discreet-looking when draped across my bed. Just as long as nobody sits on it and notices the crinkly texture, that is. (Available at SheVibe.)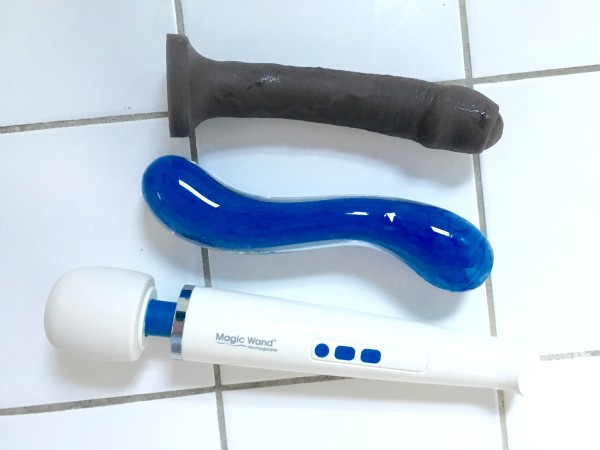 6. The Tantus Uncut #1 was my favorite realistic dildo of 2015. Pleasantly girthy, adorably realistic, and comfortably squishy – Tantus totally hit the mark with this one. As a sex toy reviewer, sometimes I get blasé about cocks, but this one was worth getting excited over. (Available at Tantus, PinkCherry US, PinkCherry Canada, SheVibe, Peepshow Toys and Sex Toys Canada.)
5. The Fucking Sculptures Double Trouble is incredible. My A-spot and G-spot are obsessed. Designed in a collaboration between porn maven Courtney Trouble and artisanal glass dildo geniuses Fucking Sculptures, it truly is "where art meets sex, then fucks itself."
4. "Don't call it a comeback…" Everyone's favorite wand vibrator, ye olde Hitachi, got revamped and relaunched this year as the Magic Wand Rechargeable. It's one of the most reliable vibrators I've ever owned. Maybe that sounds boring, but it's not. It gets me off, easily, quickly, consistently, and often through my pajama pants. And that's quite a feat. (Available at PinkCherry US, PinkCherry Canada, SheVibe, Peepshow Toys and Sex Toys Canada.)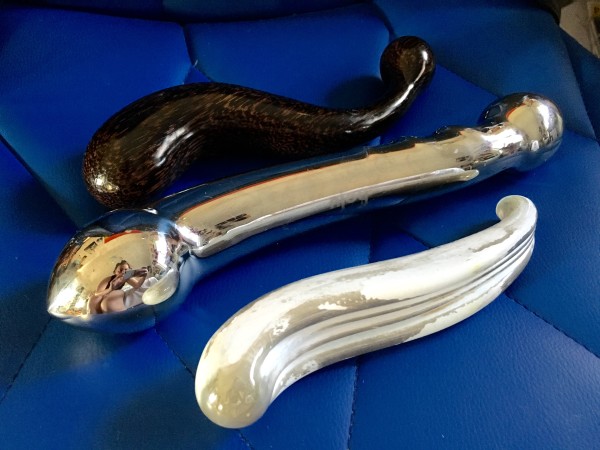 3. My G-spot kinda spasms in delight at the very thought of the NobEssence Seduction. It hits my spot so perfectly, so completely, so intensely that I often come in a couple minutes or less. It's also freaking gorgeous and feels like a luxury item. Mmm, NobEssence. (Available at SheVibe.)
2. My acquisition of the Njoy Eleven was like a romance in a teen movie. People told me to stay away. I tried to resist, but then I gave in. Then I fell deeply, swiftly in love. And it was a love like no other. How can this toy hit my G-spot and A-spot simultaneously?! How can it leave me feeling as sated and breathless as if I'd just been fucked by a 6'2″ muscly dom dude in a leather jacket?! How can an object so perfect possibly exist in the real world?! (Available at PinkCherry Canada, SheVibe, Peepshow Toys and Sex Toys Canada.)
1. Bury me with my Fucking Sculptures G-Spoon in my vagina. If I've gotta die, I might as well get stellar A-spot stimulation from here to eternity. Seriously, this toy hits my deep spot better than any other I've ever owned, and it does it all while being stunningly beautiful. I will never stop fawning over the G-Spoon. It is my love, my everything, my addiction, my obsession. Blah, blah, blah, just buy one already! (Available at SheVibe.)
As you can see, it's been a pretty good year for sex toys! What were some of your favorites in 2015?