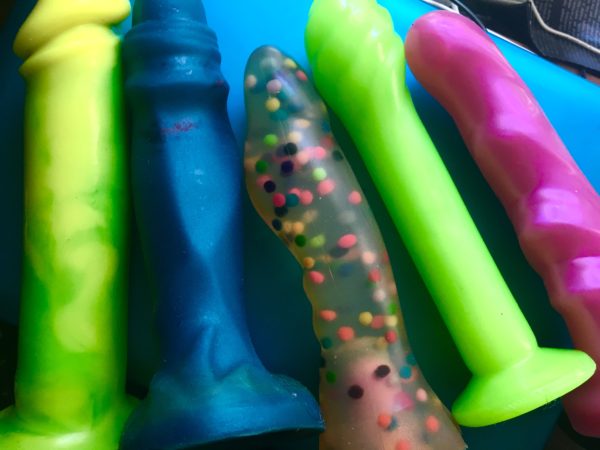 You always remember your first… The first sex shop you went to, that is.
Mine was well-lit and well-stocked. Friendly sales associates checked in with me just enough to make sure I was doing okay. Products were labeled descriptively and helpfully. I felt neither rushed nor judged as I perused the wares, picked out what I wanted, and paid for it.
I don't recall many details, because what matters is how that shop made me feel. Sex is so tied up in our emotions – everything from shame to joy – that a sex shop needs to not only be good but feel good, too. You are giving these businesses not only your money, but also your vulnerability and your trust. They have to earn that shit.
Here are five ways that sex shops can prove they've earned that shit.
They emphasize body-safe products. Despite the known dangers of phthalates and porous toys, some shops continue to sell products that are demonstrably unhealthy. Jelly vibes, rubber dildos, butt plugs that lack a flared base, lubes chock full of glycerine, "numbing" creams for anal sex – none of these things should be present in the stock of a decent sex shop. High-quality shops carry toys made of body-safe materials like silicone, hard plastic, glass, and stainless steel. Your body deserves only the best, and trustworthy shops know that!
They offer plentiful, accurate information about their products. Brick-and-mortar shops should have salespeople who are knowledgeable about toy materials and how their products can be used (both on- and off-label uses). Online shops should list product materials and/or ingredients on each product page, so you can make informed decisions. You shouldn't have to ask a barrage of questions or click through a zillion pages to find the information you need: good shops want to equip you to make the best sex toy decisions for you. This should be true whether you're buying something small, like a bullet vibe, or something pricey, like a fancy realistic dildo.
Their language is sex-positive and inclusive. It's problematic as hell to say (or even just to imply) that only women have vaginas, only men have penises, all couples are cis straight couples, all bodies are thin and mobile, or every member of "x" group likes "y" sex act. Sex is a sensitive topic, full of nuance and variation, and the employees of any good sex shop will be aware of that. Steer clear of shops whose salespeople, marketing copy, or website makes assumptions about what kind of body you have or what kind of sex you have. Also avoid any shop that plays up themes of "naughtiness" or shame around sex – you deserve to get your toys from stores that ensure they're accessible, joyful and welcoming for everyone.
Sex toy professionals speak well of them. Some shops send products to reviewers (like me!), and our opinions on those shops will tell you a lot about them. Ethical companies treat their reviewers, suppliers, affiliates and colleagues with respect and kindness. You already know we're a wealth of information about sex toys themselves, but we also know shit about companies and shops. If you're looking for a quick opinion, ask a sex toy pro who you trust!
They fix their mistakes. I've seen sex shops make countless missteps, from partnering with transphobic corporate sponsors to abruptly changing their rewards program to accidentally invoking sexual assault in their newsletter. The measure of a good shop is how they react to these mistakes. It's no good to sweep errors under the rug, tell complainants they're overreacting, or shut down the dialogue entirely: shops should step up and take accountability for what they've done, express genuine regret, and explain how they're going to do better in the future. This is about so much more than sex toys; it's about creating a shopping environment that feels safe and respectful. That is absolutely vital, especially in the sometimes-fraught world of sex.
What are your red flags and green lights when it comes to sex shops?
Sponsored by EdenFantasys.com