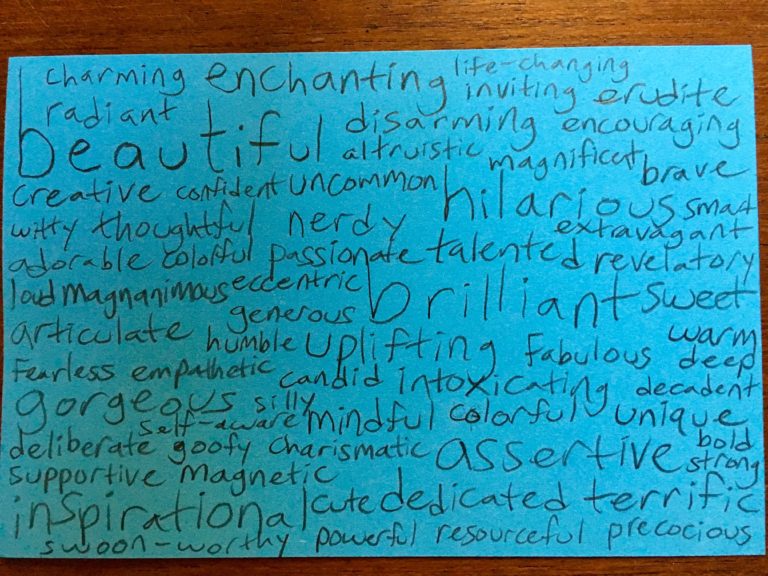 I remember when I first encountered the concept of love languages. I read about it on Gala Darling's blog, where she hyped this idea as "one of the most useful — and simple — things [she's] ever learned to help strengthen romantic relationships." As I delved into researching the love languages, I quickly came to agree with her.
The basic idea of love languages – as laid out by Dr. Gary Chapman in his book on this concept – is that we all have one or two ways we predominantly express love, and that we tend to also feel most loved when we receive affection in our native love language(s). Some people express and receive love in different ways, but in my experience, most people show their feelings for you in the way(s) they would like you to show your feelings for them.
I've taken the love languages quiz a few times over the years, and it's always confirmed what I already know: my two dominant languages are "words of affirmation" and physical touch, in that order. (Incase you're wondering, the other languages are acts of service, quality time, and gifts.) Touch is important to me – as you might have noticed from all the mushy, starry-eyed things I write about sex! – but words are even more crucial to me. (Hell, that's probably part of why I'm a writer.) When I like someone, I tell them so – and I don't really believe someone likes me unless and until I hear it from them, in their own words. Ideally frequently!
When I've felt unappreciated in past relationships, it's often helped to explain this concept to my partner(s). Once they grasp just how important words actually are to me, they can (and often do) adapt their approach accordingly. And I can shift the way I express my feelings to better suit their love language, too.
If you're dating someone whose love language is words of affirmation and you're not so good at expressing yourself verbally, don't worry – I've got some suggestions for you! These work for me, and I can't guarantee they will work for you or your partner(s), but they're at least a good starting point. Here are some ways a partner can make a person like me feel loved and appreciated with their words…
Tell them what you like about them. You may think it's obvious and goes without saying that your beau is smart, funny, attractive, and so on, but if their love language is words of affirmation, they need to hear this from the horse's mouth! Try to use unique, deliberate language, rather than generic compliments that are likely to go in one ear and out the other.
Examples:
"Your lips are so pretty. Every time I look at you, I just wanna kiss 'em."
"When I first met you, I was drawn to you because of how confident and self-assured you are."
"I love that you're so smart. Our conversations are always so interesting and thought-provoking."
Tell them stories. For a person who values words, stories are often also important. Narratives help us arrange information in our heads and understand things better. You might think it's pointless to tell your lover a story about your relationship – after all, they were there, too! – but they might find it thrilling and affirming to hear your perspective on something the two of you experienced together. It'll help them get inside your head and see themselves through your eyes.
Examples:
"God, I was so nervous before our first date! You looked so cute on your OkCupid profile, and you seemed so much smarter than me. I practiced introducing myself in the mirror for like twenty minutes beforehand and changed my shirt three times…"
"Remember the first time we had sex? I was so excited to see you naked for the first time, and to learn how to get you off…"
"I remember the exact moment I realized I'd fallen for you. It was when we went on that date to the aquarium. You looked so stunning in the cool blue light, staring up at the jellyfish…"
Talk dirty to them. I'm not sure if a person's "love language" is always also their "sex language," so to speak, but in my case, it definitely is! A linguistically-oriented partner is likely to love it if you whisper in their ear about what you're gonna do to them later, pay them a vulgar compliment while yanking their clothes off, and monologue filthily at them while you fuck. They'll enjoy it not only while it's happening, but also later, when they replay your words in their mind while masturbating, or breathlessly record them in their journal…
Examples:
"I can't wait til we get home so I can throw you down on the bed and lick your sweet pussy until you come in my mouth."
"Your cock is so perfect. It hits all my spots and feels so right in my throat. How did I get so lucky?"
"God, your tits look unbelievable in that dress. Bet they'd look even better smeared with my cum."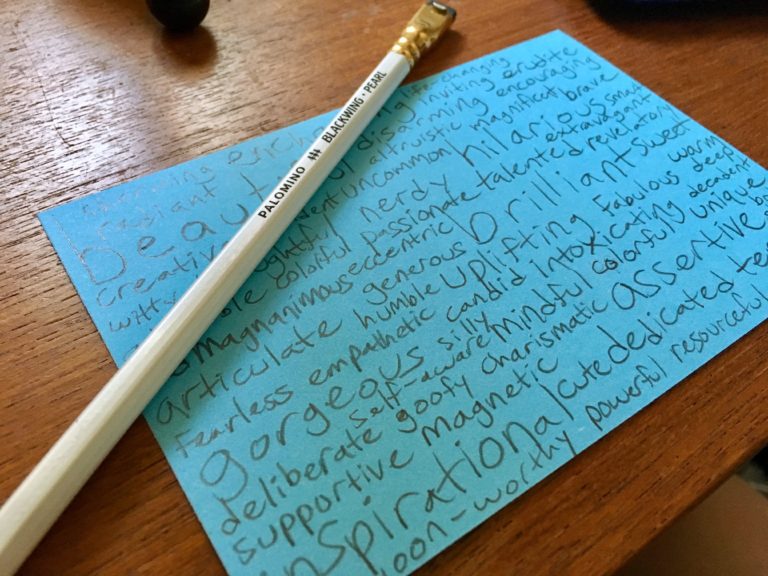 Tell them about your dreams and fantasies. This, again, helps them get inside your head and understand how you perceive them and how you feel about them. Whether these are sexy or sweet (or both!), they can give your darlin' a verbal glimpse into the deep pool of love you have for them in your heart.
Examples:
"Fuck, I had the hottest dream about you last night. You were sucking my cock in an alley, and then…"
"I was just thinking about how nice it'll be when we move in together next year. I can make you coffee every morning, and we can cuddle in bed every night…"
"We should take a trip to Newfoundland together! You can drive and I'll navigate. We'll stay in a little B&B on the coast, watch the sunset every night, and have lots of quiet writing time…"
Give them words they can read and re-read. Texts. Facebook messages. Tweets. Old-fashioned love letters. Whatever your preferred medium, words in a tangible form are nice for a verbally-oriented person to receive, because they can (and will) treasure those words for a long time. As a bonus, this is a great approach if your partner struggles with anxiety or any other mental health issue that messes with their self-worth: when they're feeling unloveable, they can go back in their screenshots folder or letterbox and read proof to the contrary. (Or you could just say more nice things at them!)
Examples (actual texts from my screenshots folder):
"I like you a lot. You're very pretty and smart and funny. And you're a very good girl for me all the time."
"You're beautiful, hilarious, have a contagious, sincere laugh, you're kinky as heck in all the right ways for me (so far as I know), you seem to have an adventurous spirit, and your mind is sharp as fuck."
"I almost tripped on the sidewalk and cracked my skull. Because of how much I want to sink my teeth into your butt."
Say nice things unprompted. To a verbally-oriented person, what makes words of affirmation exciting is the knowledge that you wanted to say these things, that you are saying what you authentically feel, and that your feelings were strong enough that you just had to verbalize them. To that end, don't always wait until your partner compliments you to compliment them back; you'll take their breath away with spontaneous expressions of love.
Examples:
"Hi babe. Just wanted to tell you how gorgeous you are and how much I adore you. That's it. Hope your day's going great!"
"Jesus Christ, your butt in that skirt. Do I get to fuck you tonight? 'Cause I really, really want to…"
"Has anyone ever told you you're hilarious and brilliant? 'Cause you are."
Tell them how they make you feel. It's all well and good to tell someone how attractive and wonderful they are, but that stuff's all about them; your partner wants to hear about you, too. It's exhilarating to know how you affect someone, and a verbally-oriented person will absorb this information best through words. I love seeing my appearance or behavior elicit a huge grin or a huge boner from a partner, but it's even nicer if they verbalize what they're feeling!
Examples:
"I still get nervous butterflies every time we meet up for a date. Hell, my heart's beating kinda fast right now."
"Pretty sure that selfie you just sent is giving my dick a heart attack. I need a cold shower. Or a dickfibrillator."
"When I think about the fact that you're my boyfriend, I get so happy and grateful, it makes me want to cry."
What's your love language? What are your favorite ways to flatter and uplift someone who digs words of affirmation?