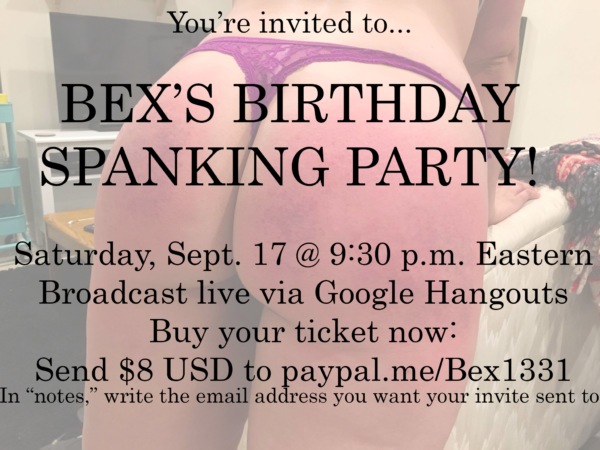 My best friend Bex is turning 25 this month, and what they want for their birthday is to get spanked. A lot.
Ummmm I'm gonna be in TO for my birthday, can we plan a birthday spanking (party?) for me? @Girly_Juice?

— Bex (@BexTalksSex) August 21, 2016
I enjoy hosting parties, and I enjoy spanking people. Before this, I've never had the opportunity to do both at the same time. I'm excited!
We combed Airbnb for an apartment to rent, and found a cute one with a great location, ample space for party guests, and plentiful surfaces to bend Bex over. We've invited a small group of sex-positive babes, including Taylor, Suz, and Rosaline. Each guest may give Bex 25 smacks (one for each year Bex has been alive) with an implement of their choice. Those who don't want to participate can just hang out and chill – it's a birthday party as much as it's a spanking party!
I think it'll be an interesting opportunity to observe the different spanking styles of my various friends. You can learn a lot about a person by how they smack an ass!
Here's the really exciting part: you can join in on the fun, even if you live far far away. We're going to livestream the spanking portion of the party via Google Hangouts On Air. The broadcast will get started on Saturday, September 17th at 9:30 p.m. Eastern time. You can buy your ticket by sending $8 (U.S. dollars, please) to Bex through this link. (Make sure to write your email address in the "notes" field, so we know where to send the link to the broadcast.)
The money will largely go toward Bex's travel and accommodations expenses, enabling them to be with some of their best pals for their birthday. So it's a double-whammy of deliciousness: you get to watch a cute babe get spanked, and you get to do a good thing for the aforementioned cute babe!
For bonus fun, you'll be able to "virtually spank" Bex. During the broadcast, you can pay an additional $5 for 10 smacks, or $10 for 25. You'll get to choose which party guest does the hitting (as long as they consent, obviously), and which implement they use. Fun, right?!
We're all about social media, so if you want to live-tweet while you watch, you are more than welcome to! The hashtag for the event is #BirthdayBruises. If you feel like hyping us up and cheering us on, before or during the event, Twitter's a lovely way to do that. You can also tweet the image above, if you want to invite your followers to join the party.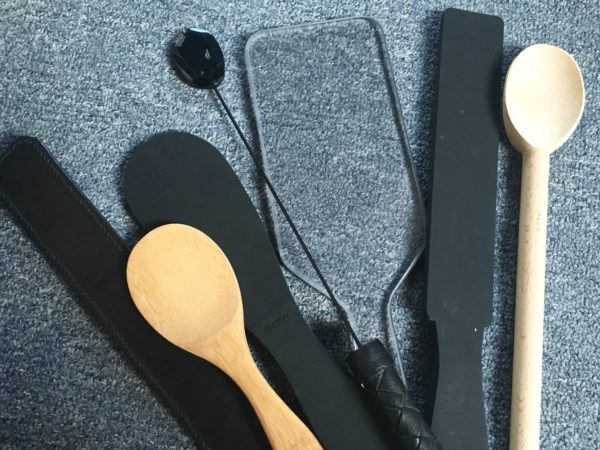 I've already started packing my bag of spanking implements and accessories. Here's what I've got up my sleeve:
• The Tantus Pelt and Wham Bam. These silicone paddles are stingy as hell and pack some snappy momentum into each stroke. I'm a bit sentimental about the Pelt because it's the first implement I ever spanked Bex with, back in the early days of our friendship. Aww.
• A stone crop I bought at kink-themed café Leather & Latte on our road trip to Minneapolis. It's very stingy, very mean, and very bruisey.
• A leather paddle made by by Peri Plunders. This is a cool multi-use tool: the flat leather surface is really stingy, but turn the paddle sideways and its thick edge becomes a thuddy bludgeon. I wonder what kind of marks it'll leave.
• A Lexan paddle from KinkMachineWorks. It's gorgeously thuddy and has quickly become one of my all-time favorite spanking implements. And it's clear, so you can see the recipient's butt smoosh as the paddle hits it. Swoon.
• A wooden spoon and a small bamboo rice paddle. I ordered these from Amazon in preparation for this party. The rice paddle is wide and thin, so it's very surface-stingy, while the spoon has a bit more of a thud to it.
• Arnica cream! Bex's poor butt will be pretty sore by the end of the evening. I want some pain-management solutions on hand incase they start to get genuinely uncomfortable – although, let's be real, they're a trooper and a pain-slut and I bet they'll be fine.
I look forward to seeing you in our Google Hangouts chat when the party gets started! Don't forget to buy your ticket for $8. See you there, friends!