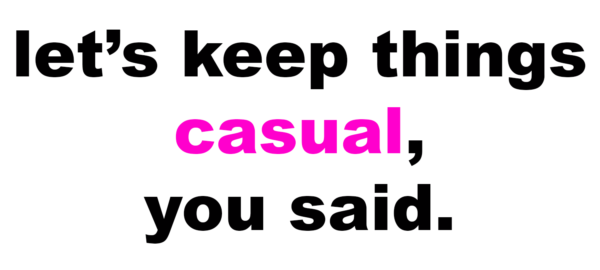 I've gotten better at casual sex in the past year. "Better," you understand, but still not "good." When I fuck someone, however casually, I still tend to Google them afterward. Maybe creep their Facebook photos a bit. Tell all my friends how cute they are. And then, usually, I'm done obsessing and can move on with my damn life.
But I didn't always have that ability. I wrote this song, "Casual," a year ago, when I was struggling with a crush on someone who only wanted to see me occasionally and only between the sheets. It was a major adjustment for my brain to learn that sex and romance don't always have to be connected. And in the interim before I figured that out, I was sad for a while.
I hope you like the song! The lyrics are below for you to read. If you want to keep this song while also supporting me, you can buy it on Bandcamp and it'll be yours forever, so you can listen to it on loop while crying over your unrequited love… Er, I mean, so you can listen to it while going about your totally normal, emotionally well-adjusted life. Yep.
---
"Let's keep things casual," you said
My heart exploded cold with dread
I don't have the strength
To keep you at arm's length
I fall for all callers to my bed
A casual fuck can only bring bad luck
'Cause I'll end up stuck on you
For no-strings-attached, we're so badly matched
And I've got a crush on you
Give me some credit, if you please
I've put all my feelings in deep freeze
This isn't romance
It's not my one big chance
It's just a blowjob on my knees
A casual fuck can only bring bad luck
'Cause I'll end up stuck on you
For no-strings-attached, we're so badly matched
And I've got a crush on you
We still stay perfectly polite
But we never got this thing quite right
It makes me feel dumb
That you can make me come
But I can't even make you stay the night
A casual fuck can only bring bad luck
'Cause I'll end up stuck on you
For no-strings-attached, we're so badly matched
And I've got a crush on you