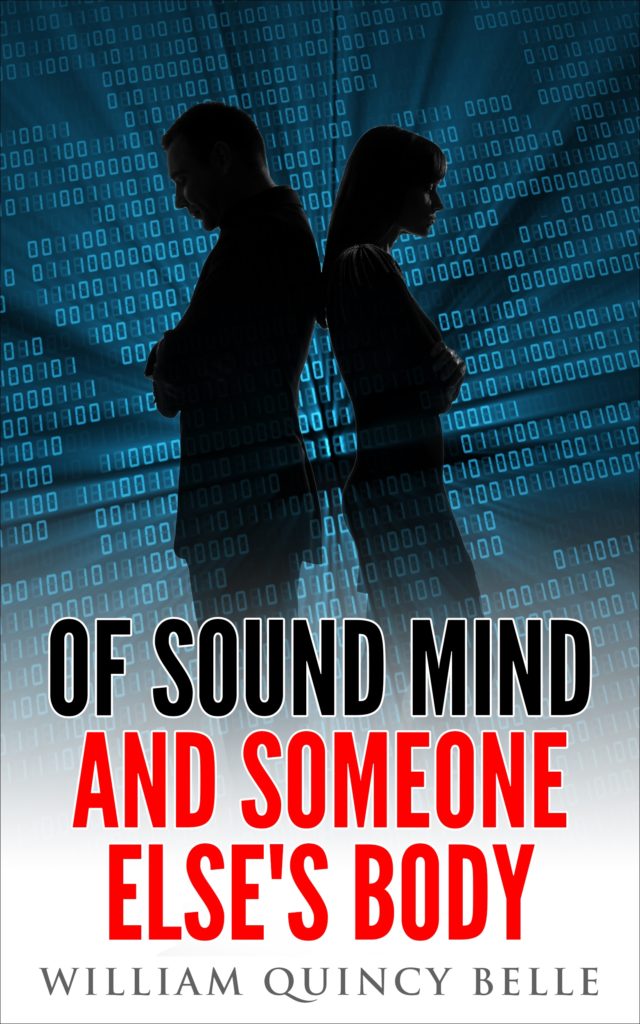 Content note: there are some discussions of nonconsensual sex, transphobia, gender dysphoria, and whorephobia in this post.
Have you ever read the plot summary for a piece of media and immediately thought, "Oh, this is gonna be a shitshow?" That was me when I read the blurb for Of Sound Mind and Someone Else's Body, by William Quincy Belle.
Picture this: a supernatural body-swap story, à la Freaky Friday or The Hot Chick, with the lead characters being a successful male businessman and a female sex worker.
"This is gonna be transphobic and whorephobic as fuck, right?" I asked a friend when I told them about the plot of the book. They agreed that it would be difficult to navigate the fraught territory this book wanted to tackle without wading into some problematic shit. But nonetheless, I dove in, wanting to see the probable trainwreck for myself.
Of Sound Mind is about Alan Maitland, a nonspecific "businessman" (much like our boy Christian Grey, the exact scope and focus of his work is never quite spelled out), and Hana Toussaint, an escort with ambitions of becoming a sex therapist. The two are strangers at the beginning of the book, but through a neuroscientific mishap explained in somehow simultaneously not enough detail and far more detail than I cared to read, their brains switch bodies one night. Hana's shrewd, sexy consciousness relocates into Alan's brawny businessman body, while Alan's serious, analytical mind flips into Hana's eye-catching lady-bod. And, as they say, hijinks ensue.
Hilariously – or horribly, depending on what type of person you are – the switch happens while Hana is blowing a client, so Alan finds himself suddenly choking on cock after a lifetime of staunch heterosexuality. I felt conflicted reading this section, because on the one hand, it seemed written for laughs and I got instantly annoyed at Alan's no-homo bravado in punching the dude in the nads and walking out. But at the same time, gosh, it would sure be traumatic if there was suddenly a dick in your throat when you'd neither consented to that nor ever experienced it before. I couldn't tell whether I was supposed to laugh at Alan or pity him, which was a frequent feeling for me while reading this book.
Alan and Hana locate each other fairly quickly, figure out what's happened, and unite in a mission to find the neuroscientist who fucked up and switched their brains. In the process, however, they navigate various challenges, like Hana fielding Alan's business calls, Alan chatting up Hana's escorting colleagues, and – all the while – getting used to life in their new, gender-swapped bodies.
I can't personally speak to what it would feel like to read this book as a trans person. I imagine it wouldn't feel great. There's no acknowledgment in the book of transgender identities, which seems a shame, as that would be an interesting take on the somewhat tired body-swap trope.
Some of the gender-based difficulties Hana and Alan encounter seem overblown for comic effect – like Alan struggling to put on a bra, or Hana getting her dick caught in her pants zipper. (She's a sex worker. There's no way she doesn't know her way around a fly.) But though Alan is sometimes incompetent at his coercively-adopted womanhood, overall I get the feeling that he thinks men would make better women than women do, and that women's "petty" concerns would be easily solved with a small dose of "male" assertiveness. In a couple different scenes, Alan (in Hana's femme little body) confronts catcallers and subway masturbators, shaming them publicly, and the book seems to suggest that this is the best way to deal with these altercations – completely ignoring the reality that marginalized folks standing up to creeps often results in violence, which is why we don't do it more often. Duh.
The book is peppered with monologues from Hana about the stigma and oppression faced by women, sex workers, and people who dare to be publicly sexual. While I think these soliloquies are designed to paint Hana as a three-dimensional character, she ultimately comes across as someone who doesn't so much have a personality as a series of staunch opinions. The effect is Manic Pixie Dream Girl-esque; her narrative function is to open Alan's eyes and change his life, and she doesn't seem to have much of an inner emotional life beyond that mission. Further, her impassioned rants are fairly 101-level stuff; anyone who's familiar with feminism and social justice concepts, even from afar, is likely to read these and go, "Yeah, of course." I know there are still many people out there who would benefit from basic explanations of gender bias, sex stigma, and whorephobia, but are those people really gonna read this book, let alone learn from it?
The other weird thing about Hana is that she spends almost the entire book flirting with Alan, fawning over him, and trying to fuck him. This is a pretty classic thing for a male author to do: ignite desire in his female protagonist for wish-fulfilment purposes, even if it doesn't make sense for the characters. We're shown no reasons why Hana would be attracted to Alan, other than (maybe) the physical attractiveness of his body, which she is in. He doesn't come across as particularly smart, kind, funny, or interesting – so why does this babely, ambitious, clever woman pursue him relentlessly for the entire book? It doesn't ring true to me.
The author tries to paint a compassionate picture of sex workers, unpacking some of the stigma they face. But we're reminded again and again that Hana is educated, volunteers her time for philanthropic causes, and could easily do something else with her life but has chosen sex work. There is nothing wrong with this by itself, but depicting Hana as a "good" sex worker for possessing these qualities feels icky to me. Sex workers are still perfectly legitimate and acceptable even if they don't have a formal education and/or have chosen sex work for survival reasons.
As a piece of literature, I felt similarly about Of Sound Mind to how I felt about the Fifty Shades books: the writing is okay but the plot is at least fast-paced and interesting enough to keep my attention. It's often hard to tell characters apart when quotes aren't attributed because their voices are so similar, and the dialogue is consistently stilted and awkward. ("Man, did I enjoy my orgasm! I love ejaculating," Hana exclaims after one ostensibly sexy scene. "God, I love a good fuck pounding!")
I think the premise of this story is fascinating, and could've been a good jumping-off point for discussions of gender politics, privilege, and empathy. The author does address this stuff but it's all fairly surface-level; I would love to read a deeply feminist, nuanced, "woke" take on this story trope. Likewise, I was curious to see how the author would handle sex scenes between two characters inhabiting different bodies than they're used to – but the writer breezes through the one sex scene in a hurry, without delving at all into what that type of sex would feel like, physically or emotionally. I felt a bit cheated that one of the most interesting questions the book poses was never answered.
If you want something light and silly to read that might prompt some reactionary feminist thoughts, give Of Sound Mind and Someone Else's Body a try. I didn't hate it, and it gave me lots to think about – including the question, "Why is this making me roll my eyes so hard?!" There are worse things you could read. Like – by a small but decisive margin – any of the Fifty Shades books.
If you like, you can buy this book on Amazon (in Kindle edition or paperback). Feel free to check out the author's website if you want to learn more! FYI: This review was sponsored, meaning that I was paid to write an honest (not necessarily positive) review.