Beloved artisanal glass dildo company Fucking Sculptures has opted to shut down, after years of cranking out unspeakable beauty. This announcement makes me even more proud and protective of the Fucking Sculptures I own, which I already consider so precious I won't even fly with them lest they get lost in transit.
For those who still dream of fucking a Fucking Sculpture, I've compiled some suggestions for other dildos that might live up to their hype, at least sensation-wise. Read on for dildo dupes…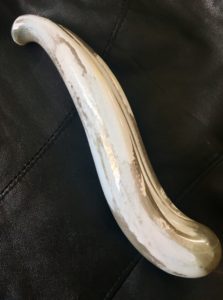 The G-Spoon was my first Fucking Sculpture, and is still, to this day, one of the best A-spotters I've ever owned. Mine is on the cusp between medium and large, so it's big enough to feel impactful but small enough that its weight doesn't bother me; long enough to reach my A-spot but not so wide as to bump my cervix; curved enough for G-spot stimulation but not so much it can't get all up into deeper spots. Really, the only thing I don't like about it is, I wish there was more extra length I could use as a handle. I could thrust a lot faster and harder if more than an inch of the toy stuck out of me when fully inserted.
What to try instead:
• The stainless steel Njoy Fun Wand is about the same length as my G-Spoon, but slimmer. It can hit my G-spot and A-spot with equal aplomb, but in a slightly more pinpointed way than the G-Spoon. The steel feels just as heavy and firm as Fucking Sculptures' glass does. Like the G-Spoon, the Fun Wand leaves me with almost no handle if I insert it all the way, but it does indeed hit the spots I want it to. Plus that bloopy end feels great in a butt.
• I haven't tried the Fifty Shades Darker Deliciously Deep steel dildo or the Crowned Jewels Shaftsbury, but they're both of comparable dimensions to my G-Spoon and have the gentle curve I've come to associate with good A-spot toys.
• This Spartacus glass G-spot dildo, is, again, of similar dimensions to my G-Spoon and has the straight shaft + curved tip I've often found effective for A-spot stimulation. The looped handle would make it easy to thrust with, too.
• I've found the Icicles #53 effective for deep stimulation, though it's a bit girthier than the G-Spoon at 1.5″, so if you have a cervix that's particularly low and/or sensitive to pain, I wouldn't recommend it for that purpose.
• A vibrating option, incase you're into that: the Jopen Vanity VR9 is long, gently curved, and offers two differently-sized ends for exploring your various internal spots.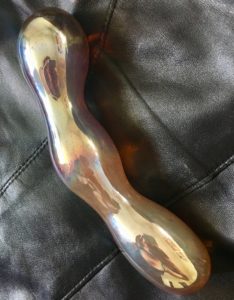 I consider the Pussywillow relatively unremarkable compared to my other two Fucking Sculptures, sensation-wise, though it's still beautiful. Mine is a medium-sized, triple-blooped, softly curved dildo that stimulates my G-spot gently with one end and can nudge my A-spot with the other.
What to try instead:
• The Fifty Shades of Grey Drive Me Crazy glass dildo has gentle bloops of about the same diameter as my Pussywillow. It'll rub your G-spot, but not nearly as intensely as something like, say, the Pure Wand.
• The Icicles #18 has one straight, mildly textured end, and one end that's much more curved and textured. Like the Pussywillow, it'll allow you to explore a few different internal spots and sensations.
• The Icicles #8 is straight (though still bloopy), so if you know you like your G-spot stimulation gentle as fuck, you'll dig this one more than a curved toy.
• For more intense G-spot sensation but with similar texture, try the Sinclair Institute Crystal G. That long handle should make it easier to thrust with.
The Double Trouble is my priciest and most prized Fucking Sculpture, by far. I use it solo and with partners, and it always satisfies. Its deal is that it somehow manages to be alarmingly girthy (6″ around the smaller end, 6.5″ around the larger) while also hitting my A-spot amazingly. (I wish I had an X-ray machine so I could see exactly how it accomplishes this, because it's a mystery to me.) I don't use it much these days because my vag isn't as enthused about girth as it used to be, but when I really want to feel filled up and deeply fucked, I can't imagine a toy I'd prefer over the Dub Trubz.
What to try instead:
• The other major contender in the "big, heavy, firm, double-ended, gently S-shaped dildo" category is the Njoy Eleven, another favorite of mine. I find it much more G-spot-centric than my Double Trouble, since I can't get the Eleven's big end deep enough inside me to rub my A-spot firmly, though it does graze it a little if I push it as deep as it'll comfortably go. If you crave Fucking Sculptures for their beauty, durability, and "wow" factor, the Eleven will tick all those boxes for you too.
• If you want something shaped like the Eleven but less expensive, less heavy, and less huge, try the Dorcel So: it's essentially a smaller, silicone Eleven clone. Its more minuscule girth makes it likelier to be able to hit your A-spot, if that's what you're after.
• The Dorr Silker vibrator isn't as thick as the Double Trouble, but its insertable end is shaped very similarly to my favorite end of the DT, so I think it might feel comparable. Plus it vibrates, if you want it to!
• The Lumberjill Knob is a girthy-as-fuck double-ended dildo like the Dub Trubz, so it'll fill you up real good, though I can't personally attest to its A-spotting abilities.
• I'm intrigued by two silicone potential contenders, the Maia Riley and Doc Johnson Beauty. Both are long enough to hit your A-spot (probably), girthy enough to feel filling through the shaft (1.6″ and 1.9″, respectively), and have the tapered and slightly curved tip that tends to work well for A-spots. And they're both under $35, so if you're not up for a big investment, these are relatively safe bets.
• There's sadly not a lot of girthy glass out there, but try the relatively inexpensive Spartacus Blown Medium (1.5″ diameter) or Blown Large (1.75″) if that's what you're cravin'. The Medium has a slight curve, while the Large is totally straight, so if width isn't a dealbreaker, I'd lean toward the Medium for spot-targeting purposes.
This post was sponsored by the good folks at SheVibe. As always, all writing and opinions are my own.