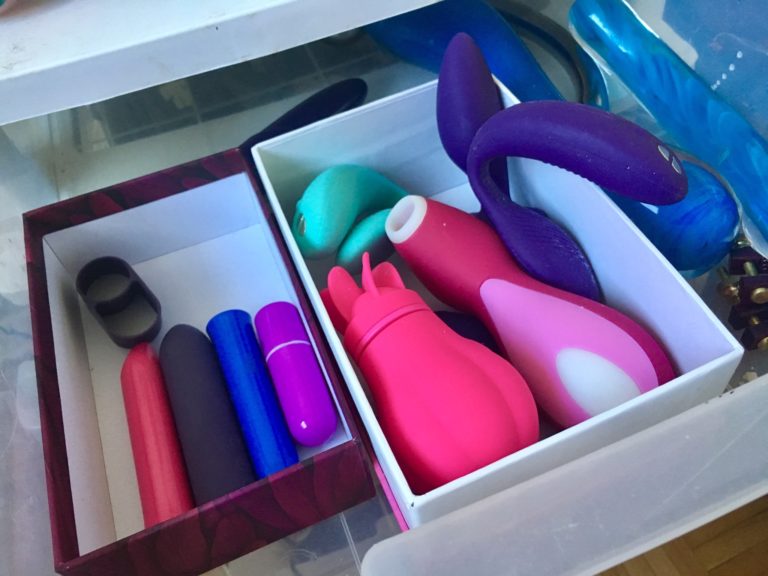 Helping me pack for my move at the start of September, an old and dear friend was horrified when she saw the contents of my sex toys box. "That's way too many," she swore. "You can definitely pare that down."
My eyes bulged. "Have you seen my entire sex toy collection?" I asked. "This is like 20 percent of it!" She saw my point. She dropped the issue. But I still saw her judgmentally eying that box from time to time.
She was right – I was bringing too many sex toys – but, to be fair, I was also right: when you've been a sex toy reviewer for five and a half years, you amass a big enough collection that someone else's "way too many" becomes your "only a few." While heavy enough to elicit a weakling's grunt from my mouth every time I lifted it, that box marked "sex stuff" had been filled using logic and moderation. I'd avoided redundancy. "Do you really need two wand vibes?!" my friend asked incredulously, and I rolled my eyes because of course I did: one was rechargeable while the other was plug-in, one was rumblier while the other was buzzier, one was relatively lightweight while the other was heavy and ornate. I did not make these decisions lightly!
Here, then, is more-or-less the full list of toys I carted along with me to my new apartment, leaving the rest behind in boxes and bags at my parents' house to be collected at a much later date…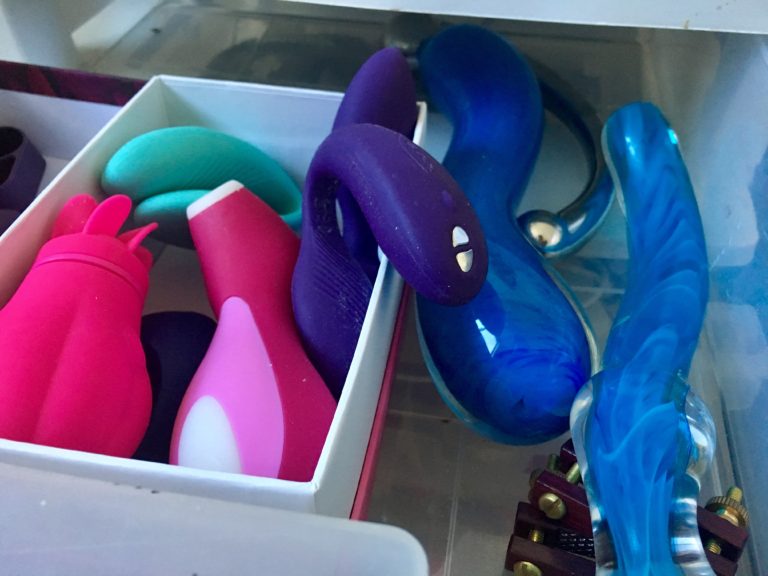 Vibrators
I'm picky when it comes to vibes. They've gotta be rumbly, ergonomic, shaped suitably for my clit's preferences, and minimally annoying to charge and use.
My "starting lineup" is an array of vibes I use frequently, that are up to the task of both turning me on and getting me off. I brought them all with me: my two We-Vibe Tangos, my Magic Wand Rechargeable and Doxy Die Cast, my Eroscillator 2 Top Deluxe, my ScreamingO Vooom, my Zumio, and my Swan Wand. These all fulfill different needs I have depending on my mood: some are pinpoint and some are broad, some come out guns a-blazin' while some have subtler speeds, some are graceless power tools while some are precise implements of pleasure. Each one is an essential part of my collection.
Next, I added some vibes I'm only sometimes in the mood for. These cravings arise infrequently, but when they do, they must be heeded. These include the Satisfyer, Mona Wave, We-Vibe Nova, Stronic Eins, and Form 2.
Finally, I threw in a few vibes from my "to review" pile, since I need to have those on hand for Work Reasons and not just Wank Reasons. And that was that for my assortment of vibrators.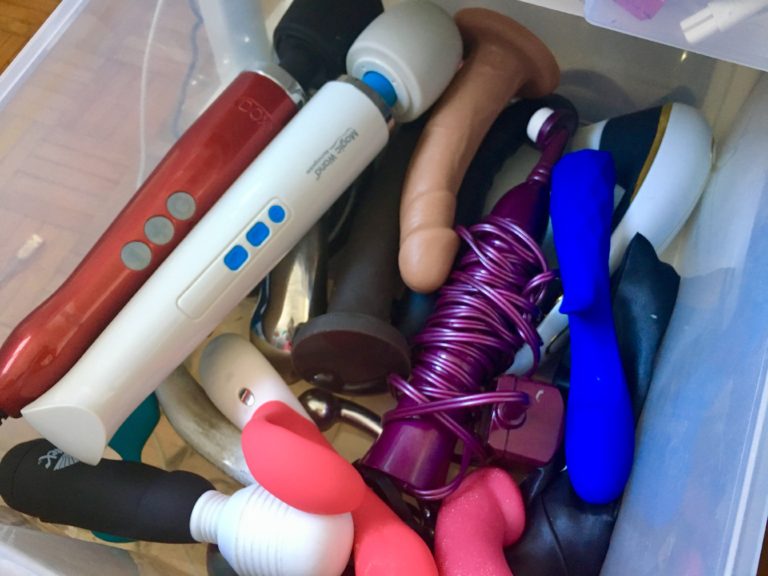 Dildos
This section of my collection was even easier to pare down, because my internal spots are less mercurial than my clit. They know what they like. A dildo is either a "yes," a "meh," or a "dear god no." I brought along only the essentials from the "yes" pile.
Topping my list of must-haves were the Fucking Sculptures Double Trouble, Njoy Eleven, Standard Glass S-Curve, NobEssence Seduction, and Njoy Pure Wand. (You'll notice that most of my faves are S-shaped and all are made of firm materials. I have a type!) Next I added other dils I occasionally crave, like the Tantus Tsunami, Vixen Mustang + Leo + Maverick, Jopen Comet Wand, Fucking Sculptures Pussywillow and G-Spoon, and Godemiche Ambit.
Once again, this may seem like a lot, but each toy fulfills a different purpose and mood. And to be real with you, the S-Curve is the one I've used most since moving. I would've been okay if I'd just brought that one, but, well, I'm a dildo glutton.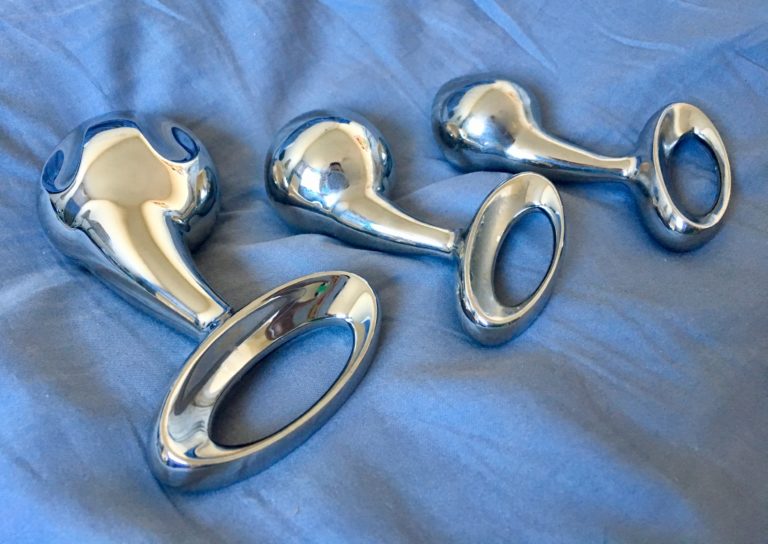 Butt Stuff
I'm not much of an anal-play connoisseur, so there were only a few toys I wanted in my arse-enal: the Tantus Ryder and the Njoy Pure Plugs (sizes medium, large, and 2.0). There were a couple of to-be-reviewed plugs in the pile as well: the We-Vibe Ditto and the brand-new Hole Punch Butnik.
Lube
For my water-based needs, I packed a massive bottle of Sliquid Sassy and a smaller bottle of BabeLube Natural. For silicone-based, I threw in a few sample vials of Uberlube. And to round out my mélange, I brought one of my two containers of The Butters. I rarely use lube these days except with partners, so this'll be plenty.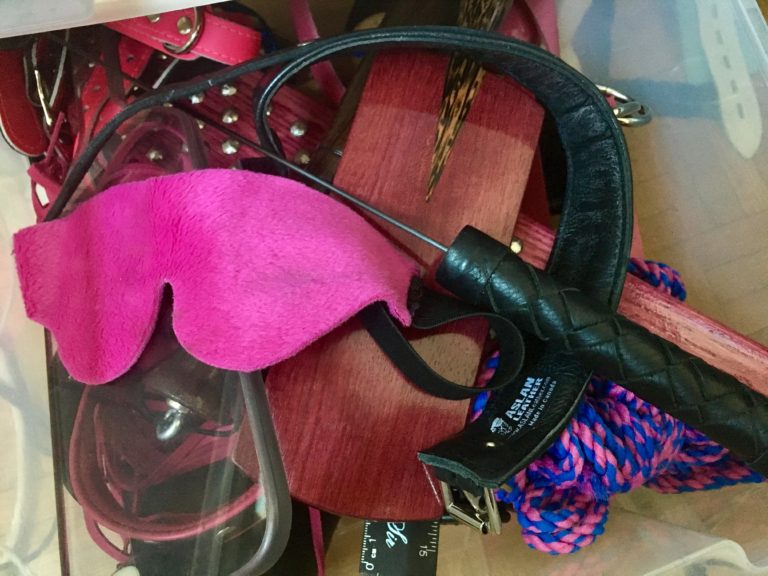 Kink Toys
Ah, now here's where the decisions got hard again! I have soooo many kink toys – particularly impact implements – and wanted to only bring the best of the best.
First and easiest to decide upon were my under-the-bed restraints and the leather cuffs I use with them. Installing these on my bed was one of the first things I did when I got to my new place. ("Aww, that's so cute!" my new and, notably, kinky roommate retorted when she saw the cuffs dangling from my bedframe.)
The next-most important thing was a blindfold; I use these all the time in various kinky scenarios, to help with sexual anxiety, and when I'm taking naps! Mine is a basic soft pink one I got years ago from god knows where.
For all my other bondage needs, I packed my Unicorn Collaborators Double Duty cuffs (I own one pair in black and one in seafoam green), Aslan Leather collars (one in pink and one in black), Stockroom chest harness, and Oddo Leather ballgag.
Impact toys were harder to decide on; I only brought my absolute favorites. Those included my Weal & Breech purpleheart paddle, Bad Ass Designs wooden truncheon, Miss Morgane pink suede flogger, Creative Kink aluminum cane and pink torquemada, KinkMachineWorks Billiard Banger and Lexan paddle, stone crop from Leather & Latte, and wooden cutting board from a Roman cooking shop. Those are the ones I actually love and use all the time, and/or like showing off when I have people over. Vital considerations!
Miscellaneous
I initially left both my blowjob mirror and pink leather harness at home, but ended up deciding I needed them, so now they're with me in my new place.
I brought my enema in case of butt stuff, and my clit pump because it helps with arousal and is just a cool sensation that I can't replicate with any of my other toys.
Finally, I toted along my Liberator Jaz, which lives under my bed except when I need to use it as either a sexual positioning aid or a makeshift laptop stand for Netflix marathons in bed.
This post was written in conjunction with other bloggers who moved around the same time as me: check out Sarah's post here! What toys would you bring with you if you had resolved to only take the best of the best?