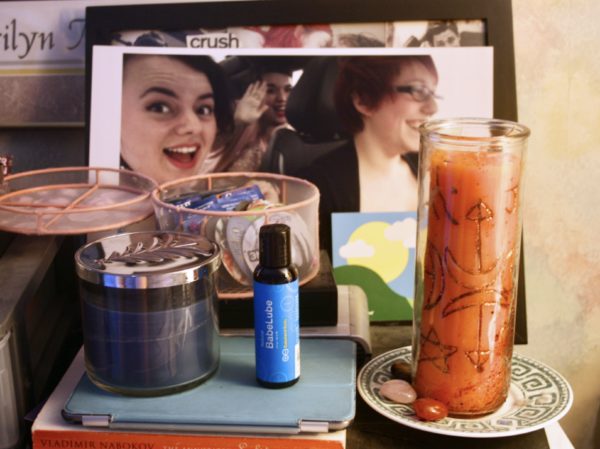 You can tell a lot about a person by looking at their bedside table. It's where their everyday nighttime necessities are kept. It gives you a glimpse into their private life – or what they want visitors to think about their private life.
Mine right now is pretty indicative of me and my priorities. The table itself isn't a table at all – it's a set of drawers in which I store some of my sex toy collection. The top drawer contains my favorite toys, for easy access: the Tango, Double Trouble, S-Curve, Seduction, Mustang, Eroscillator, and a few more.
On top of the drawers, I've got my two external hard drives, both primarily full of years' worth of old photos and videos. I need to have these in an easily-accessible spot, but they're kind of ugly, so I like hiding them under the other stuff I keep on my nightstand.
Right now I've got a copy of Lolita by my bed, because I'm (slowly) re-reading it. I wrote my final high school English paper on it, way back in 2010, and I still love it as much now as I did then. Plus it makes a pretty good – and thematically relevant – impromptu spanking implement!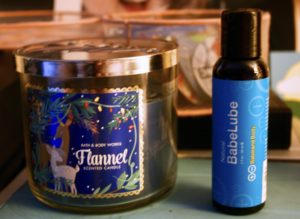 On top of that, I've got my iPad – which, these days, I mostly use for watching porn while masturbating, because I am a modern heathen. And on top of that is a small bottle of BabeLube Natural – a recommendation from Bex when I last visited them in New York and needed to pick up a lube that'd work well for hand stuff and butt stuff with my FWB. I always keep at least one bottle of good-quality water-based lube by my bed. Silicone-based and oil-based lubes are great, too, but water-based can be used with everything, including sex toys and latex barriers, so it's my evergreen go-to.
Next to that is a Bath and Body Works "Flannel" candle. Admittedly, while I swooned over this scent when I first discovered it in-store, I'm less enamored with it when it's filling my room. A quick sniff of this candle smells like the deodorant and musk of the handsomest man you've ever met; a roomful of it, however, is more like a gaggle of Axe-happy teenage boys in a locker room. I'm looking forward to finishing up this candle and moving on to a gourmand old faithful, like "Twisted Peppermint" or "Salted Vanilla."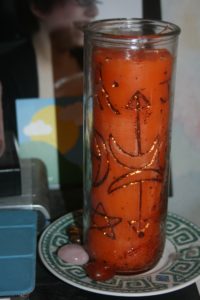 I have another candle on my nightstand, of an entirely different type: it's a spell candle from Enchantments, the witchy haven in New York's East Village. Bex bought me this one as a gift the last time I visited them, because they are a gem. I asked the shop's resident witches to make me a candle that would bring me good luck and greater opportunities in my career, so they whipped this one up for me. It's very orange and very glittery!
Around the base of the spell candle, I've placed a few heart-shaped crystals, because mystical talismans make me happy. There's rose quartz, carnelian, and tiger's eye. Rose quartz is the "love crystal," carnelian is associated with sex and sensuality, and tiger's eye is said to reduce anxiety – so these are all lovely crystals for me to keep by my bed, as a person who suffers from anxiety and (obviously) loves sex!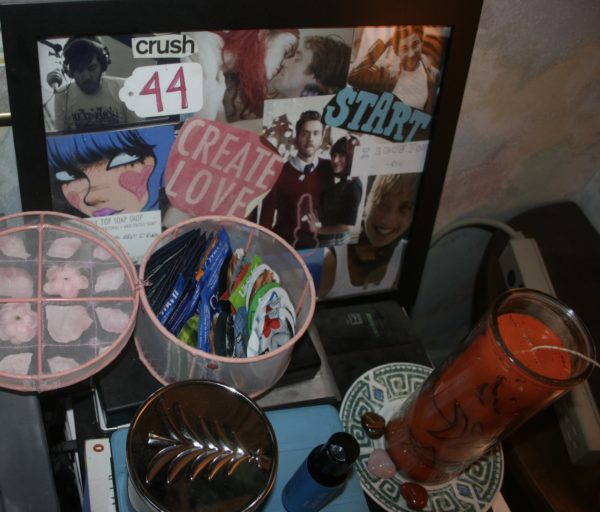 Propped up behind all this stuff, I have a framed collage that my friend Cadence made for me. A couple summers ago, we spent a whole day cleaning and organizing my room, and found an old framed photo of me and my ex-boyfriend that he had given me while we were together. I didn't want to keep the photo but saw no reason to ditch the perfectly-fine frame, so I asked the artistically-minded Cadence to make a collage out of various photos and mementos we'd found around my room. Some of my favorite parts of the collage: a romantic photo of Jeremy and Elsie Larson (they are so #RelationshipGoals; he wrote a whole album of adorable songs about her!), a hand-scrawled note from my friend Eric that says "I LOVE YOU," and my number tag from the first Crush party I ever went to.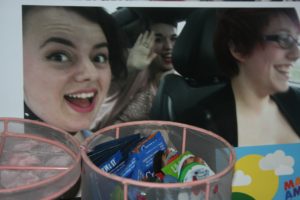 At the moment, I've slotted a large print of "The Boss Fight of Nudes" in front of this collage. It makes me laugh every time I look at it. I also have a "Make America Gay Again" postcard from American Apparel displayed there.
Of course, no sexually active person's bedside table would be complete without safer-sex provisions! I have a cute pink basket covered in roses which I keep well-stocked with condoms. Right now it's a mix of Kimono Microthins, Crown Skinless Skins, Lifestyles Tuxedos, and One condoms. I love being able to offer partners a wide selection of condoms to choose from – like a good Girl Scout or a sex-positive Martha Stewart!
What's on your bedside table?