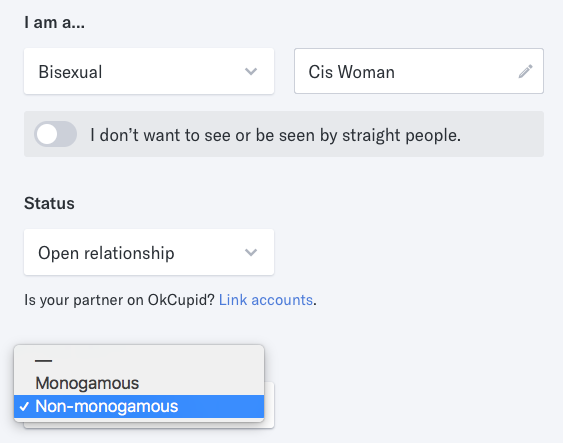 While I've been "non-monogamous in theory" for years, I have limited experience being non-monogamous in practice. I recently started dating someone who has been polyamorous for a while, and has two steady partners other than me – and while it's been difficult, I'm viewing it as an invitation to step up to the plate and take on the challenge I've claimed to want for ages. I am finally going to learn some real-life poly skills and see if I can hack it.
One of the first challenges I've come up against – other than my old friends, jealousy, greed, and anxiety – is figuring out how to pursue other dates ethically and honestly. I don't want to downplay or lie about the existence of my boyfriend, but I also don't want to make new potential beaux feel like there's no room for them in my life. I don't want to spend too much time and energy explaining polyamory to diehard monogamists, nor do I want to exclude people who've been monogamous thus far but are curious about their other options.
So many considerations! So let's start with something small: how to communicate on your dating profile that you are, indeed, polyamorous. Here are some suggestions…
Choose your venue wisely. OkCupid and Tinder are full of young and/or socially liberal people, so you may have better luck with those than you would with services geared toward older folks seeking a marriage-track relationship, like Match and eHarmony. If you want to skip the hassle of disclosing your non-monogamy altogether, you could join a dating site designed specifically for non-monogamous people, like SwingTowns.
Consider what level of privacy you need. Whether because of your career, your family, or some other factor, you might not feel comfortable telling the entire internet that you're non-monogamous. If that's the case, it might be best for you to use dating sites where your profile isn't publicly visible, or that have that option (on OkCupid, for example, you can check "Only allow other members to see my profile" in the settings panel). You could also try mentioning your relationship status within your first few messages instead of disclosing it publicly on your profile, though this is likely to be a lot of extra work on your part when monogamous folks decide to respectfully (or not-so-respectfully) ghost you afterward.
Use the app's built-in relationship status feature, if it has one. Some dating sites allow you to set your relationship status alongside other relevant info like your gender and sexual orientation. Indicating your non-monogamous status makes it easier for monogamous people to filter you out of their search results, and communicates your "deal" to any profile-lurkers at a glance. However, some people don't read this info (and some dating apps, like Tinder, don't even have a structured way for you to provide it), so you may still need to do the legwork of explaining yourself in messages after all.
List your important identities upfront. Lots of people I asked on Twitter said this is their main strategy in online-dating while poly: they roll out their most vital identity words in the opening paragraph(s) of their profile. This might look a lot like my current Twitter bio: "Cis bi kinky non-monogamous femme feminist." I think these are all important things for people to know, especially if they're considering dating me. Front-loading this info makes it likelier that your potential paramours will actually read it, and will hopefully spare you some grief and lots of time and energy.
Define your terms. Some people don't have a precise idea of what "polyamorous" means (let alone other non-monogamy terms like "swinger," "polyfidelity," "solo poly" or "primary partner"), so it's helpful to explain exactly what you mean. For example, my Tinder bio currently includes this: "I'm poly: dating someone rad, and looking for dates/adventures/potential relationships with other cuties." This hopefully reduces some of the stigma, anxiety, and confusion that might fill someone's head when they read the word "poly" and aren't sure what it means. It's a succinct summary of how I am currently doing poly, and what that might mean for my partners.
Be prepared to explain yourself. Even if you think you've been clear in your profile text, folks still might have additional questions. Of course, you don't have to answer missives you find rude, invasive, or exhausting – but it is part of ethical non-monogamy to ensure people know what they're getting into before they get into it. (Informed, enthusiastic consent, and all that!) These convos might happen in your first few messages, or on your first few dates, but they should happen at some point. Set boundaries, establish expectations, talk about feelings. It's all part of the process!
Unmatch ruthlessly as needed. Some people will be jerks about you being non-monogamous. That's just a fact of life as any kind of "sexual deviant," unfortunately. But you don't have to put up with it. Hit "unmatch" or "block" or "report" or whatever the site-specific equivalent is, and move on with your day. Fuck the haterz.
Non-monogamous folks: what are your best tips for disclosing and discussing your non-monogamy on a dating site/app? Got any horror stories or success stories to share?
Heads up: this post was sponsored, and as always, all writing and opinions are my own.