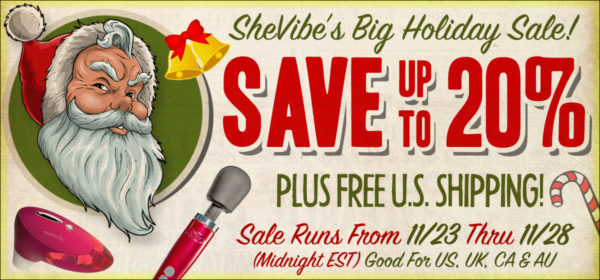 Ah, Black Friday – the day of the year when I perennially snap up new clothes, shoes, makeup, and… sex toys. If you, too, are looking to drop some dough on some delicious pleasure items this weekend, I've got some recommendations for you!
SheVibe is one of my favorite online sex shops and is offering tiered discounts right now: use code KRINGLE10 for 10% off orders of $85 or more, KRINGLE15 for 15% off orders of $100 or more, or KRINGLE20 for 20% off orders of $125 or more. Shipping is also free for those in the U.S. when you use one of these codes!
My picks:
SheVibe carries a selection of Fucking Sculptures toys, which, as you probably know, I love. Using the code KRINGLE20, you can get a gorgeous gold G-Spoon for just $104, or my beloved Double Trouble for $136. Amazing!
NobEssence makes artisanal wooden toys that are beautiful and effective, but pricey. However, using the code KRINGLE20, right now you can get one of my favorite G-spot dildos, the thrillingly intense Seduction, for only $117.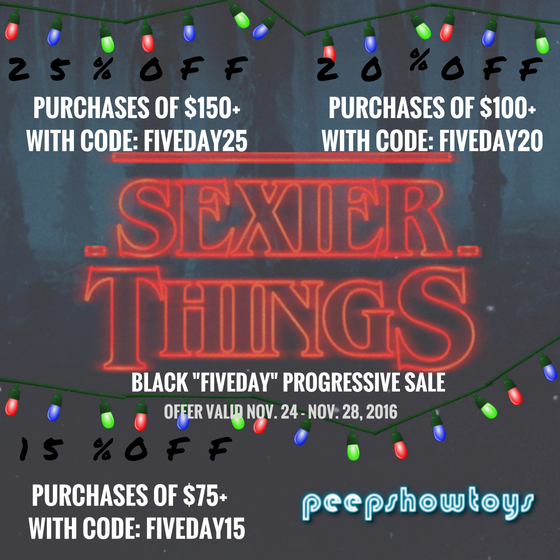 My pals at Peepshow Toys are doing a tiered sale too: the code FIVEDAY15 gets you 15% off orders of $75 or more, FIVEDAY20 gets you 20% off orders of $100 or more, and FIVEDAY25 gets you 25% off orders of $150 or more.
My picks (click here for the full list):
Peepshow stocks a wide array of VixSkin toys – hyper-realistic dual-density silicone dildos that feel fantastic in use and are great for strap-on play. The Mustang is probably my all-time favorite realistic dildo and you can get it for $83 with code FIVEDAY15. If you're a girth enthusiast comme moi, try the thick 'n' meaty Bandit, just $82 with code FIVEDAY20.
If you want a good, versatile, rumbly-as-hell vibrator for internal or external use, I'd recommend the L'Amourose Rosa ($119 with code FIVEDAY25) or L'Amourose Prism V ($84 with code FIVEDAY15). The motors in this company's toys make my clit and G-spot very happy.
Been eying my favorite wand vibe, the Magic Wand Rechargeable? It's currently just $100 with code FIVEDAY20. You're welcome.

Come As You Are is a wonderful, queer-and-trans-owned, co-operative Canadian sex shop that I highly recommend supporting. Everything's currently 20% off at their shop with the code AMERICANTHANKSGIVING.
My picks (click here for the full list):
CAYA carries the new BJ Dildo, a harness-compatible silicone dildo that's hollow in the middle and has a hole on each end, to enable the person wearing the dildo to actually feel the sensations if someone gives their strap-on a blowjob. Brilliant! This is only $80 CAD (about $59 USD) with code AMERICANTHANKSGIVING; I think I'll be snapping one up, actually!
There's a lot of Aslan Leather products at CAYA. Aslan is a local kink-'n'-leatherwares company and I adore their stuff. You can use the code AMERICANTHANKSGIVING to get a dreamy Jaguar harness for $76 CAD (about $56 USD), a leather collar for $44 CAD (about $33 USD), or leather cuffs for $54 CAD (about $40 USD). I own all of these and they're a leather-lovin' kinkster's wet dream. (Want my limited-edition pink Jaguar harness? With that same discount code, you can grab it for only $104 CAD/$77 USD.)
I just recently bought a Hole Punch Fluke and am loving it as a stationary vaginal plug for lazy masturbation. The code AMERICANTHANKSGIVING will get you one for only $68 CAD (about $50 USD).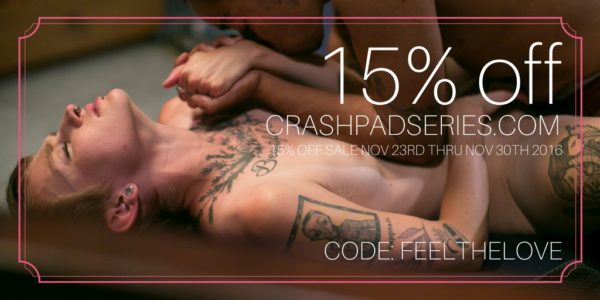 Crash Pad Series is offering 15% off memberships with code FEELTHELOVE right now. They make some of the hottest queer porn out there, and always in a way that's ethical, feminist, and progressive. If supporting good porn is important to you, you should give your money to Crash Pad; they'll give you entertainment and orgasms in return!