You can feel about a company the way you'd feel about a person. You can hold its flaws and its virtues in your mind simultaneously. You can love it and hate it, both together, more intensely every day. You can halfheartedly explain away its mistakes because you want, so badly, to believe in its goodness, its honor. You can, and I do.
American Apparel is shutting its doors after a years-long battle with bankruptcy, scandal, and cultural insensitivity. Let me be exceedingly clear: this post is a love letter, but there are many things about American Apparel I do not love and cannot condone. The sexual harassment, the sizeism, the snotty atmosphere that causes several of my queer, trans, plus-size, and disabled friends to feel uncomfortable in AA stores… None of this is excusable. I myself boycotted AA for years, for these reasons and more. There are those who would say I am problematic for having supported this company. That's fair.
Setting aside the things about AA that are actually good – like its labor practices and occasional feminist collaborations – what really made me an American Apparel devotee is the products themselves. The products are what I will miss, when the last remaining dregs of AA in this world are extinguished. The clothes, and how they made me feel.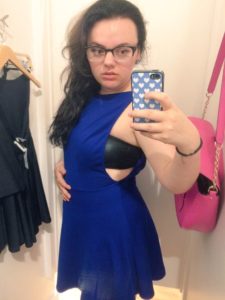 For years now, when I have an upcoming occasion for which I need to look slutty and cute, American Apparel has been my one-stop shop. This was especially true during the last couple years, when I had a friend who worked as a sales assistant at the Yonge-Dundas location – I'd text him, "I need some new slutty clothes. Are you working today?" and then I'd come in and he'd bring me things to try. A black pleather bustier. A tight gold skirt. A low-cut dress and the best bandeau bra to wear under it. Whatever my slutty needs might be, AA would have 'em covered. (Or just-barely covered, as the case may be.)
I own three of their "figure skater dress," because it makes me feel like a fucking glorious bombshell, and that feeling is well worth the price of the dress. I own their ponte pencil skirt in two different colors, and have worn them to job interviews, conferences, and presentations, because nothing else puts me in a foxy-businesslady headspace quite so quickly. I own four of their ribbed racerback dresses and two of their jersey racerback dresses, because nothing else is so easy to throw on, style up, and accessorize. Their basics are indispensable simply because they are indeed so basic, and so well-made.
When dressing for a porn shoot or a sex-positive party, I always consider my AA clothes first. My tiny booty shorts, my fetishistic thigh-high socks, my form-fitting fuck-me dresses. They always do me right.
When I need to transport large quantities of sex toys – to, say, a porn shoot, a hotel sex date, or an out-of-country threesome – my bright yellow American Apparel leather clutch is my favorite vessel. It can comfortably fit my Magic Wand, Eleven, a few more toys, and a plethora of safer-sex supplies. Whenever I take it anywhere, people ask me where I got it. It looks so cute tucked under my arm, and it looks even cuter when I open it and you realize it's stuffed with sexual accoutrements.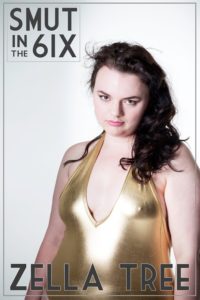 When I received an invite to the Smut in the 6ix gala and was told to dress "as smutty as possible" in a black/white/gold color scheme, I knew exactly where to shop. It took me less than fifteen minutes to find the perfect thing on the American Apparel website: a deep-V gold lamé bodysuit. At the gala, I rocked it with a black pencil skirt over top, which I then stripped off when I got up on stage and found I wanted to show more skin. On my chubby frame, the bodysuit looked quite different from how it did on the AA model's slim body, but I still felt like a luminescent vixen in it. It stretched to skim my curves and made me feel like I could live in gold lamé.
But AA isn't all party clothes and mega-cleavage. Their hoodies – part of the line of basics which made them famous – are among my go-to loungewear when I'm sad, sick, or depressed. Lined with cozy fleece, they keep me warm and comfortable even when my brainspace feels cold and harsh. I can zip up the zipper, pull up the hood, and tuck my hands into the kangaroo pockets, and it makes me feel snugly, safely bundled up. Insulated from the world by polyester and cotton.
The AA stores in my city – and probably yours too – are currently plastered with sale signs: "75% OFF!" "EVERYTHING MUST GO!" Inside, they're practically barren. Everything is on sale, even the furniture. It's a sad sight. But recently, I ventured into one with my friend Suz, determined to find some final souvenirs to take home with me.
One thing I bought is a dark red hoodie, unisex size small to fit my ladies'-size-large body. I've barely taken it off since I bought it; in fact, I'm swaddled in it now as I write this. Like all my AA acquisitions, it's well-made, dependable, reliable. I feel effortlessly put-together in it; I feel at home. It's a feeling I'll miss, as American Apparel shuts its stores, takes down its website, and recedes into history. I will wear these clothes until they disintegrate. I will wear these clothes until I find ones I like better. Maybe I never will.