Here's how you know I'm still relatively new to kink: I didn't take aftercare seriously until very recently.
I viewed it largely the same way I view those safety presentations that flight attendants give before takeoff: this is something I should be aware of, but it probably won't apply to my life.
See, I cried after the first time I had sex with a man, but for the most part, sex doesn't unravel me. I think sex is less tied to emotions for me than it is for the average person, just judging by the questions I sometimes get when I tell friends about my sex life (e.g. "How can you have sex with someone you don't have romantic feelings for?!" and "What?! You could 'take or leave' kissing? Really?!").
But the thing is, kink is way more emotionally taxing than vanilla sex (at least in my experience), which is part of why aftercare is so important. When I'm just getting fucked or putting genitals in my mouth or whatever, I can roll over and fall asleep immediately afterwards, or start cracking jokes, or get up and leave. I can spend some time decompressing and debriefing, but I don't need to. Shit's different with kink.
My partners have normally been wonderful about aftercare. They gave it without me needing to ask for it or even use the word "aftercare." But last week, I went into a play session feeling a bit psychologically off-kilter already (don't do this!!), so the extended spanking and biting and slapping that typically would've been fine… wasn't. I felt more shaken up than usual, to the point that I started crying and couldn't even properly verbalize what my problem was. To make matters worse, my partner said something shame-y to me, and I don't think he meant to, but I just couldn't handle it at that moment.
So I did what you're never supposed to do: I skipped aftercare. I put my clothes on and got the hell out of there, because I felt a strong need to distance myself from that person at that moment. It wasn't the brightest decision I've ever made, but it felt necessary at that time.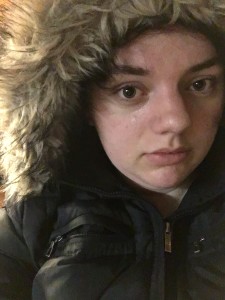 I'm really lucky to have lots of clever and supportive folks following me on Twitter, so when I tweeted about my situation, I received lots of suggestions. Upon arriving home, I munched carrots and hummus while watching a cartoon show on Netflix, while still wearing my winter coat with the hood pulled up because I felt safer that way. After about an hour of sniffling and breathing and crunching and (eventually) giggling, I started to feel less horrible.
It got me thinking about how important it is to have self-care supplies on hand, incase of a kinkmergency like this. Sometimes your partner has to leave right away, and can't give you the care you need after a scene; sometimes you have a conflict with a partner during sex that leaves you both wanting distance; hell, sometimes you might even do kink stuff by yourself that leaves you feeling vulnerable enough to need some aftercare. Here are some suggestions for items to have at the ready, just incase.
Calming media
In my recent time of need, I gravitated toward Mike Tyson Mysteries, because it's bright, silly, and doesn't require a whole lotta attention span. I think cartoons, in general, make for good aftercare viewing. Some of my kinky friends swear by Pixar movies or old episodes of Bill Nye the Science Guy.
If you're more inclined toward grown-up media, you could watch something you've seen a zillion times already. (Sherlock? The Office? Dead Poets Society?) Depending on how you're feeling, it could be something funny or lighthearted, or something sad enough to induce some cathartic crying. Either could be helpful.
In addition to things to watch, you should also have things to listen to, incase that's more the mood you're in. I recommend quiet, soothing music (e.g. Jeremy Messersmith's "Paper Moon," Jim Guthrie's Indie Game soundtrack, the Peaceful Piano playlist on Spotify) or something you've listened to so many times that you practically have the whole thing memorized (for me: Jeremy Larson's "They Reappear" and the self-titled Fleet Foxes album). You could even make yourself a playlist of specific songs that reliably calm you down, and sync it to your phone/MP3 player/tablet/cloud, so you'll have it at your fingertips whenever you need it.
Depending on your disposition and tastes, it can also be really calming to listen to well-spoken folks reading poems, monologues and such. For example, here is Benedict Cumberbatch reciting poetry, Tom Hiddleston reading a Shakespearian sonnet, and John Krasinski performing The Gingerbread Man.
Warm and cuddly things
Some people get overheated when overwhelmed by kink-related feelings; obviously you should listen to your body and do what feels best. But most people I speak to about this topic seem to say that they feel cold and/or shivery and need additional warmth after emotionally intense play.
To combat this, you can keep on hand some blankets, sweaters, coats, scarves, shawls, hats, socks, slippers, and/or mittens. In emotionally fragile times, I especially like to wear things that remind me of someone I love: a shawl my grandmother knitted, a jacket a friend gave me, some mittens my mom bought me.
You can also get warm by making yourself (or having someone else make you) some tea or hot chocolate, or by drawing a nice hot bath, ideally with some good-smelling stuff in it.
If you have access to a friendly pet, cuddle it. If not, a stuffed animal is almost as good. You can also try cuddling with real-live people if there are any around, and if that appeals. (It's okay if it doesn't. Sometimes the comedown from kink involves wanting your distance from other humans for a little while.)
Tools of self-expression and self-reflection
This will differ a lot from person to person and even from moment to moment, but you may want a way to process what just happened to you and what you're feeling. You can keep it simple and just talk out loud about your feelings (I love to do this while sitting in a bath), or you can get a bit more involved and write in a journal, paint a picture, make some music, etc.
For stream-of-consciousness writing that I may or may not want to see ever again, I love 750Words.com. Sometimes typing is easier than writing by hand, physically and maybe emotionally too, since you don't have to focus quite so much on what you're writing as you write it. A service like 750Words is also more secure than a physical journal, which might be important to you if you're writing about sensitive topics and difficult feelings.
Aromatherapy
I like the smell of bath products from Lush, scented candles from Bath & Body Works, and lavender essential oil. Figure out what smells you like and keep 'em around if you can. You may want to put on a perfume that reminds you of a happy time in your life. (Bonus happy-hibernating-turtle points if you spray this into the front of a cowl or scarf and then pull it up over your nose.)
Grounding snacks and drinks
I'm finding that I really like cold, crunchy foods when I'm coming down from subspace or a sex-high. Fruits and veggies give me enough sensory stimulation to ease me back to earth, and they're also full of nourishment and hydration, which are important when you've just endured something intense.
A friend of mine keeps ice cream around for aftercare purposes. Another friend likes to pick up donuts on the way to a sex-date so they'll be available for consumption afterward. It might be useful to think in advance about your own food-related proclivities, so you can avoid foods that will make you feel anxious or gross and choose only the ones that'll make you feel good and happy.
It's also really important to re-hydrate after a kink scene, or any kind of sex. You lose a lot of fluids through sweating, coming, and (maybe) crying. Load up on water, tea, juice, sports drinks, or whatever other beverages your body is calling out for. (Alcohol's probably not a great idea at this time, though.)
Kind words and feel-good memories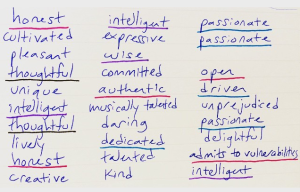 This one's a bit more abstract, but still important, I think. Start keeping a file or folder – whether digital or physical – that contains all the compliments you receive from friends, family, and even strangers. It's so easy to forget the nice things people say about you, because they're often outweighed by negative comments that stick in your head more easily.
If you're having trouble coming up with material for this "compliment bank," ask 10 of your closest pals what they think your 3 best qualities are.
You could also keep an ongoing jar of happy memories/good things, like Penny does, to leaf through when you need a pick-me-up. For aftercare purposes, it might be best if this is a physical object rather than just a digital list; the visceral quality of paper in your hands can help re-ground you.
What do you do when you need to provide your own aftercare? Or when you need to do self-care in general?