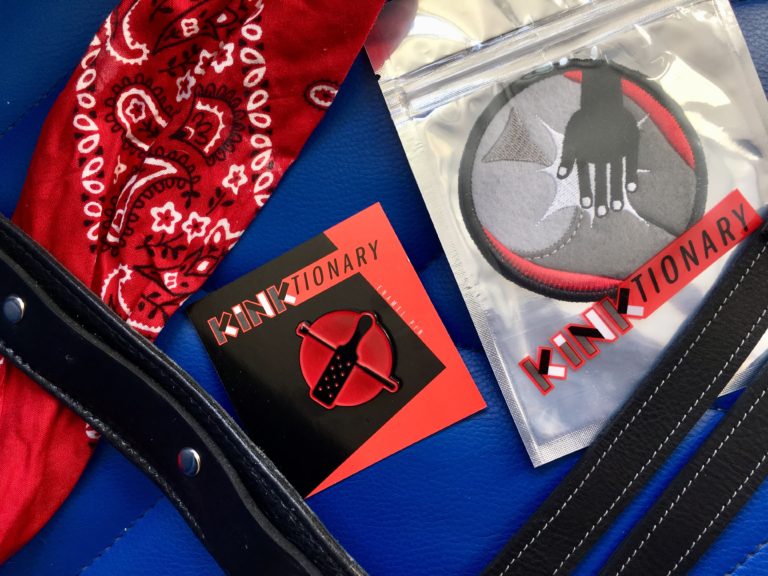 Since realizing I was well-and-truly kinky a few years ago, one of the foremost problems I've faced is: how do I find other kinksters to play with?
True, kinky folks are everywhere. They're on the internet. They're in sex clubs and dungeons. They're at regular-ass cafés and bookstores and bars. They're lurking around every corner (oooh, spooky!). But it's not usually appropriate to straight-up ask a stranger, "Hey, are you kinky?" or, more specifically, "Hey, are you into [this particular kink I'm into], and if so, would you like to play?"
This difficulty exists whether you're out in vanilla-land or at a kink-focused event or playspace. Kinky locales sometimes have flagging systems in place, but not always. And even if they do, you might still want a little fun flair to set yourself apart and express your delightful perviness to the world.
With that in mind, here are a few ways you can "flag as kinky," whether you're headed to a coffee shop, a conference, or a cock-and-ball-torture class. (Hey, I don't know your life.)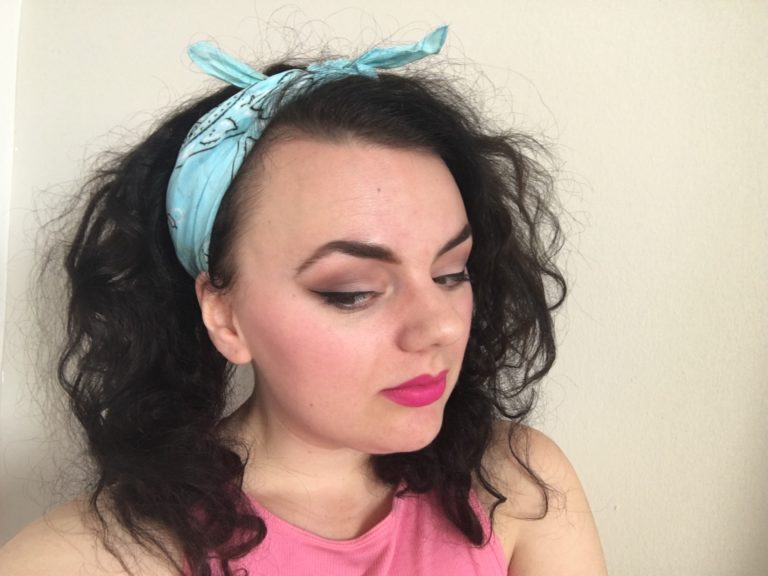 The hanky code
Dating back to the mid-20th century, the handkerchief code originated in gay male spaces, but is understood and employed by many different types of queers to this day. It's a subtle way to show your true colors, so to speak, and looks fly as hell even if no one knows what you're flagging. (But if you're around culturally savvy queer folks, it's likely at least some of them will.)
Here's the deal with the hanky code: different colors correspond to different specific sex acts, from the relatively tame (light blue for cocksucking) to the more extreme (yellow for piss play). You wear the hanky on your right side if you're a bottom/receiver for that particular act (traditionally in the back pocket of your pants, but feel free to mix things up as needed), or on the left side if you're a top/giver. If you're into multiple things (and most of us are), you can flag for multiple things. Fun!
The basic building blocks of the hanky code allow for plenty of creativity, so you can typically slot it into whatever kind of vibe you want your outfit to achieve. I've sometimes worn a light blue bandana tied around my left wrist ("I like sucking cock"), a flower hair clip fashioned from a light pink bandana on the right side of my head ("I like getting fucked with dildos"), or a red bandana tied around my head Rosie the Riveter-style with the knot placed to the right side ("I want to be fisted"). Some femmey types even incorporate hanky colors into their nail art. There's so much fun to be had with the hanky code!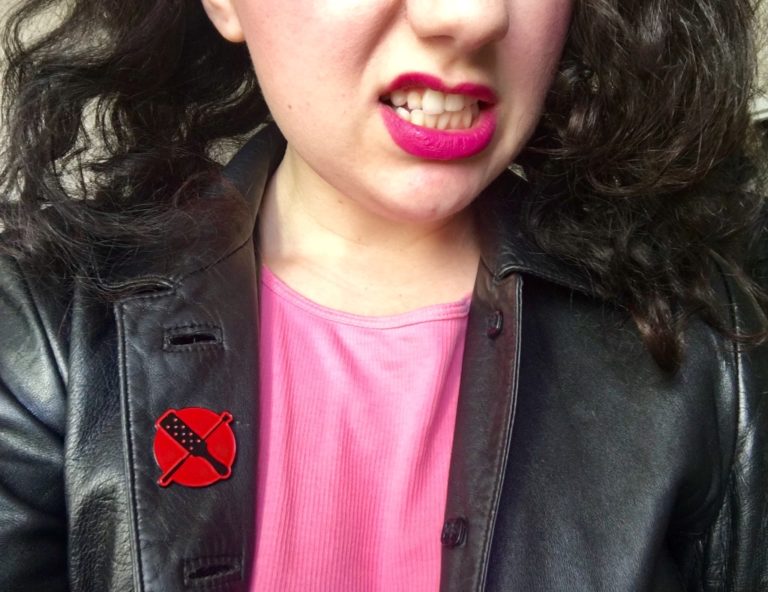 Pins and patches
Use your discretion with this one – like, for example, maybe don't wear that "Fist Me, Daddy" pin to your family reunion – but clip-on and iron-on pieces of flair can communicate a lot!
I have, for instance, a little nametag that says "Princess" which I would like to wear to a kinky event sometime. It doesn't spell out my kinks in detail, but it gives onlookers a clue as to what I might be into, and it can open up a conversation. ("Are you a dommy Princess, or a subby princess?")
I'm also in love with the pins and patches from Kinktionary, an art project centered around hedonism, sex, and body-positivity. Their spanking patch and impact play pin swiftly communicate an interest in hittin' or bein' hit. I'm also into the playful, not-so-subtle subtlety of their "lick" pin, rope bondage patch, and biting patch. These designs are artistic and beautiful enough that you could rock them in polite company (within reason), but they could also easily open up a dialogue with a potential play partner at a kinky event. Swoon!
(Don't even get me started on the "Sir" patch. I would have A Whole Lot of Feelings if I saw a domly-looking masc person with this sewed to the sleeve of their leather jacket.)
Kink accessories as fashion accessories
Here's another trick in the "subtle, yet not subtle at all" camp: wear your kinky apparel as if it was just regular apparel.
Obviously, this won't work with everything. You probably don't wanna sport your leather chaps to church (unless your church is really fucking cool), and please don't make a TSA agent pry your bondage cuffs off you, silly goose. But some kinky items are inconspicuous enough that they might go unnoticed in vanilla environments.
A leather waist-cinching belt with bondage-ready D-rings looks glorious over a cocktail dress, for example. Skinny bondage cuffs can look super cute as bracelets, particularly if they're specifically designed to be wearable as such. Nipple clamps make brilliant cardigan clips. Even a well-shined pair of leather boots can communicate a certain kinky je ne sais quoi to the kind of person who would notice such things.
How do you like "flag as kinky"?
This post was graciously sponsored by the folks at Kinktionary, and as always, all writing and opinions are my own. Read up on their stunning art project, and then peruse their pins and patches!