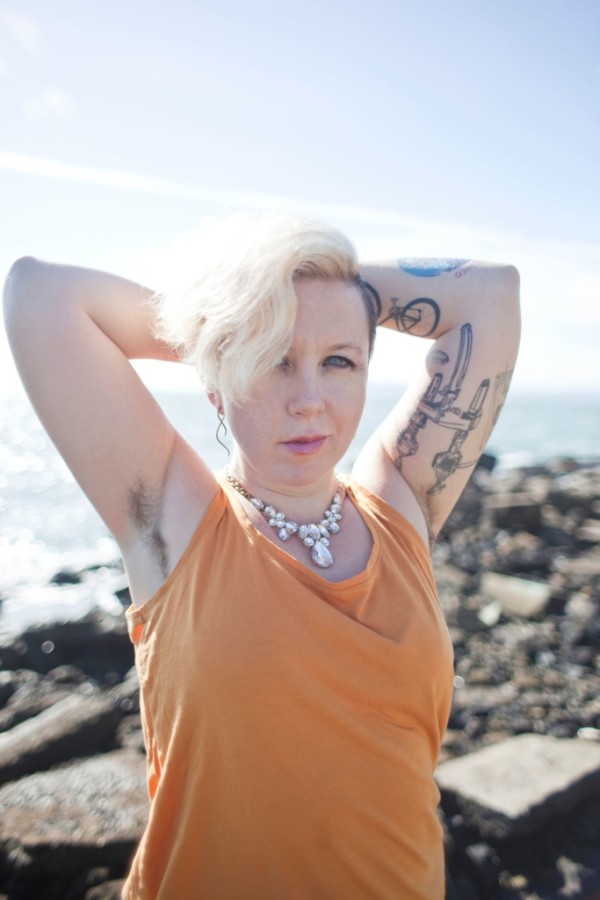 I'm finding, increasingly, that my media consumption habits are based less around "What is this piece of media and what value will it add to my life?" and more around "Who created this piece of media and how much do I trust them?"
The world is full of books, podcasts, articles, and interviews on every conceivable topic. If there's a piece of information I need to find, or a subject I want to learn about, I can do that in innumerable different places. So what matters to me more, now, is – who is imparting this information? Do I know them? Do I like them? Is their style and approach in line with what I want?
That's why I got so excited when I heard Tina Horn was writing a book about sexting. When it comes to sexuality, she has one of my favorite minds in the biz. I love her podcast, her writing, her random and irreverent tweets. Ever since the word "sexting" burst onto the scene, every sexpert in existence seems to have shared their best tips and tricks for the medium – but I don't trust most of their advice nearly as much as I trust Tina's. She's a seasoned sex pro, a clever whiz kid, and a dirty-talk aficionado. If anyone can help you up your sexting game, it's Tina.
And indeed, the book rules. It covers everything, from the basics (how to figure out which vocabulary words turn you on! how to use OkCupid!) to the more nuanced considerations of sexting (how to get someone's textual consent in a hot and respectful way! how to take a sexy selfie that doesn't suck!). I consider myself a competent sexter (sextress?!), but Tina's book made me ponder the whole activity much more thoughtfully, and I think my skillz have improved as a result.
So, I was delighted to be able to interview Tina about her book. Except, in classic sex-nerd fashion, we got a leeeetle bit off-topic because there were just so many exciting sub-tangents to delve into. Including X-rated Animaniacs fanart. Read on for the interview…!
---
Girly Juice: What kinds of "proto-sexting" activities did you engage in, in the early days of the internet or before that? (I was all about cybersex in ICQ chats and online roleplaying games!)
Tina Horn: I often wonder how my sexuality would have developed differently if I had not been just right age in history to be going through puberty right when we got dial-up internet in my house. Technology continues to inspire an urge for self discipline and self control in me, and maybe that has something to do with furtive, measured trips to the family desktop to talk to my internet buddies when I was 13, 14. I can remember sitting at the wooden desk in the den, madly typing, learning about the world through language divorced from identity.
I'm going to tell you about something I almost never talk about, because I hold a lot of embarrassment about this even though it's obviously normal and quite adorable. Like I said, I was an adolescent when the Internet became a thing people had in their homes. As a child on the verge of adulthood, I just sort of assumed, oh, ok, you start to grow up and then your access to the world gets bigger. I was too caught up in my own teenage narcissism to give media a historical framework. So what did I look for online? I searched Napster for EVERY SINGLE TORI AMOS B SIDE AND REM LIVE CUT, and I looked for newsgroups about the shows I was obsessed with: The X Files, Quantum Leap, and Animaniacs.
So here's the thing about Animaniacs. It was a show for children, but it had a very mature sensibility. It was saturated in popular culture and had this sophisticated ironic Borscht Belt humor. So I was a kid who was looking for people to talk obsessively about Animaniacs with. And the internet was filled with adults who were, shall we say, in touch with their inner child. So I spent hours and hours in IRC chat rooms and newsgroups. I think I was honest about my age and I knew there were a lot of adults and they didn't seem to mind how young I was. I felt accepted and respected in a way I didn't among my normal peers. Maybe my internet friends were predatory or maybe the Internet was just new to everyone and the novelty of talking to a precious child was no big deal. But eventually they started sending me links to fan porn they were writing and drawing about the cartoons we all liked. I of course have a very vivid memory of clicking on a file in an FTP folder and slowly watching an image load: a hand drawn illustration of Buster Bunny fucking Plucky Duck along with an extended explanation of why it makes sense for cartoons to sexually experiment.
Eventually I got together IRL with some of these folks, and suffice it to say I think some of them may have wanted to seduce me. I guess I was smart enough to be creeped out by that.  I started to actually hang out with some theater kids at school and spent less time online. Eventually this one girl who I used to exchange Sailor Moon drawings with sent me this angry hand written letter saying I was totally shallow and didn't care about my REAL online friends because some dumb teenagers made me popular. Which was hilarious because of course my new IRL friends were all the freaks and geeks of my small town. I am happy to say I realized how totally backwards and fucked that was even then.
I think this has influenced my subsequent relationship to evolving technology, from texting to Skyping to naked selfies to online dating to Snapchat. I'm very skeptical about the relationship between our virtual selves and our IRL selves. I think technology can facilitate wonderful fantasy exploration, but it's imperative that we can distinguish between fantasy and reality. That skepticism and self control really informs my proscriptions for etiquette and ethics in my Sexting guide book. I don't mean to sound like no fun! Think about it: BDSM is also about negotiation, restraint, boundaries. When you have self discipline, you can be absolutely disgustingly filthy and profane and ecstatic within your agreed-upon parameters. When you know the size and shape of your pen, you can go hog fucking wild.
GJ: As a fellow writer, do you share my attraction to people whose grammar, spelling and vocabulary are on-point in textual communication? And how do you respond to people who tell you that this preference is elitist or picky?
TH: You know, there are such cretins out there that my bar is actually quite low! As long as someone is not being a complete troll, I'm pretty tolerant of slang, abbreviations, misspellings, creative grammar. I think the most important thing for me is STYLE. I'm sure we know some people whose use of slang is tacky and tone-deaf, while some people make me bust out laugh when they say something is on fleek or whatever. Same goes for grammar; you can get imaginative with grammar to demonstrate rhythm, emphasis, tone, even surreality. I guess what I'm looking for is writing that I can hear, as if the person is speaking to me, and there are formal and informal ways of achieving that with different digital mediums.
I used to joke that I thought the most important OK Cupid question was, "What does 'Wherefore' mean in Juliet's famous speech about Romeo?" (It means Why, as in, Why must the man I love have a name my family hates?). Then a friend pointed out how classist that is, to weed out people you won't date because they haven't had a certain kind of classical education. I think both perspectives are valid. I do value people who appreciate literature and theater, and like to nerd out about language. Then again, I DON'T value exclusively dating people who have a similar education, background, or life experience as me. It's important to know what you value, but it's just as important to be critical of your own prejudices and the way our personal lives perpetuate systems of oppression.
GJ: I sometimes get anxious about starting sext conversations because I worry the other person will think I'm overeager, "too sexual," etc. Any tips for mitigating my anxiety around that?
TH: I don't believe in playing hard to get, but I do believe in finesse. You can tease without misrepresenting yourself. Use your sexting language to seduce. Sometimes you have to withhold a little in order to get the satisfaction of making your partner beg for it.
Think of your sexting conversation as a story, with a prelude, exposition, rising action, climax, and denouement. Or a pop song that starts off quiet and builds and builds its excitement and dynamics. Or think of sexting as a strip tease, in the classic burlesque sense. You can burst onto the stage fully nude and lewd, or you can appear fully clothed and slowly reveal more and more until you have your audience wrapped around your g string.
GJ: Are there sexual acts you like to sext about that you don't actually like to do in real life? Or vice versa? Why's that?
TH: Sexting is totally a place for fantasy. If you have a sexting partner who is capable of distinguishing between fantasy and reality, then go for it! The more absurd the better!
GJ: What celebrities or fictional characters do you think would be amazing sexters? Why?
TH: David Bowie has been on my mind so much lately, so I'm gonna let myself imagine his prolific, surreal, romantic sext life. Suck, baby, suck.
GJ: Do you ever have to do aftercare after intense/kinky sexting sessions? How does that work?
TH: I think if you're sexting to get yourself and/or your partner off (whether it's by language message, picture, or video) it's important to stay with the person after orgasm. Unless you're on the same page about using each other for stimulation. The magical thing about sexting is that you have such an effect on someone's body, their nervous system, whether you're across town or on another continent. Sometimes it can be jarring to feel so close to someone to the point of sexual ecstasy, and then get dropped back into reality. I would say use the same principals as IRL self care: let the person know you're thinking of them, remind them of how hot your sexting was. The virtual equivalent of snuggling!
---
Thank you so much to Tina Horn for being as thought-provoking and generous as ever! Go check out Sexting – I'm sure it'll elevate your sextuality to the next level.