Kiss and Make Up is my new series wherein I review makeup according to how it held up in a sexual scenario. I hope you dig it!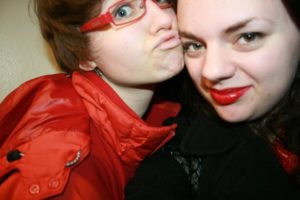 I sprung for Duwop's Lip Venom in the winter of 2010, when I had a new boy to kiss and it seemed desperately important that my lips look good. I'd wear the cinnamon-y gloss layered over MAC Russian Red (as pictured) or just on its own, and it would do its signature magic of irritating my lips into a plumper appearance. I loved it: the sharp spicy taste of it, the telltale tingle, and most of all, those plush pillowy lips it gave me. What an amazing invention.
My boyfriend, however, was less enthused. "What is on your lips?" he whined one day, mid-makeouts. The Lip Venom, he said, was stinging his lips. I apologized and wiped it off, as if this pretty pink gloss was the only obstacle between us and high-quality kisses. Truth be told, he was a distressingly bad kisser (by my tastes, anyway), and I wished he could've upped his game as easily and quickly as I upped mine by taking off that painful gloss.
---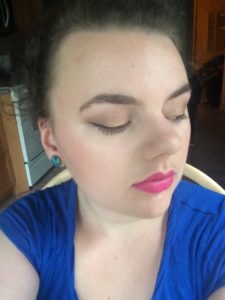 I wore NARS Schiap lipstick the last day of Playground Conference in 2015. It paired well with my blue dress, pink handbag, and pigtails. In fact, my outfit was apparently so good that when I walked into a panel session late, I immediately got a text from my dom fuckbuddy, sitting across the room: "Oh god, you're wearing thigh-high socks and a short skirt. I'm going to be thinking about eating you out all day." This is a very good text to get at 11 in the morning.
NARS semi-matte lipsticks smell like clean laundry (so sayeth Sofie, who is correct). They go on satiny-smooth, and usually look good for several hours, even if you're quaffing coffee like I was that day at Playground. However, put to the makeout test, they cannot hold their own. I discovered this when, later that day, I gave a hotel-room blowjob which morphed into an impromptu threesome – by the end of which, there was absolutely no lipstick left on my face. I smoothed on some peppermint lip balm to soothe the irritation I'd accrued from kissing a scruffy boy all afternoon, and that helped.
In my post-sex debrief with Bex over mac and cheese that night, we talked about how kissing someone who's wearing lipstick is a lot like going down on someone who's on their period. It's messy, and maybe embarrassing, and I can completely understand why you wouldn't want to do it. But I'll like you so much better if you do.
---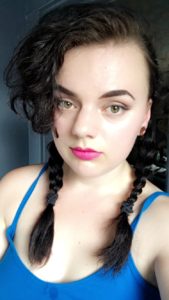 I fell in love with Bourjois liquid lipstick in Pink Pong at a drugstore and bought it on the spot. It was everything I most want in a lipstick: an eye-gougingly bright cool-toned pink, an opaque formula, a pleasant scent (pink grapefruit?), even a punny shade name.
Unlike many liquid lipsticks, Pink Pong felt comfortable once dry, and didn't render my lips dry or cracked, even after many hours of wear. However, that dry texture is what allows truly long-haul lipsticks to stay put (and why Make Up For Ever Aqua Rouge comes with a clear gloss you're supposed to wear on top of it). My new Bourjois treasure passed neither the makeout test nor the blowjob test.
That was the month when I was seeing both a boyfriend and a beloved fuckbuddy, alternating between them like my life was a buffet of good dicks (which, let's be real, it often is). I wore Pink Pong to boyfriend's house one afternoon and blew him while he sat on his couch like a king, arms spread wide, head dropping back in quiet pleasure. When we were done, I ducked into the bathroom and saw that there was no lipstick left on my mouth. None whatsoever. There sure was a lot on my hands, though. (Uhh, my BJs are pretty handsy.)
Later that week, I wore Pink Pong to my fuckpal's place and we made out like teenagers in his cheap, squeaky bed. When he served us a post-canoodlin' snack of spicy salmon sushi and Magnum ice cream bars (quelle gentleman!), he wiped his mouth on a napkin and the white scrap came away pink. "Aww, Kate, look, your lipstick's all over my mouth," he said, with an affection I had never known any boy to feel about my lipstick before. It made me want to kiss him a whole bunch more.
---
In the late summer I briefly had a "spanking buddy." It was a sweet deal. I'd go over to his place, we'd talk about the Adventure Zone and MBMBaM and other fine McElroy products, we'd vape some weed, and then he would spank me. The spankings were excellent: rhythmic, firm, and merciless. He always left both my sets of cheeks blushing.
One such night, I showed up with a full face of makeup, and by the time we said goodnight, there was none left at all. My lipstick of choice for the evening was Maybelline's Rich Ruby, a creamy, matte, cool-toned red that normally holds up pretty well through food and drink. But it did not hold up through a spanking. Granted, when I get spanked, I typically bury my face in pillows/blankets/couch cushions, and sometimes I cry, and that combination of friction and fluid is not kind to makeup.
"How's my lipstick looking?" I asked my spanking buddy when I raised my head off his bed, post-beating. He peered at me curiously and said, at last, "It's not bad… it's just… not there." Indeed, it was not. My lipstick was gone.
After I left his place and went home, I got a text from him. "I found your lipstick," he said. "It's all over my blanket." I laughed and apologized, and we said goodnight.
---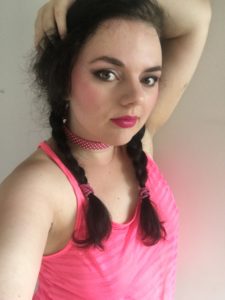 When my FWB came over to our sunny Airbnb in July to shoot BJ porn, I was nervous to the point of pacing and raving. "Hey, shh, it's gonna be okay," he told me. "You're gonna be great."
He had brought some underwear options, and asked for my help deciding which ones to wear – possibly as a tactic to distract me from my own jangling nerves. We eventually settled on some turquoisey boxer-briefs. "They're moisture-wicking," he commented, for no apparent reason, because he is a weirdo.
Just before filming was to begin, I knelt in front of him, my face all done up. On my lips was a combo of ColourPop's lip pencil in Heart On and Bite's fruity lipgloss in Bellini. I wasn't at all confident it would stay on my face, but then, smeary lipstick is a selling point of BJ porn for some people. "I'm gonna kiss your dick through your underwear a bit before I start," I jabbered nervously at my FWB. "Sorry in advance if I get lipstick all over these beautiful boxer-briefs."
"It's okay, they're moisture-wicking," he replied, and so there is a moment in the final porn scene where I giggle like a dork, and that is what I am giggling at.
By the time we finished, my face featured almost no lipstick but a euphoric, nervous-no-more kind of smile.