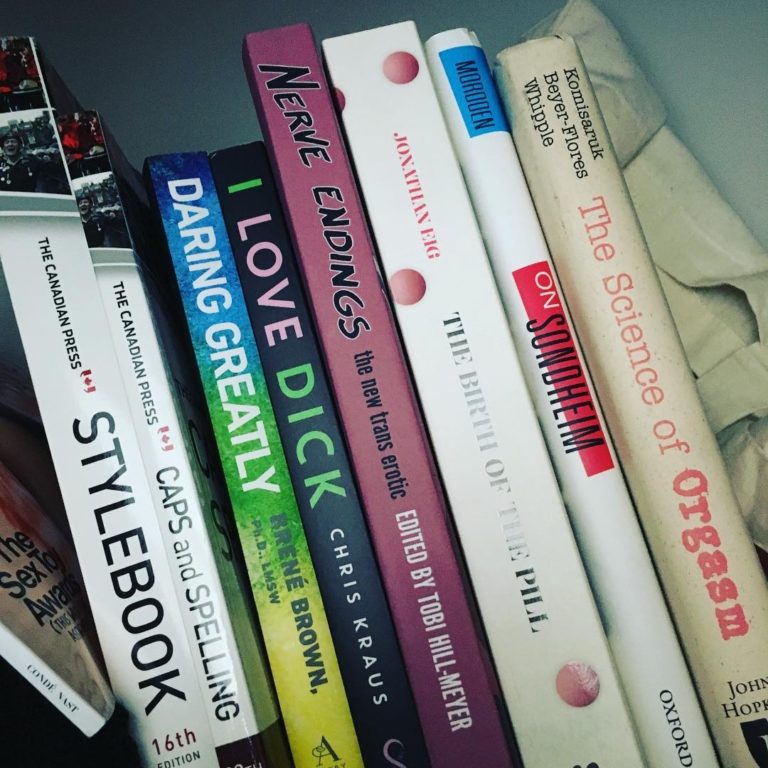 • Sarah says pleasure is a form of political resistance. "Queer intimacy is revolutionary. Joyfully reveling in ourselves, each other, and our pleasure is revolutionary," she writes. "For marginalized people, our pleasure shouts, 'I see your violence, but you do not get to take THIS from me. My pleasure is mine, and mine alone.'"
• Carly has some great thoughts on money and abundance.
• Men discuss which women's beauty products they use and love.
• Here's how sexual satisfaction changes over the course of long-term relationships – and here's how to keep passion alive.
• My friend Taylor is a delightfully brash flirt.
• Men, here's how to listen when someone discloses their sexual assault to you. Quit #NotAllMen-ing all over important sexual assault discourse, and start actually being part of the solution.
• Interesting, scary, and sad: the shower murder scene in Psycho kickstarted a long-standing trend of sexual violence in horror movies.
• Who knew so much thought and work went into crafting Mona Lisa's perfect smile?
• First times often suck and that's okay. (This post also contains a li'l checklist of sexual compatibility + chemistry signs to look out for during a first hookup with a new partner, which I found super interesting and useful!)
• "These days, a good handjob is rare but delightful," reports MEL. I love giving HJs on intact cocks, but still haven't quite figured out how to do as good a job on circumcised ones…
• Bex wrote about their spanking birthday party, which was a damn good time.
• Have we reached peak pegging culture?
• This one hit close to home for me: how do I stop obsessing about finding love?
• Tina Horn wrote a beautiful essay on queer culture, bravery, and glitter.
• There's a new Hollywood film about polyamorous people and it might be poly's watershed moment.
• Lunabelle reviewed the Teddy Love vibrator (which I've previously reviewed) and naturally, it's hilarious. "Normally I'm at least a little excited to try a new sex toy, but NOPE," she writes. "Slurpy McBuzzyface and I regarded each other in awkward silence…" This piece is worth reading if just for the utter ordeal Luna endured trying to take her Teddy Love through airport security!
• Merritt wrote about fake boobs and it certainly gave me a lot of boob for thought! Er, I mean…
• A male sex worker answered some questions about his line of work (and made me want to hire a male sex worker).
• Not having as much sex with your partner as you used to? Emily Nagoski has some evidence-based suggestions.
• Some interesting writing about how trans folks' sexual desires change when they transition.
• Bex has some tips for taking better nudes. "Having dinner with my best friend often means reporting on the selfie lighting in the restaurant bathroom when we get back," they mention at one point. Can confirm: last time Bex was in town, we got ridiculous BBQ at a place near my apartment, and I took some lovely nudes in the bathroom on Bex's recommendation.
• A lot of men are bad at fingering and could stand to learn some new tricks.
• Some research on where fetishes come from – a question that has haunted me the entire time I've been a sex nerd.
• The great Tina Horn wonders: what do we expect from sex workers on social media?
• Taylor has some advice on flying with kink toys.
• Suz is a major role model of mine when it comes to casual sex and confidence in general. Here's her advice on how to vet a potential hookup for sexual compatibility before you have terrible, lacklustre sex.