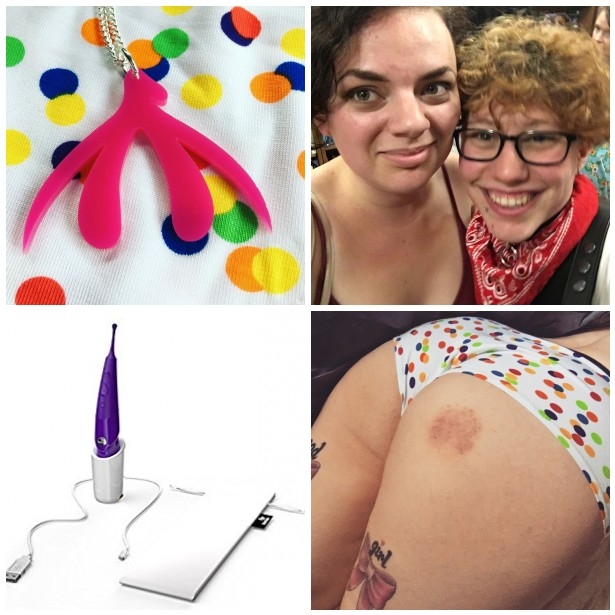 July of last year was an out-of-control amazeballs month for me sexually. This July was nice too, in different ways. Here's some of what I got up to…
Sex toys
• This month I was sent the Zumio, an oscillating clitoral stimulator similar to the Eroscillator but way more pinpoint (full review forthcoming!). I honestly was expecting to hate it, but… I don't. It's so intense that I usually only use it on the first setting and through panties – which also means it lends itself well to "forced orgasm" kink scenarios. At one point this month, my boyfriend held the Zumio on my clit while fucking me with the S-Curve, and I practically died of pleasure…
• Speaking of cool shit my boyfriend did to me: he surprised me one day by putting my collar on me and then chaining it to my under-the-bed restraints so I couldn't move. Then he jammed my Liberator Jaz under my hips and went down on me until I came. Woof.
Fantasy fodder
• A couple times this month, my partner alluded to cunnilingus as an endurance-based endeavor – "I wanna go down on you for a long time," "I'm not gonna stop until you come," and so on – and it reminded me of how soothing (and hot) these kinds of reminders can be. One of my number-one sexual anxieties is "taking too long" to come, so it's enormously helpful when a partner pre-empts those worries by essentially telling me they want me to take a while.
• I did two things this month that are typically associated with "femdom" – pegging and facesitting – but because I did them with my mega-dominant boyf, I did not feel dominant at all. I felt like I was being his servicey little good girl, or like I was being served to him on a proverbial silver platter. Friendly reminder: dominance and submission are not baked into any particular sexual act; they're attitudes you can bring (or not bring) to any act you choose!
• Here's a good sentence that came up in my fantasies a lot this month: "I wanna feel you come on my cock, little one." Oof. 'Nuff said.
Sexcetera
• Some of my work elsewhere this month: Kinkly asked me to write about the significance of collars for me as a submissive. For my friend Taryn's blog, I wrote a guest post about things to consider before entering a DD/lg relationship. I detailed some surprisingly common sexual fantasies for Ignite and wrote some beginner G-spot tips for Peepshow.. On our podcast, Bex and I talked about polyamory, penises, and edgeplay, and we interviewed our friend Taylor J Mace.
• Orgasm statz: I had 33 orgasms this month (go me!), bringing my total for the year up to 195 thus far. 14 of those orgasms (42.4%) were from partners, including one from a partner who had never made me come before this month (yay!).
Femme stuff
• I got some new tattoos toward the start of the month: "THIS TOO" + "SHALL PASS" on the insides of my wrists. This felt impulsive – I went for a walk-in appointment at my tattoo shop early one Wednesday morning – but actually it wasn't that impulsive: I'd been thinking about getting these tattoos for months, and decided it was finally time. They serve as an important reminder for times when I'm feeling anxious, depressed, or otherwise out-of-sorts. So far I'm finding them very helpful!
• After making a Lush trip this month, I've gotten back into an old fave, the Mask of Magnaminty, and been swoonin' over a new acquisition, Miranda soap. Oh Lush, you always do me right.
• I'm so smitten with my new clitoris necklace from Animal Hair. They also make dick earrings and a necklace covered in legs, among other things. Cuuute!
Little things
Learning about sex surrogacy and sexological bodywork from Caitlin. Longform improv. Queer femme babes. Getting super stoned (and sunburned) in Trinity Bellwoods. The Adventure Zone. Telling my boyfriend "I love you" for the first time (aww). Sexting while high. My brother's band's new music video. "Never really knew if I did something wrong; all I ever heard was it wasn't my fault." Feminist children's theatre. My boyfriend making us coffee to thoughtfully sip while we have goofy conversations in the morning. Angels in America. Writing with fancy pencils. Creativity during hypomania. Bite marks. "Babe, can I put my passport and butt plugs in your bag?" Diner breakfasts with Bex. Weed breaks on an Airbnb stoop. Nerdy income stats. Sexy jazz.