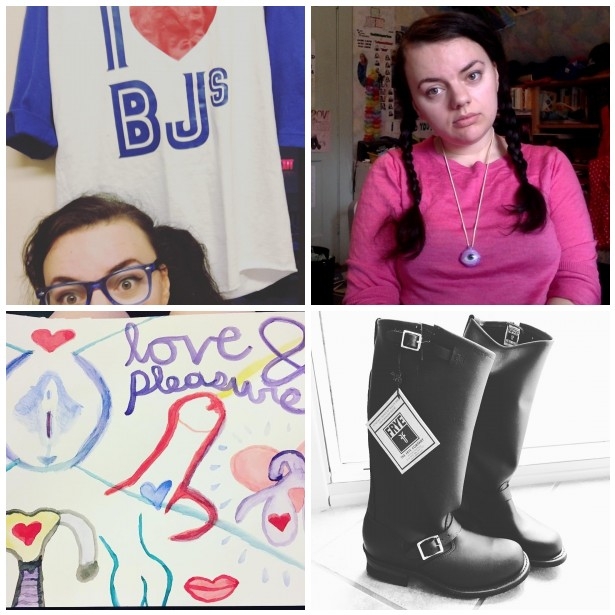 Can it be summer yet?! I'm so tired of this slushy, icy, grey Toronto winter. Ah well, at least I had some good sex this month. Here's what made my bits 'n' brain happy in March…
Sex toys
• I tried a silicone penis extender with a partner this month and it was certainly interesting! Girth isn't really my jam, so the 2″ diameter on the Traz Rhino Genesis was slightly outside the bounds of what I find comfortable and pleasurable, but we were still both surprised that we didn't hate it. I could see an extender being a fun solution in future if a partner wants to get me off via PIV but doesn't have the stamina to do so, or just wants to focus on pleasing me instead of on their own pleasure for a while.
• The folks at Warm sent me their product, an object that looks like a leather clutch but is actually designed to pre-warm your sex toys for you. I have a feeling I'll use this more with partners than I will alone, because a) my masturbation is usually so wham-bam that the idea of waiting 10-15 minutes for my sex toys to heat up is generally preposterous and b) it's usually my partners, not me, who express dismay at the coldness of my toys. ("Wow, this is cold; isn't it gonna hurt?" a fuckbuddy once asked me when I put my Double Trouble in his hands. I laughed, grabbed it back, and shoved it into me.) But it's a nice thing to have on hand, and makes me feel like the fanciest fucker in the land.
• Umm, we need to talk about the VeDO Bam bullet vibe. Peepshow sent me the Bam along with a whack of other bullets for an upcoming comparison review post, and I tried this one before the others, on the advice of a reader who told me the Bam rivals my beloved Tango. While it's certainly not perfect (I'll explain why in my full review), it's remarkably strong and rumbly for a $29 vibrator. This bodes well for the industry as a whole, methinks!
Fantasy fodder
• In the throes of a Mollena Williams kick, I re-watched the keynote talk she gave with her husband/Master, Georg Friedrich Haas, at the Playground Conference in 2015. I was particularly struck by Mollena's story about how her Master used to kiss her with waaaay too much tongue (she called him a "horny sex frog") so she asked him to adjust his technique, and he did. In the keynote, he explains that one of his duties as a Master is to give his slave orgasms, and since slaves are meant to assist and serve their Masters, giving feedback on what turns you on is one way to be a helpful submissive. I love this way of looking at it! And yeah, after pondering that story, I definitely fantasized quite a bit about a future diligent Dom who'll insist on hearing my sexual feedback, instead of feeling attacked by it.
• My FWB told me, after fingerbanging me to a marvelous orgasm, that he'd been paying attention to when I upped the speed on my Tango and using those moments as cues to intensify and speed up his fingers' thrusting. Partners' attentiveness to my body and tastes is pretty much the hottest thing I can imagine. I have been replaying that encounter a lot in my mind mid-wank lately.
• I bought some new boots this month (more on that in the "femme stuff" section!) and – whoops – my sartorial enthusiasm got mixed up in some sex-and-kink stuff, as it often does. While admiring the gorgeous new boots on my feet, I kept thinking about how hot and gratifying it would be to be serviced by a diligent bootblack. I'm almost never in the mood to be an imperious domme, but damn, I want my boots polished and worshipped…
Sexcetera
• On the morning of March 1st, I woke up in a fancy hotel room, with a handsome British man beside me. I'd met him two evenings previous, in a heated outdoor pool, where he charmed me with sweetness and good manners. This whole episode felt like something out of a movie. It reminded me of how sometimes sex is magical not just because of the physical sensations involved but because of the emotional connections and broader empathy it helps you develop.
• March orgasm stats: I had 30 orgasms in March, versus 23 in February and 30 in January. 4 (13%) were from partners, and the other 26 (87%) were solo. That brings my orgasm total for 2017 thus far up to 83, 9 of which (11%) were from partners and 74 of which (89%) were solo. Did you know I'm a nerd?!
• Some of my work elsewhere this month: I wrote about erotica and mental health for Glamour, enumerated some high-tech sex toys and different types of lube for Peepshow, explained alternate uses of the Magic Wand and how vibrators can close the orgasm gap for Ignite, processed some feelings about men's visual consumption of women on my personal Tumblr, and explained on Medium why Nick Jonas' album Last Year Was Complicated is kinky as fuck. On our podcast, Bex and I interviewed our friend Brent and the amazing Dirty Lola, and also talked about service, enthusiasm, and the G-spot. I also released a new song, This Bird.
Femme stuff
• I've been wanting some comfy, durable new shoes I can wear to work, so I bought some Frye 15R engineer boots, which I've been lusting over for years. GOD, THEY ARE GOOD. It took about two weeks for me to break them in, during which time they were stiff, tight, and painful, but now they feel perfect and I never want to wear anything else. Oh, Frye, you geniuses, you.
• Not being an athletic person in the least, I had never wanted to own any sports memorabilia before I spotted this Blue Jays shirt which says "I [Heart] BJs." This probably goes without saying, but please understand that me wearing this shirt is reflective only of my passion for blowjobs and not of any enthusiasm whatsoever for sports. Glad we got that cleared up!
• I've been wearing my glass eyeball necklace from a Lincoln City glass studio a lot lately. It feels like a comforting emblem of feminist agency in times of emotional turmoil.
Little things
Being romanced by grown-ass adults who do things like buy you sushi and wine on their company card or wear suit jackets to casual occasions. Dancing to "I Don't Wanna Dance." Cool customers. Bex calling me a "magical angel" when I wrote some good ad copy for our podcast. Cordial thank-you emails from hookups (!). Planning future tattoos. My cousin's Obama impression. Scrabble dates. Painting watercolor genitals. Friends who help me script awkward conversations. Mid-cry selfies. Beardy barista crushes. Jazz-pop. Me and my FWB wearing the same underwear to our sex-date. Smart conversations about political fanfiction over beers. Communities banding together. Bragging about my sexual partners. Slaying my to-do list. Playing tons of Use Your Words at its pre-launch party (BUY IT, it's so fun!). Beers with weird names (Pinball Wizard, Shenanigans, Barking Squirrel). My FWB calling my blowjobs "legendary." Mid-sex kazoo breaks that make us laugh so hard we cry. Bonding with fellow femmes over eyebrow maintenance. Narrating bad porn with a cute funny boy. Good kissers with good hair for grabbing onto. Bad blowjob puns (always). Friends who encourage me to flirt with people I'd otherwise be too shy to flirt with.