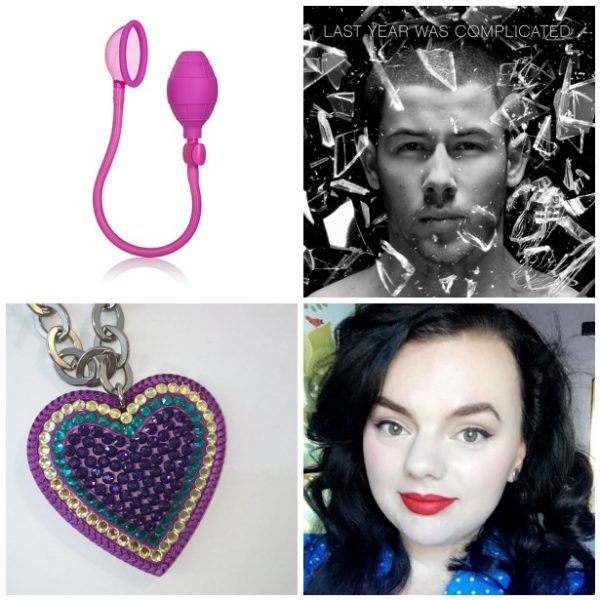 Hot damn, it's summer in Toronto! I can already tell that this is going to be a season of fun, flirting, makeouts on sunny hillsides and impulsive late-night fuck-dates. Let's make it happen! Here are some of the things that made me happy in the early days of this glorious summer…
Sex toys
• On a Come As You Are mission with Lavender, I spotted a hot pink clit pump and had to have it. I've experimented with clit suction in the past, but the only pump I owned was terrible-quality and didn't work for my body. This new one is Serious Business and actually does what it's supposed to: increases bloodflow and sensitivity with pleasant (though intense) suction. Next I want a partner to use it on me!
• Tantus recently ran a sale on some of their long-discontinued products, so I snapped up a lime-green Sherbet in an impulsive fit of dildo materialism. It's even better than I expected: the bulbous, ridged head does good G-spot things, and the chartreuse shade makes me smile. Tantus sure does know how to make sex toy geeks convulse with glee.
• Forever enamored with the Magic Wand Rechargeable (though not enamored enough, apparently, to call it by its proper name instead of "the Hitachi"). I use it so often that it stays on my bed at all times for easy access. Vibratex, ya done good.
Fantasy fodder
• I'm sick of crushing on people I'd have to buy a plane ticket to have my way with. There are far too many long-distance flames in my life as is, and it can be sheer torture for the heart and/or genitals. And yet I recently found myself sexting with a fellow who lives across the pond. One of my most intense orgasms this month happened when I used the Double Trouble's big end inside me, pretending it was his fist – after (and only after) I'd gotten his permission to come. (Y'all, I really need to stop writing about hot beaux while I'm in public. I am a mess at this café right now.)
• Are you tired of hearing me talk about blowjob porn yet?! I've discovered a subreddit dedicated to one of my favorite porn subgenres: scenes featuring deepthroat BJs where the receiver comes deep in the giver's throat. Admittedly, I'm not into the term Reddit has given this act, "throatpie" – I'd rather think of it as advanced-placement swallowing. (If you're not sure where to start, it's hard to go wrong with Heather.)
• I often daydream about my ideal poly situation: two or three consistent partners who love me a whole lot and who each bring out different sides of me. This is mostly a whimsical, romantic line of thinking, but naturally, sometimes it takes a turn into sexytown too. This month I pondered that time I accidentally had two sex-dates in one night but imagined it happened with a primary and secondary partner… *sigh* Bring on all the compersion and cuties, please.
Sexcetera
• I'm addicted to Nick Jonas's new album, Last Year Was Complicated. (Man, what a title.) It's catchy, sexy pop music that makes me want to dance the night away and/or get fucked to a pulp – but, like a lot of modern mainstream music, it's problematic from a feminist perspective. The song "Good Girls" was the impetus for me writing about my relationship with that phrase, because it felt psychologically painful for me to hear my favorite epithet thrown around so carelessly in Nick Jonas's mouth. ("When did all these good girls decide to be bad? Dancing up on the table, getting back at your dad. Who's the asshole that told you that's what you have to do?") Hey, Nick: your music makes me wet, but your politics dry me right back up again!
• With minimal fanfare (at least, for my attention-slut M.O.), earlier this month I officially linked this blog to my real-life name and identity. My About page now bears my name (hi! I'm Kate!) and links proudly to my other internet homes (journalism portfolio, music, personal Tumblr). Nothing's really changed, and you can still call me "GJ" if you want! I was just getting sick of keeping my two identities so separate; it felt like I was hiding part of myself from the world, and I don't want to do that anymore. I'm not ashamed of what I write here, and if some conservative rubberneck in my life finds my blog and is offended by it, that's on them. Thanks to all of you for supporting me through this transition and always being the loveliest, sweetest readers!
Femme stuff
• I like to wear my collar when I'm feeling subby and small. It gives me a sense of calm and directedness. But it's not always appropriate to wear what is clearly a kink accessory, so I've been experimenting with necklaces that act as "day collars." My Tarina Tarantino pavé heart necklace is a current fave. I also own a pearl necklace that'd work well, especially given, y'know, the other meaning of "pearl necklace."
• This month brought a couple of occasions for me to get all femmed up, rockabilly-style. I'm suuuuper into that look: simple matte eyeshadows, sharp-as-hell winged eyeliner, natural-looking blush, and an impeccable red lip. Every time I do my face this way, I think, "I should do this every day!" but then I remember how much I love other looks, like hot pink lipstick, smoky eyes, and even a bare face from time to time.
Little things
Making a "mental health contingency plan" for days when boys are setting off my mood issues. Iced soy hazelnut lattes. My black rhinestoned shorts. "There will come a day when I just order a BJ and a cuddle from you and put you in an Uber at your earliest convenience…" Smiley selfies your friends send you from bed where they've just banged each other silly. Shake, Rattle & Roll. Quoting e e cummings poems to people you're about to kiss. Cute boys who cover my songs. Life advice from my mentors. Marijuana puns. People who use the word "date" when they ask you on a date. Planning a potential sexy tour of New England. Andy Shauf's new album. Woodhull dreamin'. Femme-flagging. Exchanging saucy nudes with beautiful Twitter femmes. My new computer. "You can't stop desire; I've tried, but you're fuel to my fire." Setting goals. Party-planning with Bex. The Adventure Zone. Writing residency proposals and book proposals. Dan McCoy. Peanut butter chocolate Haagen Daaz. "Touching you with no hands." A cute boy thanking me for taking him on a "tour of [my] subconscious" and then saying, "I'm gonna go in for the kiss now."
What were your sexy favorites this month, angelfaces?