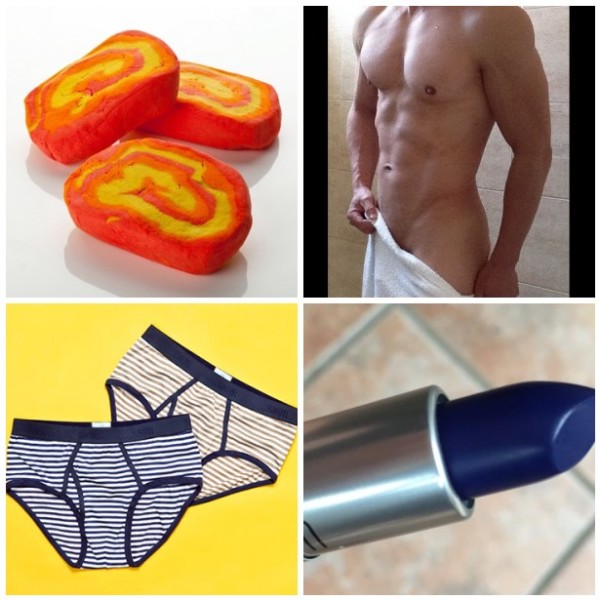 O is for October, and also for Orgasm, and Oooooh Yes, and Oh my god October was a sexy month. Here are some highlights…
Toys
• Honestly? I've been using my fingers a lot this month! I've often found they're not stimulating enough to get me off on their own, but lately I'm thinking it's mostly an issue of mental stimulation, not physical. I seem to get bored and distracted a lot more easily when I'm using fingers versus toys. But if I'm watching porn at the same time, often fingers are all it takes. Cool!
• The only two dildos in heavy rotation for me this month were the Eleven and G-Spoon. Dat A-spot action. Mmm, yes.
• Still mega infatuated with the Magic Wand Rechargeable. I find I rely on it more often when my life is particularly busy or stressful, because it gets me off easily and quickly.
Fantasy fodder
• Most of my fantasies this month were about getting fingerfucked to orgasm by handsome, vaguely dom-y gentlemen. It's no coincidence that two of my favorite sexual encounters in the past few months also involved this act… but I wonder if it's my fantasy because I did it, or if I did it because it's my fantasy?!
• Amateur oral sex porn is my jam and gets mentioned here practically every month. Whoops. Usually I'm all about BJs but this month I was also diggin' on some amateur cunnilingus scenes. Viz: extreme close-up, cute dude pleasin' his lady, and (an old-school favorite!) porn stars teaching oral skillz.
• I recently revisited one of my favorite pieces of sex writing – Rachel Rabbit White's essay on getting a "happy ending" massage – and it reignited my long-standing kink for sex as a service. I did a fair amount of research on Toronto-based "erotic masseurs," even spending several hours reading testimonials on one practitioner's website. As searingly hot as this notion is in my mind, I just don't think I'll ever have the guts to go through with it… (Or, let's be real, the money. Sexy massages are expensive as fuck!)
Sexcetera
• I've been doing cam shows for horny patrons lately and it's been fun! I thought I would feel skeezed out about masturbating on webcam for strangers, but actually it's very affirming. I have my fair share of body insecurities, but it's hard to hate your body when someone is actually paying you for the privilege of looking at it, all while jerking off and telling you how gorgeous you are. (Oh, horny men. The bad ones are awful, but the good ones are adorable.)
• The ever-charming Taylor J. Mace took some scantily-clad and naked photos of me for his porn company, Feisty Fox Films. He claims to be a photography novice, but damn, he made me look (and feel) fantastic! If you need a dose of body-love in your life, I heartily recommend enlisting someone clever to shoot photos of you in a flatteringly-lit room.
• By far, my best solo-sex experience of the month was when I drew myself a hot bath, crumbled half a Sunny Side and half a Brightside into the water, poured myself a big glass of white wine, turned out the bathroom lights, pointed my laptop at the tub with some fisting porn playing on it, climbed into the bath with my G-Spoon + Eleven + Tango, and went to town on myself for over two hours. Normally my baths do not even approach this level of luxury, but I had the house completely to myself for one elusive evening, so I decided to go all out. Damn, self-care feels so right and so necessary sometimes.
Femme stuff
• In mid-September I bought some men's boxer-briefs because they come up higher on my torso and felt like the healthier choice while my tattoo healed. It took until October for me to realize how sexy I feel in them. They may not be "feminine" but I kinda want to wear them every day.
• I bought a vintage red leather jacket for a Halloween costume that never came to pass, but it's okay because I look hot in it. (Why must autumn slip away so quickly?! I want it to be leather-jacket weather forever!)
• MAC lipstick in "Matte Royal" is possibly the weirdest, most gothic lipstick I own. Maybe one day I will pluck up the courage to actually wear it out of the house…
What were your favorite things in October, my darlin'?