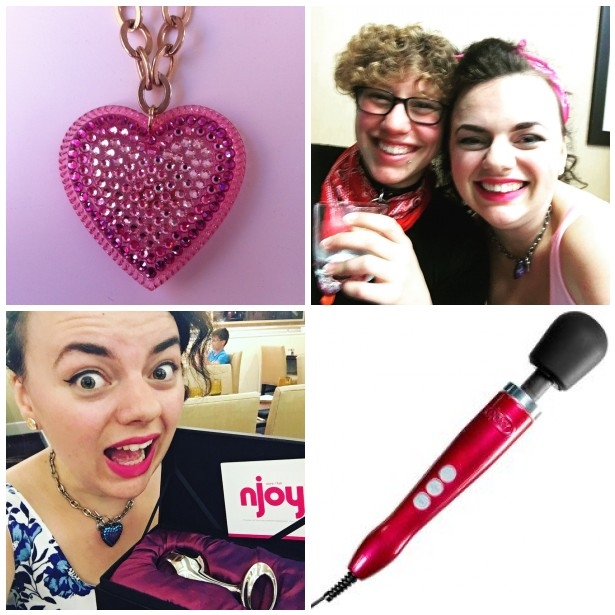 It's been a tough month, but I feel very loved. Here were some of my fave things in August…
Sex toys
• Swoooon: this month I was gifted a red glittery Doxy Die Cast wand vibrator. Beyond just being stunning to look at, it's also a remarkable wand. The vibrations are rumbly and shockingly strong, and I just love the way this sexy aluminum wand feels in my hands. Full review to come!
• My other exciting acquisition this month was an Njoy Pure Plug 2.0. It's massive, and I haven't been able to get it inside me yet, but I'm holding out hope that someday I will!
Fantasy fodder
• I received a four-hand erotic massage from some local sexological bodywork pros this month and it was fucking divine. This type of massage pings a lot of my kinks about sexual service and partners having intimate knowledge of my preferences, so I found it super hot at the time and continued to find it super hot when I revisited it in subsequent fantasies. (Side note: a hookup asked me how the massage went, and when I said it was so good that I wished I could get one every week, he replied, "Play your cards right and you just might…"!)
• Since I went through a pretty traumatic break-up this month, I've had to recalibrate my fantasy life a bit so it doesn't just constantly make me cry (*sad trombone*). This has meant seeking out new porn, dirty fanfiction, and erotica, as well as cultivating crushes on new people (both celebrities and IRL folks) to ponder in private moments. Masturbation is no longer an emotionally painful process for me, so that's something!
Sexcetera
• Some of my work elsewhere this month: For Kinkly, I wrote about how an erotic massage helped me get over my break-up. I investigated the new at-home HPV test for Glamour. I wrote a Letter to the Editor about female orgasms for the Walrus. I identified some killer sex toy combinations and common "taboo" fantasies for Ignite. Peepshow asked me to chronicle some weird things people have put in their butts. I was interviewed by Coffee & Kink. I hosted Sex City Radio, interviewing sex toy reviewer Epiphora, break-up coach Natalia Juarez, and asexual sex blogger Taryn. On our podcast, Bex and I interviewed our friends Suz and Claire, and talked about conferences, Woodhull, and dominance.
• Orgasm stats: This month I had 27 orgasms, 7 of which (25.9%) were from partners. I'm surprised I still managed to have so many, despite terrible depression wracking me lately!
• Like I said, I went through a devastating break-up a few weeks ago, and while my heart is broken and life has felt very difficult this month, this experience has reminded me that I have lots of people in my corner and my friends are always there for me. I'm very, very lucky.
Femme stuff
• As per usual, I'm experimenting with various perfume samples lately. Though I've mostly been sticking with my perennial favorite, John Varvatos, this month I've also been enjoying the Tom of Finland fragrance from Etat Libre d'Orange. It's supposed to be masculine but on me it's just femmey, warm and comforting. Good stuff!
• My new hot pink Tarina Tarantino heart necklace is giving me life. It's HUGE and VERY SPARKLY. God bless Tarina and her magpie proclivities!
• I am looooving my new "Submissive" T-shirt from Pen & Kink. I ordered one in the tri-blend material, so it's suuuper soft and comfy – truly the ideal garment for a lazy babygirl to lounge around in!
Little things
Bex sending me a selfie of them and their Sir. My new Seven-Year Pen. The Bold Type. Emotionally cathartic kink with a trusted partner. Doing a live Dildorks recording in front of a crowd at Woodhull! Readers of my blog coming up to me to tell me how much they love my work. Spanking Suz with a bible. Hanging with my blogger babes. Deep sleeps in big comfy hotel beds. Cadence making me a gin and tonic and gently domming me into finishing my work when I was practically too depressed to move. Watching Friends on Netflix with Max for hours on end. Being comforted/supported by my FWB, who then attempted to fuck the sads out of me. A random guy offering me a no-strings-attached footrub at a sex club. Max bringing me Haagen Dazs. Swimming while stoned. Journaling on public transit. Crimson Wave Comedy. Pinegrove's wonderful album Cardinal. Improv crushes. Making out in an alley with someone who makes me howl with laughter.