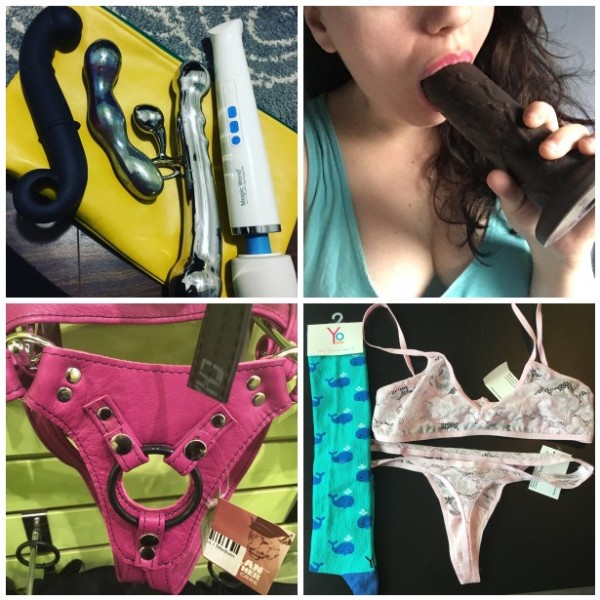 February was a super tough month for me emotionally, but in between cry-a-thons and anxiety attacks, I also managed to have plenty of good sex. Here's a breakdown of the highlights…
Sex toys
• I have said this to you before… like, many, many times… but I really enjoyed the Eleven this month. It helps that I used it in a porn shoot (more on that in a second), but holy shit, it's just a classic as far as I'm concerned. Sometimes I'm struggling to reach orgasm and I break out the Eleven as a last resort, and it always, always does the trick, somehow.
• To flagrantly repeat another toy that's gotten its fair share of mentions in my monthly faves: the Magic Wand Rechargeable really earned its keep this month. I used it in the aforementioned porn shoot, as well as during my first anal sex experience and many solo sexytimes. It's nice to have a vibe that works so reliably well that I don't even have to think about it.
• When Bex visited early in the month, we took a trip to Come As You Are and I became fixated on the limited-edition pink version of Aslan Leather's Jaguar harness. It's $130, I already owned a Jaguar harness in black, I'm trying to save money for an upcoming trip, and I don't even have an opportunity on my horizon to use a harness – but nonetheless, I wanted one, because it's femmey and perfect. So I posted in a local kinky trading group to ask if anyone wanted to buy me a pink Jag in exchange for my black one plus some other toys I'd throw in, and a lovely lady took me up on my offer. I'm soooo happy I own it. It looks gorgeous on me and I'm going to make someone's fucked-by-a-femme fantasy come true someday.
Fantasy fodder
• If you follow me on Twitter, you may have noticed it's been a bit of a blowjobby month for me. My ideal blowjob recipient was in town so I had some mouth cravings to contend with. One of my favorite encounters in February was an impromptu blowjob date, which resulted when I messaged dude to offer him BJ carte blanche. I got to suck off one of my fave dicks in the known universe in a dimly lit room while we listened to R&B slowjams. Twice: once before dinner/drinks and once after. It was pretty much the best. And I continued to think about it a lot through the month, because unf, yes, all the good dicks in my mouth, please.
• My friends, you have not lived until a hot androgyne has rammed the shit out of you with an Eleven at a sex club in front of an audience as part of a live porn shoot. I thought I'd be too nervous to have a real orgasm, and was entirely prepared to fake one (which I know is bad, but it was a performance!) – but then my babely scene partner leaned close to my ear and whispered, "Does it turn you on that all these people are watching you?" That, combined with the well-wielded Eleven and the Hitachi I was pressing to my clit, triggered a very-real orgasm almost instantly. Welp. I didn't think I was an exhibitionist, but it seems my fantasy landscape has been forever revolutionized by this incident…
• Ugh, there is something so hot to me about the process of teaching someone how to get you off. And especially that moment where they start to get it and do it how you want it without being told. I got to be on both sides of that this month, with regards to spanking, fingering, and blowjobs, and maaaan I was into it. Good sexual communication forever!
Sexcetera
• My main sexual adventure this month was losing my anal virginity. It was awesome. I want to do more butt stuff real soon. (I probably won't get to, though, because it's something I'd only want to explore with a trusted partner, and I don't really have access to any of those at the moment. Booooo!)
• The award for weirdest sexual adventure of the month goes to the time I got kissed, fingered and felt up on an Airbnb balcony while slightly stoned, as snow came down around us. Marijuana often impedes my ability to tell whether the situation I'm in is strange or not, because everything feels strange when I'm high. But yeah, even looking back, it was a surreal experience. I don't think I will ever forget the feeling of his hands sliding up under my bulky winter coat as he backed me up against that cold glass railing. Swoon.
• My friend is developing a party game called Don't You Dare and I got to play it a few times this month. It's really fun! I have some feelz about the ways in which games like Truth or Dare can be immensely helpful and world-widening for anxious folks like me… Maybe I'll blog about that one of these days. (If you wanna help fund the game so it can liven up your parties someday, you can do so at its GoFundMe page!)
Femme stuff
• It was a big lingerie month for me. I am expanding my "porndrobe," as it were. Some of my fave new sexy acquisitions are a navy and teal lace set by QT Intimates and a pink floral lace set by American Apparel. Now I wanna get more boy briefs and thigh-high socks, but what else is new?
• While searching Redbubble for "heart-eyes emoji" – as you do – I found this zip-up pouch. I had been in the market for a case in which to carry safer sex supplies (condoms, lube sample packs, gloves, dental dams, maybe a small vibrator), and this fit the bill, so I bought it. It's actually a little bigger than I would prefer for everyday sex-supply totin', but when I packed a huge bag for my hotel-sex date, it fit a noble quantity of latex barriers and butt plugs. Hooray!
• I bought a black and white skull-print scarf for something like $4 at a vintage shop and it is the ideal thing for tying around my hair when it's in pincurls. Such glamour!
What were your fave sexy things this month, darlings?