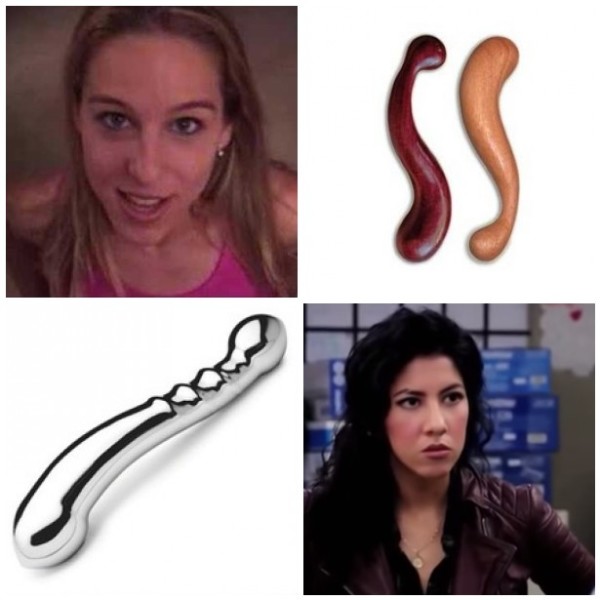 Oh, June! What a beautiful month it's been. I had so many sexy adventures and I didn't even have sex with anyone but myself. Here's some of the lasciviousness that took up real estate in my brain and my vagina this month…
Sex toys
• I bought a NobEssence Seduction when I was in Portland for #DildoHoliday, and HOLY FUCK, it is a vaginal blessing. I will have a lot more to say in my review, of course, but for now, just know: this thing is a total game-changer. HELLO, G-SPOT.
• Also at DildoHoliday, Piph let me try her Magic Wand Rechargeable (a.k.a. cordless Hitachi). I liked it so much that I immediately emailed my pals at Sex Toys Canada to ask if I could review one for them, and they were very obliging, so now I have a Magic Wand of my very own. It's a vast improvement on the original Hitachi and I'm looking forward to writing my review!
• As of this month, I think I am officially a size captain. My vagina partied with Piph's Eleven (2″ wide), the Tantus Splash (1 3/4″), VixSkin Maverick (2″), Jollies Jollet (1 7/8″), and the glass dildo I made at #DildoHoliday (2 1/4″!!!). It's funny how, when I first started blogging, I thought a 1 1/2″-wide dildo was the outer limit of my vag's capabilities, and would remain that way – but now, my vaginal proficiency is above and beyond what I ever dreamed. "Believe in your vaginas, people; they can do ANYTHING!"
Fantasy fodder
• Audio erotica was my everything this month. Admittedly, though, I still giggle at the sound of a lubed penis being stroked quickly. I mean, it's kind of a funny sound. Right?!
• I continue to be obsessed with Heather Harmon. Her enthusiasm and skill are astounding. Bow down to the blowjob queen. (I also found this article which discusses Heather's legacy, and it's kinda fascinating. So are the comments: "You can see her out and about if you frequent gun shops"???)
• I am contemplating writing a Rosa/Amy fanfic, basically just because Rosa Diaz is soooo fucking hot and I want to see her bang everyone.
Et cetera
• I had forgotten how fun it is to masturbate communally. I don't even really find it hot so much as I find it to be a sweet, comforting feature of the best sex-positive friendships.
• I wrote a magazine article about female ejaculation this month (details to come when I know 'em!) that inspired me to give squirting another shot. I think I might just have one of those bodies that isn't capable of ejaculating, for whatever reason, but even just trying to make it happen is fun!
• Behold my current favorite song about cunnilingus. "I want to lick your pussy in the afternoon…"
What were your favorite toys/fantasies/sexy thangs this month?