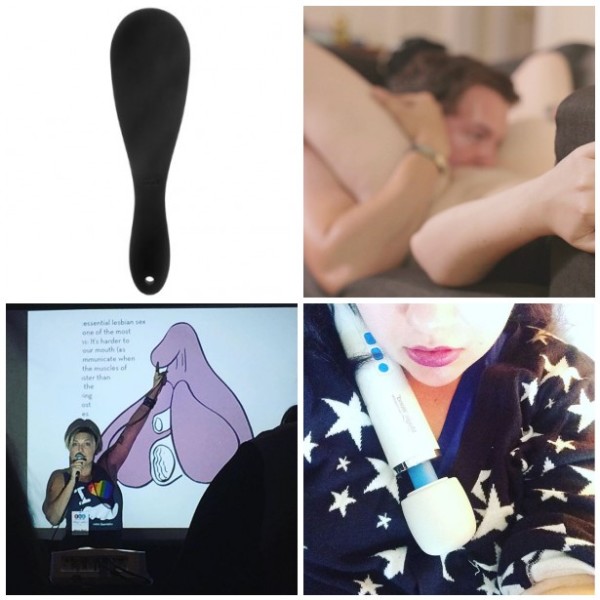 September was very sweet to me! (More like Sextember, am I right?!) Here's what I enjoyed this month…
Toys
• It's rare that I put a toy on this list that isn't genitally-focused, but I would be remiss not to mention the glory that is the Tantus Pelt. I snapped one up this month after quietly lusting over it since its release, and it is absolutely the perfect paddle for me. The size, weight, thickness, and stingy-to-thuddy ratio are all on-point. Oh Tantus, you pervy geniuses.
• For one profoundly pleasurable evening, I borrowed a Fucking Sculptures Double Trouble from Bex, who was, in turn, borrowing it from Caitlin. I'm not sure I like it enough to drop $180 USD (~$240 CAD) on one of my own, but good heavens, the A-spot stimulation from the DT's thinner/longer end made $240 seem like a small price to pay. Hmmm…
• I bought a Liberator Throe this month in a dark, glamorous New York sex shop. From my very first session with it, I could tell it was going to revolutionize my squirting adventures. It is a game-changer when you know you can actually relax and you won't end up having to sleep on sodden sheets (or, worse, needing to wait until you finish your laundry before going to sleep). I used all my favorite G-spot toys with it and it valiantly protected my bed from squirt damage.
Fantasy fodder
• I've spent most of my adult life banging exclusively submissive and vanilla folks, despite knowing in my kinky little heart that I lean submissive. But then recently, I boned a handsome gent who is, as it turns out, very dom indeed. Needless to say, he occupied many of my saucier thoughts this month.
• My fave Toronto-based pornographers, Spit, put out a new video and it's my favorite thing they've ever done. Granted, I know Jack and Lydia in person, so I feel a little closer to the action… but daaaamn, the subtle D/s dynamic in this scene is hot as hell and the performers' playfulness melts my heart. (Side note: I dream of performing in a Spit scene someday… if I can find the right partner…)
• I am having aaaaall the little-girl feels lately. I mentioned "daddy kink" in my April faves when it first surfaced into my consciousness, and back then I felt very weird about it and struggled not to kink-shame myself every time it came up. However, I can't deny that certain people just set off feelings of lusty littleness in me – like toppy partners who call me "good girl" and hot professors who teach me about child development. Unf.
Sexcetera
• In mid-September I went to a sexual health expo in New York, along with blogger pals Bex, Penny, Lilly, Lena, Hedonish, and more. We had some mixed feelings about the sexpo itself, but some of the presenters really blew my little sex-nerd mind. We learned about internal clit stimulation from Allison Moon, D/s boundary-setting from Mollena Williams, and sexual rut-breaking from Ducky Doolittle. It's delicious to come home from an educational event with so many new ideas bouncing around in your brain!
• I'm writing a feature story about the Hitachi Magic Wand. As such, I've been carting my wand with me everywhere and occasionally delivering it to people's homes so I can watch them use it as research. (Legitimate research… not pervy research… although, sometimes that too.) Life seems so much sunnier when you've got a Magic Wand in your inventory!
• I read through a lot of old journals this month, while trying to find one specific entry I wanted to reference in my blowjobs post, and I was struck by how gross it feels to read explicit descriptions of sex you once had with people you are no longer dating/attracted to. I'm glad I kept such a detailed history of my sex life from the get-go, because it's crucial information when I want to look back and see how far I've come, but gawd it's hard to slog through without gagging.
Fashion & beauty
• I did a lot of shopping in September. Whoops. Highlights: this Wednesday Addams dress from Modcloth (I was gonna wait til Halloween to show it off, but c'mon), a blue printed dress from H&M, and the glorious American Apparel acquisition I've been calling my "sideboob dress" (magically, it looks good on everyone). And speaking of my aforementioned little-girl inclinations: I ordered this from ASOS, and I think I need to put it on and convince some authoritative daddy-esque man to take me to a carnival and win me a stuffed animal or something. #LittleGirlSwag
• I am now the proud owner of a ring made to look like my vulva. Please give Catstache Accessories all your money because they did an incredibly beautiful job and got this masterpiece to me in a very reasonable amount of time. If you have fantasized about owning custom jewelry that resembles your genitals (and who hasn't?!), I am telling you: now's the time and Catstache is the place.
• Fall is officially here, and as such, dark lipsticks are my current jam. MAC Viva Glam 3 is the brownish-burgundy of my autumnal dreams.
What toys, fantasies and miscellany did you dig this month, lovelies?