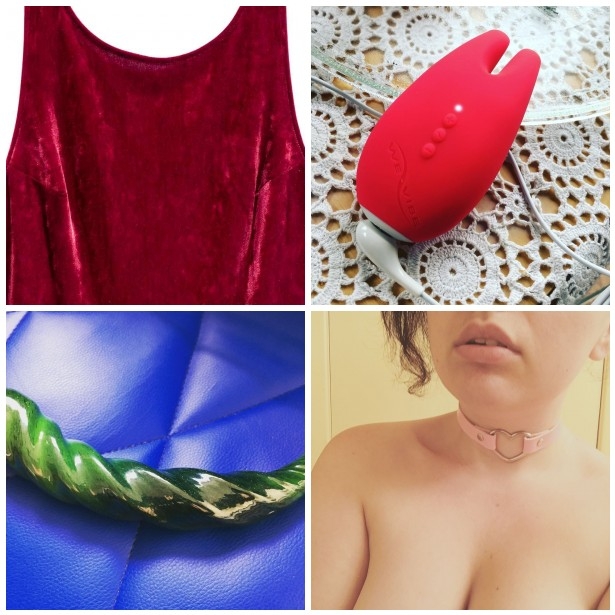 It's been a weird month for me sexually. I'm juggling a bunch of different romantic/sexual connections right now and feeling a little overwhelmed (#PolyLyfe, amirite?). Here were some of my fave sexy things this month…
Sex toys
• Remember how Fucking Sculptures shut down recently? (Imagine the saddest of sad trombone sound effects here.) As soon as that announcement was made, I placed an order for one last toy from them, and it finally arrived this month: a large green Corkscrew. Honestly, I mostly just ordered it for the brand cachet and how beautiful I knew it would be, but it turns out it's also highly functional too. Intense G-spot stimulation ahoy!
• We-Vibe sent me their new Gala clitoral vibrator and, as per usual for We-Vibe, it's lovely. Definitely different from any other clit vibe I've tried, even Jimmyjane's visually similar Form 2 and Intro 2. I will have waaay more thoughts in my full review, coming sometime in early 2018!
• I have rediscovered my Eroscillator this month. This happens periodically. I had forgotten how easy and profound my orgasms are with this toy!
Fantasy fodder
• Dominating my kinky thoughts this month are the notions of sugar daddies, financial domination/submission, and cash fetishism. That's partly because I tentatively have a sugar daddy now (!!) and partly because I recently listened to a fantastic episode of Why Are People Into That? about findom and cash kink. Soooo much to unpack here with regards to power, class, privilege, "worthiness," and desire. Hmm!
• Whenever I get into a new kink, I tend to search for Sherlock fanfic about it (surprise, surprise), which led to me discovering this "Sugar Daddy John Watson" story featuring copious gay sex in between hunger-stirring descriptions of magnificent Italian food. I will have to do more research along these lines…
• This month I had actual goddamn phone sex for the first time in, I dunno, probably 8 years or more. It's an interesting medium for me as someone who totally gets off on words but also has anxiety about not being a good dirty-talker myself. It is nice when someone appreciates my moans/purrs/giggles, though!
Sexcetera
• Orgasm stats: I only had 20 this month. I don't know why. That's shockingly low for me. Something to work on! (I did, however, hit 300 orgasms total for the year this month – all over my FWB's cock, on the top floor of a sex club. A++ experience.)
• Now that November's done, my yearly wrap-up series 12 Days of Girly Juice is about to start! So it'll be all best-of lists all the time until the year is done, after which we'll get back to our regular programming here. I'm excited to tell you about all my faves from 2017!
Femme stuff
• I'm really into velvet lately. And, like, always. I remember going shopping with my best friend Bex in September and shrieking "I LOVE VELVET SO MUUUCH!!" and them looking at me incredulously and saying, "I don't think I knew that about you." Well, I do. I think it's mostly a sensual thing; my feelings about velvet are almost sexual (but then again, us pervy kinksters are always rounding things up to kinks when they aren't necessarily). This month I bought a red velvet dress at H&M and I'm gonna thrash it once holiday parties start happening.
• I bought a pink heart collar on eBay for literally 99 cents, and it's kind of perfect. Can I get one in every color so I can always be wearing one, please?
• Though I don't wear jeans very often, because #FemmeLyfe, my favorite old pair is shredded to death so I bought a new pair this month. They make me feel very put-together and wholesome and grown-up. Hurrah!
Little things
Compliments so good I have to copy them into my journal to re-read over the coming days and weeks. Buying tickets for Max and I to go see his fave comedian, Sebastian Maniscalco, in March! Cuddling my roommate's dog when I'm sad. Nerding out over my income spreadsheet. Singing "Crazy" for a rowdy karaoke crowd. Talking blog strategy with Suz over Indian food and cocktails. Deleting all my notifications except ones from PayPal ($$!). My super-sweet dermatologist. Respectful cam show clients. Hearkening back to phone calls in a text-centric world. Cheesy pasta delivered to my door. Rachel Hills' The Sex Myth. This adorable song which came up on my Spotify Discover playlist this month ("I think you're cute…!"). Cadence serving me roast veggies and chicken with boozy cream soda while we watched stand-up. A handsome older gentleman calling me "young lady" and "kiddo." Vanilla donuts with sprinkles (and pumpkin pie donuts!). Long kink negotiations that devolve into hysterical laughter.