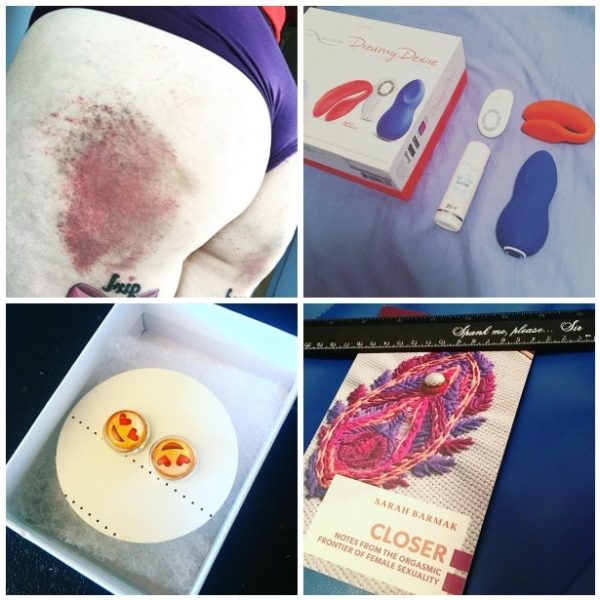 So hey, I'll get to the sex stuff in a minute, but what's really exciting me today is my new website design!! It was done by Jessica Mullen and Kelly Cree, some smart and savvy babes I've known online for years. They totally understand my brand and my vision, and I feel like my site is so much more aligned with what I want it to look and feel like now! Hope you dig it. (Make sure to click around a bit; there are four different headers that randomize, and they're all gorgeous.) Now, here are the sexxxy thingz I liked best in February…
Sex toys
• GOD I LOVE THE WE-VIBE NOVA. Bex gifted me one over a year ago, and I'm pretty sure I tried it once before retiring it to the depths of a drawer somewhere. But this month I kept noticing the Nova at the sex shop where I work, and explaining it to curious customers, and a coworker told me Erika Moen had reviewed it well, so I decided to give it another shot. And damn, it is good. My review will be up soonish!
• Speaking of We-Vibe… I'm also loving the Touch lately. (They sent me the Dreamy Desire Collection to review, and the main appeal it held for me was that it contains a limited-edition dark blue Touch.) It hasn't unseated their Tango as my favorite rechargeable clit vibe, because the Tango's hard plastic conducts vibration just a leeeeetle better than the Touch's squishy silicone, but it's definitely a new "starting lineup" toy for me.
• Shall I give We-Vibe the hat trick and rhapsodize three of their toys in this post?! Yep, looks like it… A We-Vibe rep came to my work to teach us about their toys, and several of us got gifts. Mine was a We-Vibe Sync, the much-anticipated latest version of their flagship couples' vibe. It's very fucking excellent. The motor is strong and rumbly, the adjustability rules, and using the We-Connect app to give myself hands-free orgasms using my PHONE makes me feel like a badass sex-spy. My heart's all aflutter for the Sync!
Fantasy fodder
• When crushing on fellow sex toy nerds, sometimes I fantasize about bringing them to my room, showing them my sex toy collection, and telling them to choose a few toys to use on me. It's interesting (and hot) to imagine which toys each person would choose, and why – and then what they'd do with them. (Some of my fave toys for partners to fuck me with, FYI: the Double Trouble, Eleven, and S-Curve!)
• At a party this month, I got spanked by three different people, working in tandem like a relay team. It was hot and cute and I proceeded to ponder it for weeks afterward, sometimes substituting different people into the fantasy and seeing what that felt like. One person pulling my hair and scratching my thighs, one person checking in with me occasionally and bringing me icewater, one smacking my ass, and the three of them periodically rotating roles… Unf.
Sexcetera
• This month I had sex at a sex club for the first time (not counting that time I did so for a porn shoot, because that's quite different!). It was pretty fun, although I don't know if my anxiety would ever let me relax enough in that kind of situation to actually have an orgasm.
• Some of my work elsewhere this month: I wrote about sexist tropes in pop music for Teen Vogue (!!) and warming up for big penetration for Ignite. On our podcast, Bex and I talked about humor, attraction, romance, and sex toy retail.
• February orgasm stats: I only had 21 orgasms this month, versus 30 in January. My mental health sort of dipped a bit in the middle of the month, which usually results in fewer orgasms for me, plus I worked longer hours over Valentine's week and didn't have a lot of spare energy for jerkin' it. While I did have some partnered sex this month, all the orgasms I had were solo. (Womp womp.)
Femme stuff
• This is boring, maybe, but winter sure makes me appreciate excellent lip balms more than I usually do! My current faves are the Nivea Lip Butters; I have them in a few flavors and they're delightfully moisturizing.
• I finally did it: I bought a pair of heart-eyes emoji earrings. Mine are from FandomVerse Shoppe and I love 'em.
• Fellow retail workers and other folks who have to stay on their feet for long hours on the regs: I would love to hear your recommendations for cute shoes/boots that will support my feets properly! Currently I'm rocking my ol' faithful Frye harness boots as per usual, but I'm thinking about maybe getting some Danskos or something. What say you?
Little things
Big tough cis dudes who make good use of their privilege and ability to intimidate other men into better behavior. A work-date with Taylor and Andrew over coffee and pizza. My favorite dancey jams of the month: Do You Love Someone, Talk Too Much, and Mother to a Brother. Coworker crushes. Steak and martinis with my mom. Customers who find my jokes amusing. Bursting into tears unexpectedly at a beautiful story someone told at Body Pride (that link goes to naked pictures, FYI!). Kink-flirting. Fancy cocktails with Anais. The sheer euphoria of palpable attraction. My new "I Heart Blowjobs" embroidery from Crass Stitches. Pre-drinking/femme time with Rosaline. Making out in a heated swimming pool under the stars. Myq Kaplan's life-ruiningly funny comedy album No Kidding. The folks at Sili Saddle hand-delivering one in my favorite colors to my doorstep. People for whom punning is flirting. A photoshoot with Taylor and Suz at the Ritual Chamber (photos and story coming soon to a blog near you!). Having lots of cool new sex books to read (most notably: Closer by Sarah Barmak and Becoming Cliterate by Laurie Mintz). The zen calm of sweeping and mopping a floor. The Adventure Zone, fucking always (the cliffhanger ending of the latest episode killed me!). Punning and giggling with Brent over Facebook Phone at 2AM after a long, difficult day. Cleaning and reorganizing my entire sex toy collection, as a sex spell of sorts.