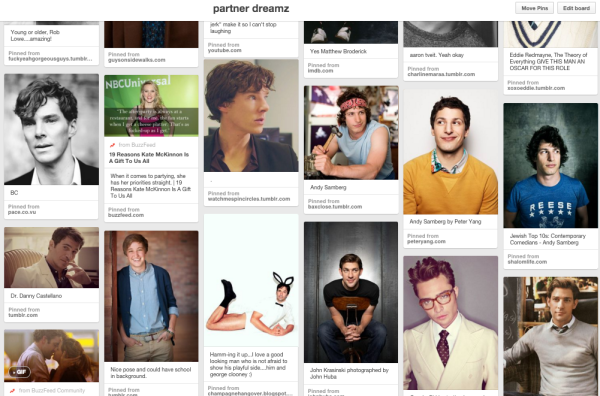 He's so damn smart. He knows all my big words and even teaches me some new ones. His eyes sparkle with intelligence. He gets all my references and odd turns of phrase because he's whip-smart, quick and responsive.
He's funny as hell. Makes me laugh so hard I can't breathe. Comes up with dumb puns to impress me, and high-fives me when I pun back at him. His celebrity impressions are spot-on and he'll valiantly try even ones he's not confident about because he wants to make me laugh. Sometimes I say something that strikes him as so funny he can't help but dissolve into giggles, gasping for air, eyes squeezed shut.
He smells amazingly good. I can nuzzle my nose into his chest, inhale deeply and immediately feel at home and comforted. He lends me a shirt he's worn and I wear it all day and feel swaddled in sexiness and sweetness.
He's a total kinky perv like me but his consent ethics trump everything and always come first. He's into long conversations about likes and dislikes, and debriefs while we cuddle naked after trying something new. He values safewords, safe-signals, 1-to-10 scales, check-ins. He only wants to do things we're both excited about.
He's a gentle kisser and cuddler but a rough fuck. He pins me down, grips my wrists above my head, manipulates me like a doll. He growls things in my ear that make me dripping wet and then follows through on them. He values the clit, understands its fragility and what it likes, but can also pound the fuck out of my G-spot with fingers or cock or toys. He's hungry to make me come, to challenge me and himself, to change things up, but still fall back on old faithfuls. He's quick with a condom and a bottle of lube and can accomplish both while biting my neck, grinding a thigh against my pussy and announcing in salient detail what he's about to do to me.
He's tender and affectionate. An arm around my waist while we walk in public. Gently stroking my hair while we lie on the couch watching Netflix. Offering me an arm to cling to, like an old-fashioned gentleman. A quick kiss on the top of my head or the back of my shoulder whenever he feels like it. Long aimless cuddle sessions.
He's romantically and sexually adventurous, but deeply rooted. He sees no reason we shouldn't explore, diversify, experiment with other people, but his first priority is always making sure I feel safe, cared for and valued. His heart leans monogamous while his brain excitedly explores other avenues with me.
His creative vocation (whatever it is) wows me every time, even as it's old hat to him. His talent is so singular and sexy it makes me want to swoon and kiss him hard. And in turn he's in awe of my talents, respects and supports them, thinks I'm the cleverest Head Bitch in Charge.
He plays no games. He says what he means. He acts like he likes me, because he does. His word is dependable and binding; what he says he'll do, he does.
He's so cute, it boggles my mind. I look at him in a grey sleep T-shirt or a lavender button-down or a zipped leather jacket and just think about how much I want to kiss that sweet face or get it between my thighs. He still gives me butterflies whenever he walks into a room, or shows up wherever we're meeting for a date.
His written communiqué is on point. His sexts are delicious. His romantic emails are worth printing out and rereading late at night. He writes me dorky notes on post-its stuck to the sides of takeout containers or the inside covers of borrowed books. He's all about words of affirmation, like me, and the words we exchange are affirming as hell.
Mainly what I remember when we're apart is how he makes me feel. That's more consequential than how he looks, how he fucks, how he talks. The very thought of him makes me giggly and swoony, but I also feel safe and affirmed in his presence. He's "similar enough to me to make me feel comfortable, and different enough to make the hairs on the back of my neck stand up." I want us to challenge and comfort and comfort and challenge each other for as long as we possibly can.