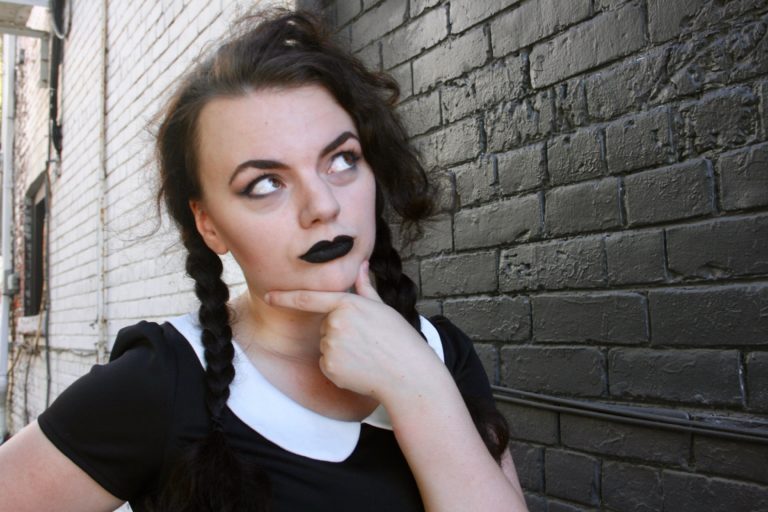 Happy Friday the 13th and early Halloween, my loves! Nightstand Necessities is a feature where I pick a fictional character and imagine what sex products they would own. Previously: Rosa Diaz, Chuck Bass. Content note: this post contains mentions of bloodplay, knives, bruising, and hypothetical death/murder. Also note that this post describes leaving someone in bondage for hours, which you shouldn't do in real life because it's a safety issue.
Wednesday Addams has been a known troublemaker ever since, as a child, she obsessively guillotined her dolls and attempted to execute her brother Pugsley in an electric chair. Now, all grown up, she's the sadistic domme she never knew she could be until she discovered the kink scene. (Secretly, she still takes joy in decapitating dolls, and wonders what it would look like if she'd thrown that switch while Pugsley was strapped down.)
You meet her at a goth fetish club, which she finds boring because bloodplay is strictly not allowed on the premises ("Even if it's consensual and you're professionally trained in switchblade safety," she whines, pouting and rolling her kohl-rimmed eyes). She's bedecked in an elegant black dress and a black leather choker bearing the word "Mistress." From her black PVC clutch, she produces a ballgag. "You'd look good with this in your mouth," she deadpans, in what you don't immediately realize is her way of flirting.
Less than an hour later, she's throwing you onto a bed in a nearby hotel. ("I don't want to ruin my sheets," she explained when you looked quizzical.) She dumps out her little clutch on the bed and out tumbles a menagerie of silver-glinting implements.
The bed is pre-fitted with under-the-bed restraints. ("I have this room on retainer," she purrs with a shrug. "It's neater.") After a brief consent negotiation so smooth as to seem practiced, she cuffs you and tugs the straps tight. You're mentally comparing your current predicament to medieval torture racks – only hot – when she lifts a Wartenberg wheel from her sadistic stack of utensils. "Close your eyes," she barks as she begins to roll it along your left arm. "It's more fun that way." The metal tines creep along your skin in tingly little lines. You catch yourself thinking, I've never felt anything like this, unsure if you mean the Wartenberg wheel or the crushy feelings growing fonder in your heart the longer you spend with this mysterious, witchy minx.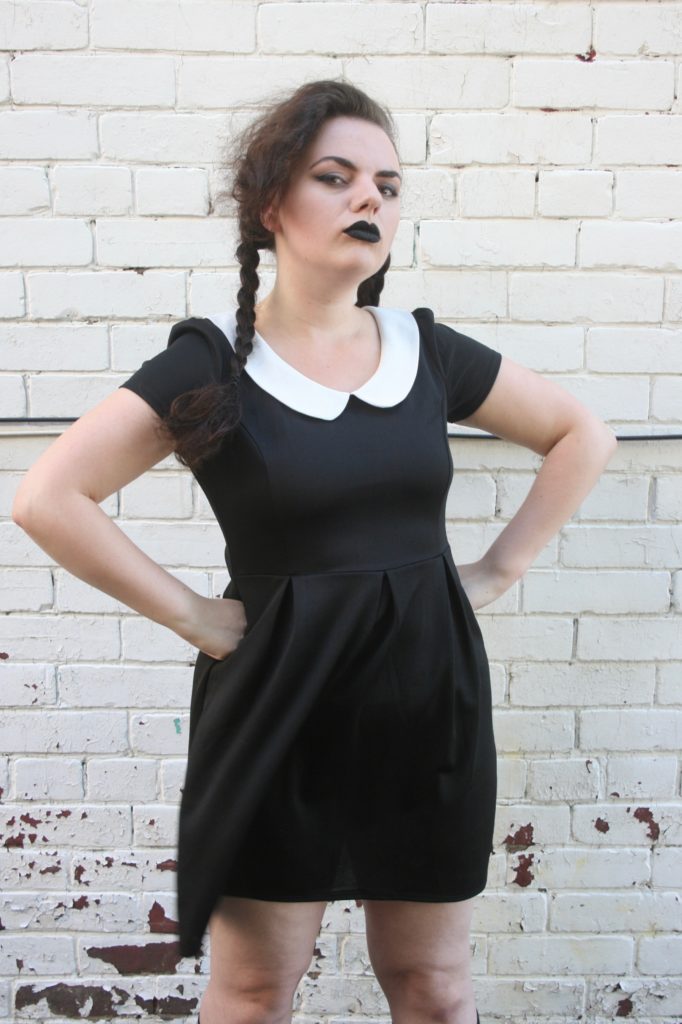 Hours later, your body is rife with scratches, bite marks, and hickeys. Your thighs are bruised from a heavy paddling you're astonished to have begged for. And now you find yourself begging for something else: you want her to fuck you. Maybe you need it. Maybe you will actually die if she doesn't. (Maybe she would like that.)
She quirks an eyebrow at your pathetic form on the bed. "I hardly think you've earned that, but okay."
Soundlessly, she unzips her dress, which somehow has remained on and impeccable through this entire rigamarole. A cold smile crosses her face when she catches you outright staring at the way her creamy, bloodless skin peeks through her black lace lingerie. "Turn over," she commands, and laughs wryly as you struggle against your bonds to try to obey. She unbuckles the cuffs and gives you just a few seconds to rub at the welts that have formed on your wrists before she kicks you over with her shiny leather boot. "Now."
You arrange yourself on all fours. In the carpet-dampened acoustics of the otherwise silent hotel room, you hear the telltale clicking and creaking of a lithe goth princess stepping into a leather harness. Then the soft slick squelch of lube being applied. Then… a clink? Maybe one of her sparkling rings tapping against a…?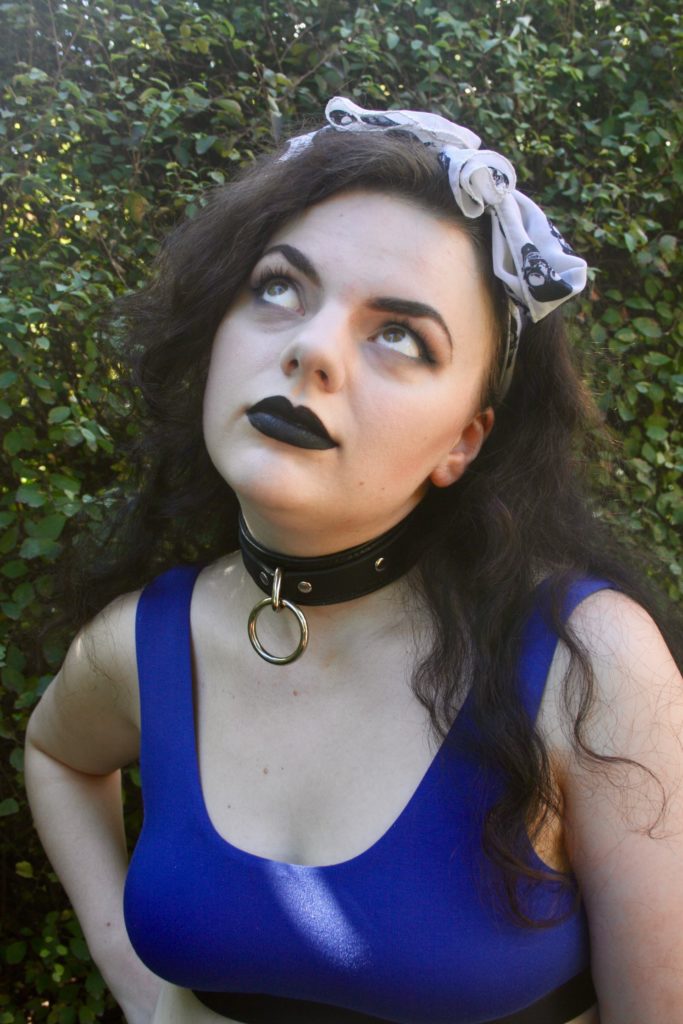 You don't have time to finish the thought, because suddenly something cold and wet collides with your most sensitive bits, and you squeak your surprise. As your body acclimatizes to the sensation, you realize it's a glass dildo. And it's huge and veiny. And it's strapped to Wednesday. And she's pushing it inside you.
You're so turned on already from those hours of delicious torture that you don't even need warm-up. The veins are tricky at first but then they're fine – better than fine, divine – and you're pushing back against her, breath catching. "Did I say you could move?" she warns, and stills. You drop your forehead to the cheap hotel bedspread and let all the tension melt out of your body, til you're just her plaything. Her good little fucktoy. "There you go," you barely hear her say as she resumes those long strokes in and out of you.
Wednesday keeps her grip firm on your hips. "You've been so good for me," she murmurs. "And this is your reward." The glass cock slides in to the hilt, then out to the tip. You groan into the pillow beneath you. "Next time I won't be so nice." It's with this that the orgasm building within you coils and tips and you're spilling, coming, yelling hard into soap-scented bedlinens, lips forming something like "Wednesday."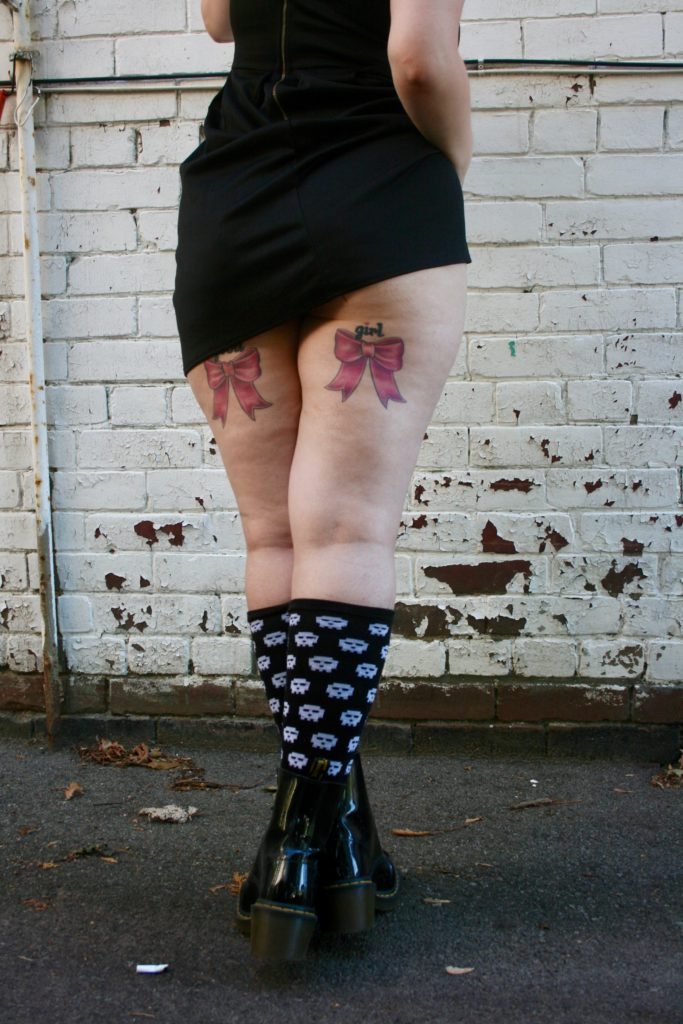 Minutes later, when you've caught your breath, you turn to the side and see her, stately in the high-backed hotel-room armchair. She's dragging on a black and gold cigarette in flagrant violation of hotel fire safety regulations, legs crossed at the knee, wearing nothing but her black harness and black boots.
"Come here, pet," she says, and you kneel at her feet. She strokes your hair as you begin licking and kissing her boots. You've never done this before with anyone else. You've never wanted to. But here, beside this pale and devastating queen who smells like leather and blood oranges, there's nothing else you'd rather do. You feel safe with her fingernails scritching along your scalp and your tongue lathing all the leather you can find.
This post was sponsored by the excellent folks at SheVibe! Go shop their wonderful selection of sex toys, lingerie, kink gear, and more. As always, all writing and opinions are my own. All the photos in this post were taken by my friend Cadence, who is magnificent.