Ha. Remember last week when I prophesied that Playground would be "one of the best weekends of my year"? Yep, I was right.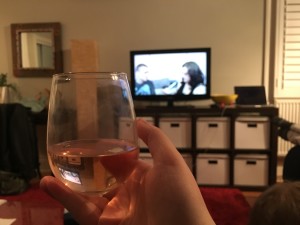 My Playground adventure began with a Thursday-night porn party hosted by the beautiful and wonderful Kate Sinclaire. Kate knows porn: her softcore site Cherrystems and soon-to-launch porn site Ciné Sinclaire are the cat's pajamas. She showed us some stuff she'd been working on, all of which was hot and fresh and compelling. Then we watched various other clips, including this adorable one in which Zander Storm shows you how to make biscuits, while wearing nothing but an apron. CUTEST.
I got to meet several cool folks at that get-together who I would see intermittently for the rest of the weekend – including Rogue, who has been a Snapchat buddy of mine for ages! Yay!
The next day, I had two psychology exams practically back-to-back, and got through them only by reminding myself that I was going to Playground that night.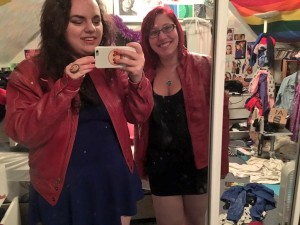 Bex came over to my house and it was sooooo good to see her again. (We last hung out at SHE and, before that, at DildoHoliday.) She waited around for me while I got ready (a recurring theme of the weekend – sorry, Bex) and then went for dinner at my fave, 7 West. From there, we headed over to the hotel where Playground was taking place.
We missed the opening keynote but arrived in time for Tell Me Something Good, the monthly sexy storytelling event which is always one of the highlights of my month. I got to see (and introduce Bex to) a bunch of my favorite folks from the local sex-positive community. We got drinks, listened to stories, and laughed our asses off. (Dan and Tynan are two of the most hilarious people I know.) I even got to tell a story of my own – in a very, very short dress. Whoops.
We went upstairs for a tiny, intimate hotel room party that involved "special" brownies, Truth or Dare, and ridiculous mispronunciations of the word "boudoir." Ooh la la.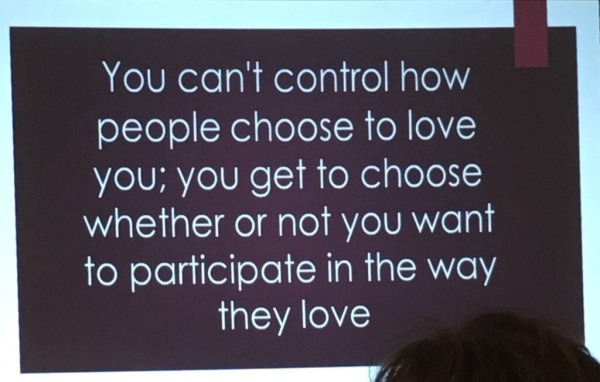 Bex and I began our Saturday morning at a talk on solo polyamory, given by Eva Dusome of Polyamory Toronto. I am just at the veeeery beginning of my foray into poly life, and while this workshop wasn't the 101-level introduction I probably needed, it still gave me a ton of insight and food for thought about what kind of poly person I might want to be. By the time the session ended, my brain was positively abuzz with thoughts of autonomy, connection, individuality, introversion, the illusion of control, and the ways in which self-care is vital to relationships.
After that, we went to Create Your Own Porn, a panel featuring (among others) Kate Sinclaire, Sophie Delancey, and Taylor J. Mace, three of my favorite pornographers who also happen to be three truly delightful people. Also there was Sonya JF Barnett, whose work I remembered from a feminist porn screening I attended earlier this year. They shared many useful tidbits about the technical and back-end side of porn creation, probably launching the careers of several audience members with porn ambitions!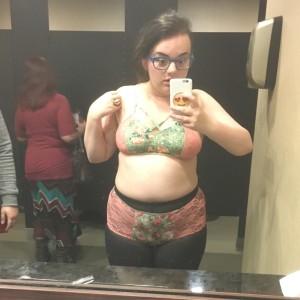 After lunch, we had intended to go to the Spit erotic boudoir shoot, but there was a huge lineup (yay, good for them!) so we went back down to the exhibitor room instead. I bought some fancy lingerie from EmMeMa and we also ogled leather kink goods, stainless steel sex toys, and fetishistic femme hair accessories. It was truly a cornucopia of Cool Sex Stuff.
It was fitting that I followed up lingerie shopping with a panel on femme identity. Some femmes on this panel I already knew, and some I didn't, but all of them brought perspectives to the table that opened my eyes and engaged my heart. This was easily the most emotional session of the weekend for me, because femme erasure, femme competition, and femme underappreciation are all things I've experienced and things I've felt stupidly alone in. So much of what the speakers said was relatable, not only to me but seemingly to everyone else in the room. The sense of crowd-wide solidarity was palpable and it took a lot of restraint for me not to cry – but I don't think anyone would've judged me if I had.
After that last session, I located Bex and we headed back to my place to get ready for prom night… (This story to be continued in part 2 of my Playground diary!)