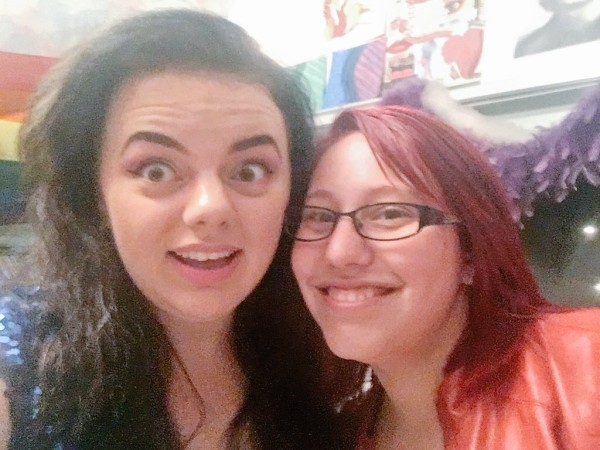 Where I left off, Bex was patiently waiting for me to put my makeup on for Playground prom. (Applying silver glitter eyeshadow can be a fairly involved process, as you might know.) We put on our sparkly dresses, grabbed Greek takeout, and shoved it messily into our faces while riding the subway back to the hotel. (We classy.)
The prom was sooooo much fun, and I say that as someone who normally hates anything involving a club-y or dance-y atmosphere. Usually that sort of vibe gives me massive anxiety and introvert exhaustion in short order. But the entire Playground Conference was set up to be a safe(r) space, and there were so many friendly faces everywhere I went, that I didn't feel nervous at all. I danced my ass off with lovely humans the whole night: we literally stayed until the DJ said goodnight and they turned the lights back on.
Some prom highlights: Shrieking with excitement when a Justin Bieber song came on. ♥ Rogue (who is more outgoing than me, and therefore more capable of interacting with strangers) asking the DJ to play the Macarena on my behalf, and then getting to Macarena real hard with a bunch of other enthusiastic weirdos on the dance floor. ♥ Remembering midway through the evening that I had a paddle in my bag, and letting folks use it on each other. ♥ Laughing so hard at a cute boy's Christopher Walken and James Spader impressions that I had to immediately announce "I have a huge crush on you," which caused him to kiss me. ♥ Shrieking along with the high notes in Senorita. ♥ The total acceptance with which Lavender was greeted when she decided the dance floor was too hot and took her dress off.
There was to be a sexy after-party when prom ended – after all, post-prom is the time to lose your virginity… or, um, have a kinky orgy in a hotel room… – but I was too tired to party any more, so I ended up going home to sleep in a handsome man's bed. (No, really. Just to sleep. I was tired as fuck from all that dancing!)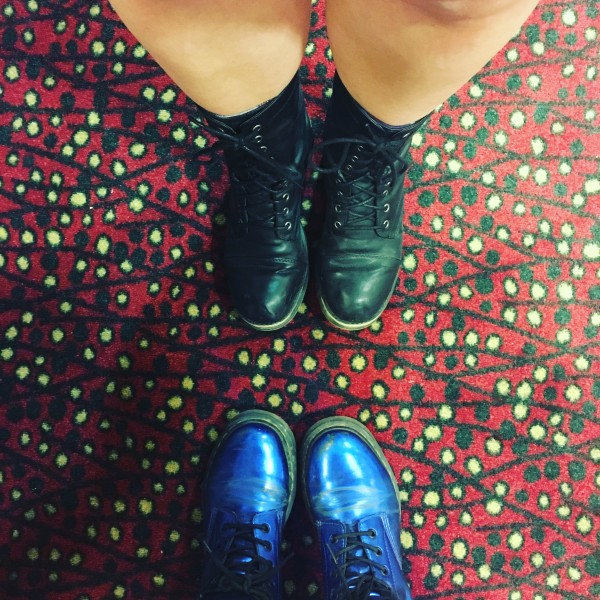 After creeping home in the morning to shower and get dressed, I subwayed back to the hotel just in time for JoEllen and Stephen's talk on sex and depression. There was a remarkable feeling in that room: it felt like the crowd was hungry for the information being shared. Like all of us who've suffered from depression, and who have struggled with our sexuality as a result, were dying to both hear about others' experiences in this regard and share our own. It's true what JoEllen says about sex and depression, that it's a difficult topic because it's the intersection of two taboos – and that's also what makes it so intensely freeing when you do get to hear about, and talk about, that intersection.
That session was fantastic, but also quite heavy, as you might expect. So when I received an invitation to a hotel room cuddle party immediately afterward, I accepted on the spot. Cuddles with sex-positive cuties are an excellent treatment for the sads. We took the elevator up, and our cuddle party devolved into a sleepy sex-pile. (I mean… It was a sex conference. Did you really expect our cuddles to be chaste?)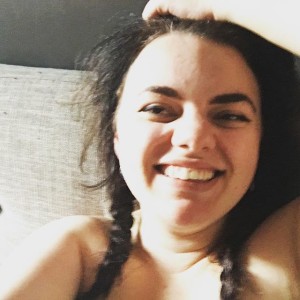 When the owner of the aforementioned hotel room had to check out of it, we were faced with the task of finding a new location for what had become an emergency threesome. I hesitate to write too much about the fun and funny fuck-times that ensued – I'd rather keep it in reserve for Tell Me Something Good or more private settings – but let's just say it was gooooood.
Threesomes, and group sex in general, make me nervous as hell in theory. It feels like there's so much that can go wrong, so many ways that one person can feel like a third wheel or that everyone can feel awkward and uncertain. But luckily, that hasn't been my experience with either of the threesomes I've been in. I guess I know some good people!
We finished up and got on a streetcar back to the hotel, where we arrived just in time for the final keynote with Mollena Williams and Herr Meister. It was a really wonderful ending to the conference because it was so low-key: instead of being a structured speech/talk, it was really just a dialogue between Mollena and her Master about their relationship. I think it was exactly the emotional cooldown we needed to help us transition back into "real life" – almost like non-sexual aftercare.
In her closing remarks, Samantha suggested mac and cheese as a viable self-care strategy for dealing with con drop. Bex and I took that idea and ran with it. After hugging folks goodbye – and returning the threesome-location key we'd borrowed – we returned to 7 West for massive quantities of comfort food. We ended up talking for 4 hours or more, just debriefing about the weekend, and it was truly the perfect conference wrap-up. ♥
Thanks so much to Samantha Fraser for making the Playground Conference happen, and to all the folks who traveled from near and from far to attend it. It was ridiculous amounts of fun and I feel so grateful to be a part of this community. Love love love!