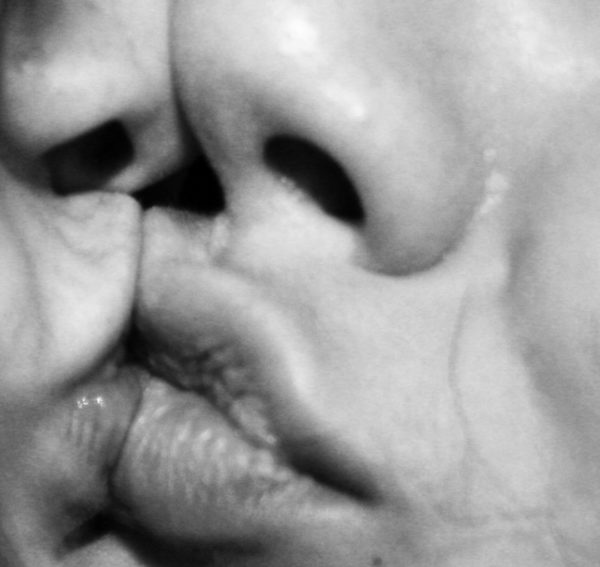 I remember the exact day I decided monogamy wasn't for me. Actually, it wasn't a day; it was a night, in late May 2012. Some friends and I checked out the first-ever Crush T.O. at a small, intimate bar. My then-boyfriend accompanied us, and while I loved him deeply, I found myself wishing I could escape his just-slightly-possessive gaze to go cavort with some cuties in a dark corner somewhere.
That night, we had our first of many arguments about monogamy. "Honestly, I wanted to flirt with people at that party tonight," I told him when we got home. It was a mild assertion, by my present-day standards, but that boyfriend was (and, as far as I know, still is) one of the most monogamously-minded people I have ever met, so he felt threatened by it.
"Monogamy has felt like an itchy sweater to me recently," I wrote in my journal that night. "I love ____ so much, but our world together feels limiting and insular… I want to meet new people in a flirty context that gets me giggling with glee, but that's impossible when my über-monogamous boyfriend is glued to my hip. I miss and long for the feeling of a fresh crush. The exciting open waters of new flirtation."
Over the ensuing days, we negotiated an arrangement that seemed to be, at first blush, a reasonable compromise. I was allowed to flirt with and kiss other people, to assuage my understimulated heart. But I couldn't go any further than that, and I wasn't allowed to tell my boyfriend about these dalliances, because hearing about them would make him uncomfortable.
While this seemed, theoretically, to solve the problem I was experiencing, we quickly realized it wasn't a perfect solution by any means. For one thing, it's very confusing for other people when you tell them you're allowed to kiss them but things have to stop there. Several of my makeout partners wanted more, and so did I; it felt unnatural to stop them, every single time, but I nonetheless did it, every single time.
Secondly, the "don't ask, don't tell" rule started to grate on me. My partner was my best friend and closest confidante; it felt unnatural to hide these exciting exploits from him. Plus, in retrospect, it seems to me that he created this rule because he was 100% Not Okay with me romancing people but knew he'd lose me if he corralled me into absolute monogamy, so he basically wanted to pretend I wasn't doing that stuff. It felt to me like cheating, every time, even though it was ostensibly allowed, because I had to keep it a secret from my love.
Thirdly, our compromise remained unsatisfying to me because I still had the sensation of being "owned." Beyond just being denied the extracurricular sexual experiences I wanted, I also wasn't allowed to post nude photos of myself online, perform in sexy cam shows, or even pose solo for the porn company my friends had just launched. My body, mind, and sexuality were controlled by my partner, and while that's a standard feature of monogamous relationships in "vanilla-world," it was not what I wanted.
Years later, I had a conversation with a fellow poly-inclined friend in which she said, "Monogamy feels inherently abusive to me." I agreed completely. This is a controversial statement, so let me explain. I'm not equating happily monogamous relationships with abuse; monogamy is often chosen, and abuse is obviously not. Monogamy makes some people very happy, and abuse obviously does not. But when monogamy is not chosen – when one or both partner(s) is shoehorned into it because it's the expected default in our sexually possessive culture – it feels like a totalitarian regime is being imposed on your genitals and your heart.
To me, the most upsetting part of monogamy is the sense that another person gets to decide what I do and don't do with my body, and what I am and am not allowed to feel in my heart. My independence and autonomy are fiercely important to me, and I don't feel independent or autonomous when I'm in a monogamous relationship.
I bumped up against this issue again four years later. Back in March of this year, I started dating a boy who agreed to non-monogamy immediately when I brought it up. What a relief, I thought, when it seemed we were on the same page about this issue. He wanted us to always ask each other's permission before each individual encounter with another person, and while this seemed reasonable at first, I quickly discovered it gave me those same "You own me" feelz as my more strictly monogamous relationship had. One time I asked this new boyfriend if he would be cool with me shooting blowjob porn with a friend, and he furrowed his brow and replied, "Yeah, since it's just for porn, I'm okay with that." The implication was that he would object to me sucking another guy's dick if it wasn't for porn, and, let's face it – I would definitely want to do that at some point. So it seemed our ideas of non-monogamy didn't quite line up, and that relationship didn't last much longer.
Now, I'm dating someone new. We met a few weeks ago, on Twitter of all places. He's smart, funny, kind, cute, and great in bed – so, of course, I was really hoping our feelings on non-monogamy would align. And so far, it seems that they do! He's dating someone else, happily encouraged me to keep seeing my beloved occasional fuckbuddy, told me to keep him posted if I start seeing anyone new, and values open ongoing communication the way I do. YAY!
This is my first time delving into #PolyLyfe in any real way, and I'm sure I'll encounter some challenges: jealousy, communication problems, social stigma, and so on. I hope to write about these as they come up, chronicling my foray into the weird, wild, wonderful world of ethical non-monogamy. But for now, I'm over the moon. It'll be difficult, but not anywhere near as difficult as it was for me to deny my true self and live an unsatisfied monogamous existence for so long. When you desire the destination bad enough, you're willing to put some work into the journey!