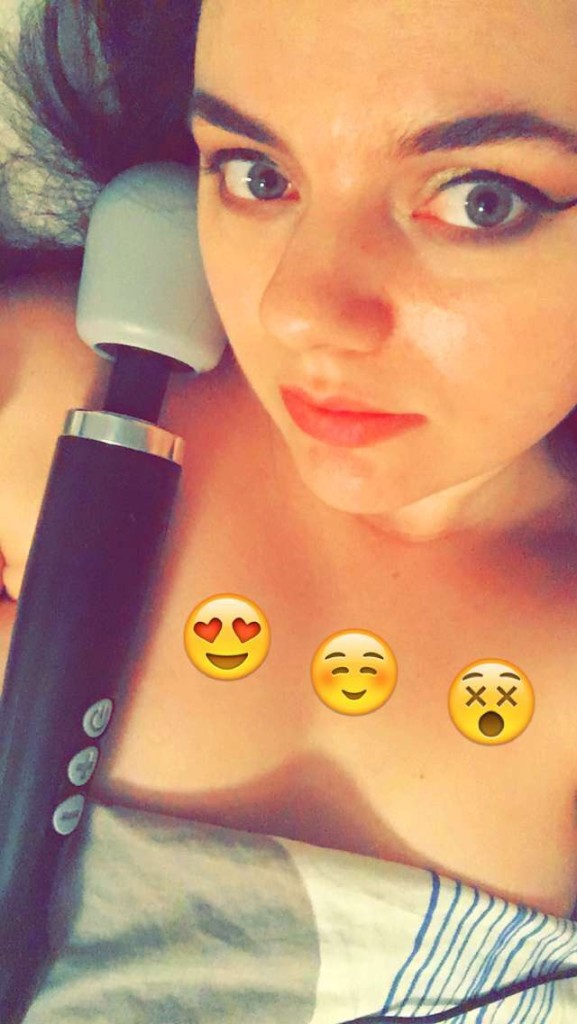 Around Christmastime, Carolyn from Betty's Toy Box delivered me a Doxy Wand and some homemade holiday cookies, in a big gift bag with a kitten on the front. It was honestly one of the best Christmas gifts I've ever received – and not just because her cookies are off the chain. No, as good as those cookies were, the real star of the show was the vibrator. It turned out to be even better than I'd hoped.
See, I'd been hearing increasingly good things about the Doxy. JoEllen, Lilly, Potter and David all raved about this wand's power and ease of use. Plenty of reviewers have said they prefer their Doxy over the Magic Wand, which is a bit like saying "This ketchup is better than Heinz" – I won't entirely believe you, but I will at least listen to your reasoning.
The Hitachi Magic Wand kickstarted the entire wand genre of vibrators, and let's be real: few of them even approach the excellence of the Hitachi. I like the adjustable dial on my Bodywand, but its ridged head annoys my clit and it's louder than I prefer. The Lelo Smart Wand is elegant, ergonomic and rumbly, but mine died completely after about a year so it's basically just a beautiful paperweight at this point. I like the small size and comfy handle of the Jimmyjane Iconic Wand, but its controls are in a weird spot and the rounded head makes pinpoint stimulation impossible.
As you can see, many companies have tried to improve upon the Magic Wand, but it never seems to go quite right. The Doxy, on the other hand, actually does feel like a better Magic Wand in many ways. That's pretty remarkable.
A caveat: the Doxy's never going to dethrone the Magic Wand Rechargeable as my go-to wand, simply because it's not rechargeable. You're chained to an outlet while you're using the Doxy. The length of its cord is generous, but I still prefer the cordless experience of the MWR. That said, the Doxy's fucking rad, and let me tell you why…
First off: it's RUMBLY AS HELL. This is so, so, so important to me, and to many other vibrator users I know. My main complaint with the original Hitachi is its numbing buzziness – I like to be able to feel my genitals while I'm having an orgasm, thank you very much! – so I adore and appreciate rumblier wands. The Doxy's vibrations stimulate my internal clitoris, not just the skin on the surface, and that results in deeper, stronger orgasms and less numbness. Yum, yay, yes please.
The buttons on the Doxy are huge, clearly labeled, and easy to press. They are like the "large-print books" of vibrator buttons. One turns the toy on and off, and the other two increase and decrease the speed. Occasionally my "+" button gets stuck if I press it too hard, which makes the vibe skip up a couple settings instead of just moving to the next one; this is mildly annoying but seems to happen less often the more that I've used the toy.
The head of the Doxy is made of a squishy PVC. It's probably porous, so you should put a condom (or silicone attachment) on it if you want to share it with non-fluid-bonded partners. The head has a lot of give to it, so if you like to press vibrators hard against your body, you might find the squishiness annoying. I tend to hold my vibes very lightly against my clit so I haven't run into this issue, but it's something to keep in mind.
We need to talk about the various settings on the Doxy. The first one has been a particular source of fascination for me: it's so low, it's laughable. If you judged the wand's value by this speed, you'd think it was poorly designed, because the toy's handle conducts the vibrations waaay more than the head does. But that first speed is the only one for which that's the case. (Don't ask me why, I'm not a vibrator engineer!)
The second speed is the one that makes me come, 90% of the time. It's a significant jump up from the first, which annoys me sometimes, but then I just hold it adjacent to my clit until I'm ready for more direct vibration and it works out fine.
I'm not typically a "power queen," so the second speed is usually as much power as I need. But there are several stronger settings above it, and it's good to know they're there. Everyone should have a super-strong vibrator around, in case of those days when your genitals just aren't very responsive and you want to blast yourself into orgasm.
The Doxy is basically what would happen if the Magic Wand and the Wahl had a baby together. It's got the shape and controls of a standard wand, and the jackhammer-y rumbliness that I love about the Wahl. I still prefer vibrators with a more pinpointed shape, because my clit is an attention hog and would rather have all the vibration to itself than share it with my labia. But if you like broad stimulation and rumbly vibration, I think you would adore the Doxy Wand. It is the high-powered, effective, sleek, modern wand vibrator we need – nay, deserve – in 2016.
Thanks to Betty's Toy Box for hooking me up with this toy!