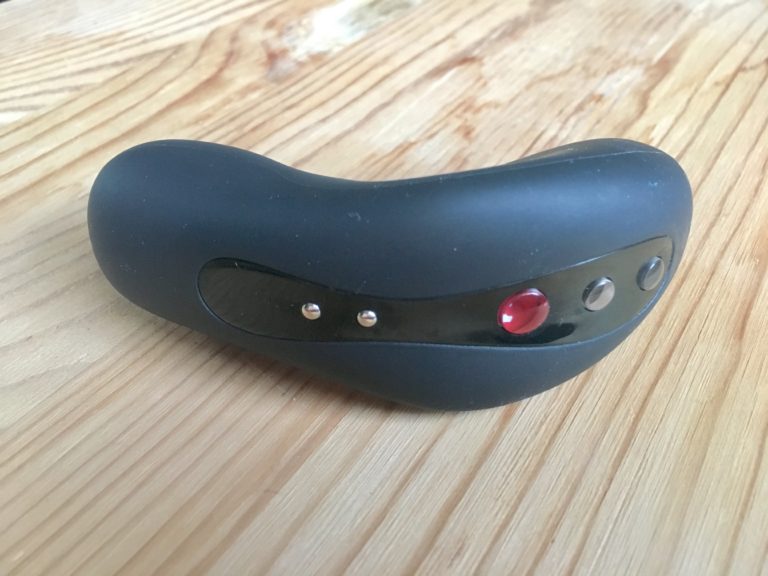 How does that saying go? "Be careful what you wish for; you might get a less-good version of it"? Yeah, something like that.
I tried the battery-powered Fun Factory LayaSpot back in 2013. In my review, I wrote: "The vibrations are too weak and surfacey to get me off… I really wish they would overhaul this vibe as a rechargeable, because I would buy the shit out of that." Lo and behold, four years later, Fun Factory came out with the Laya II, a rechargeable upgrade on the LayaSpot.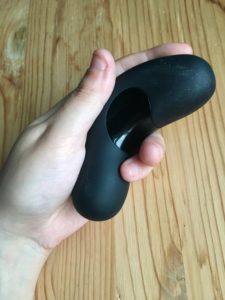 This new model has the exact same shape and dimensions as its predecessor, so devotees of the classic will dig it. The Layas' shape is one of the things I like best about them: the rounded tip can dig into my clit with the moderate pressure I like, and is broad enough to cover the whole head of my clit but pinpoint enough to stimulate only where I want it. It feels comfortable in my hand, which wraps around it ergonomically such that my index finger can rest over the controls. It's really quite a well-designed vibrator, shape-wise.
Motor-wise, though, not so much. The reason I wanted a rechargeable version of this toy is that Fun Factory is known for their fantastic rechargeable motors. Their other rechargeables, like the G4 Patchy Paul and G5 Big Boss, are remarkably strong and rumbly – but they're all big enough to be used internally, and I wanted a li'l clitoral vibe, since I use vibrators externally almost exclusively. The Laya II does not have the signature bomb-ass Fun Factory motor; it has, instead, something weaker, buzzier, and disappointing.
It's possible they did this because of size constraints – you can't fit the same mechanics into something little like the Laya II that you could fit into a bigger, penetrative vibe – but other companies have managed to make powerful, rumbly clit vibes. (The We-Vibe Tango, VeDO Bam, and Swan Wand Mini come to mind.) I believed that if anyone could make the next truly great clit vibe, the one that would rival the Tango at long last, it would be Fun Factory. I'm kind of bummed that that isn't the case.
Don't get me wrong: the Laya II's motor is fine. It can get me off. I'd rate it as a 6 out of 10 on the buzzy-to-rumbly scale – not awful, but not my favorite. And any level of buzziness grates on me these days, frankly. Like my friend Epiphora says about rumbly vibes: "My clit perks up, longing for orgasm, becoming an active participant in the process. Using a buzzier vibe, my arousal level is more stagnant, less dynamic, and the masturbatory experience is just not as fun." The Laya II's vibrations feel great for a couple minutes, but then their buzziness numbs my clit, so I have to move the vibe around, thrust my accompanying dildo faster, and/or crank the power. That buzzy quality would be understandable in a $50 battery-operated vibe like the LayaSpot; it's less reasonable in a $120 rechargeable like the Laya II.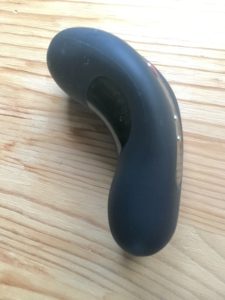 These vibrations are also loud. They make a high-pitched, jangly clattering noise that reminds me simultaneously of bees and snakes. And they numb my hand. Like it's been stung and/or bitten by a bee and/or a snake.
To add insult to injury, the Laya II has a super unintuitive controls scheme whereby hitting the "plus" button again after the third steady speed turns the toy to a vibration pattern. This has tripped me up multiple times: I keep thinking I can increase the vibration speed further (because my clit's so numb that I need mega-powered vibrations at that point), but then accidentally switching to a pattern and fucking up my impending orgasm. Aaaargh!
It's just so frustrating that Fun Factory put such a sad motor in a toy as otherwise lovely as the Laya II. It makes me want to crack this vibe open and replace its motor with one from the We-Vibe Tango. You know, if I knew a damn thing about electronics and could do that. Which, alas, I don't and can't.
Thank you so much to Fun Factory for sending me this toy to review! You can shop their toys at SheVibe, Peepshow, and Come As You Are.