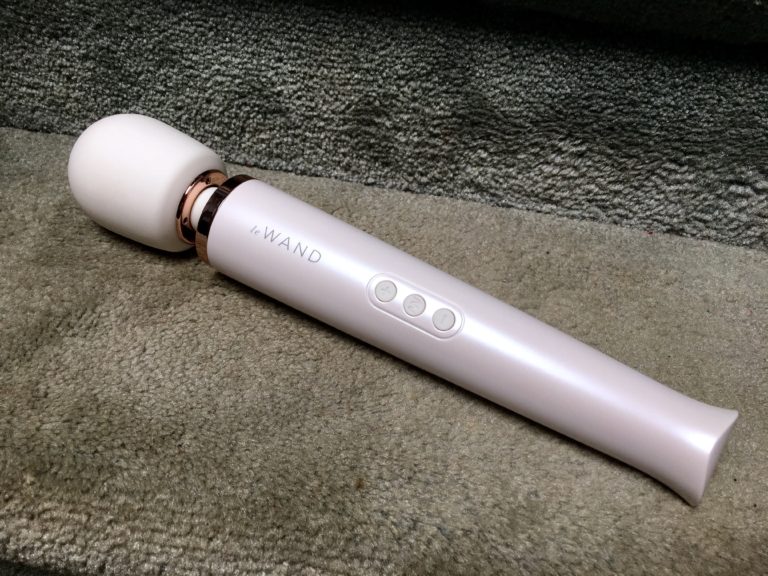 Y'all, I'm so angry about the Le Wand. SO ANGRY. It has been a long time since a sex toy has pissed me off this much. But I have some Opinions and Feelings about this one and we are going to talk about them.
This rechargeable wand vibrator – sent to me for my honest review by the lovely folks at Peepshow Toys – was designed as an upgrade to existing wand vibes like the Magic Wand and Doxy. In a braggy interview about her product, designer Alicia Sinclair says, "I've always found the aesthetics and design of wands rather unappealing, industrial and masculine… In my humble opinion, Le Wand satisfies this need in the market by offering a refined classic wand massager with upgraded features and gorgeous design."
It's definitely good for companies to keep trying to outdo the Magic Wand, reigning queen of the wand vibe genre. Innovation and improvement are important, and perpetual forward motion in the market is one of the only good things about capitalism. But here's the thing: if you claim to be innovative, you need to actually innovate. The Le Wand does not. In fact, in many ways, it's a massive step backward for wand vibrators.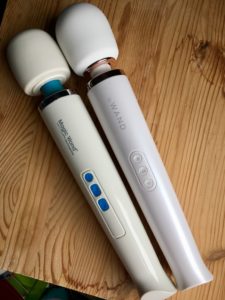 First, let's talk aesthetics. Sinclair says her wand's design is "elegant," "sensual," "fresh" and "stylised." But let's be real: it's essentially a re-skin of the Magic Wand Rechargeable. Seriously, they look like fraternal twins. The product names are printed in the same spot, the number of buttons is the same and they are located in exactly the same place on the body of the toy, the bases of the toy are the same shape, and they even use the same charger! For a toy that claims to be so groundbreaking, the Le Wand sure seems like a straight-up ripoff of the Magic Wand.
It's not an improvement vibrations-wise, either. Though Le Wand's ad copy repeatedly claims its vibrations are rumbly, it's one of the buzzier wands of this size that I've tried. The Magic Wand, especially on its two lower speeds, is so delightfully rumbly that you can actually see its head thrumming back and forth during use, and feel it rippling against you. The Le Wand, comparatively, stays pretty stationary and its vibrations are much more surface-level, leading to numbness far more quickly. My clit gets bored and blasé instead of staying engaged and excited.
And the noise! The Le Wand is one of the loudest vibrators I've ever encountered. Even on the lowest speed, it sounds like an angry robotic cow having a mooing tantrum. Its lowest speed is just as loud as the Magic Wand Rechargeable's highest speed, though not as strong or as rumbly. In testing my Le Wand, I was reminded of that time a partner fucked me with a toy while my best friend shot porn in the next room; I had my Magic Wand on my clit, set to the lowest speed, and it was quiet enough that we didn't even have to worry about fucking up the porn happening nearby. There's no way that would've been true if I was using the Le Wand. (It wouldn't have gotten me off anywhere near as quickly, either.)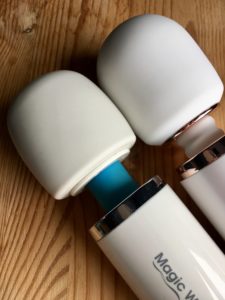 The Le Wand's head is more rounded than the angular, squarish head of the Magic Wand. For many people, this won't be an issue, but for me, it has a marked effect on my ability to get off with this toy: I prefer relatively pinpoint stimulation on my clit, so I always hold my Magic Wand slightly angled so as to get that focused corner right on my clit. That isn't possible with the smooth, rounded head of the Le Wand, though they do sell attachments separately which can narrow the vibrations into a slimmer shape.
Additionally, one of the most-advertised features of the Le Wand – its bendy neck – isn't actually as effective as the toy's promotional copywriters seem to think. As with the Magic Wand, there's a little flexibility in the neck, but you have to press pretty hard to get it to bend. This is a good thing for people who like pressure on their clit, but seems to me like false advertising.
The Le Wand has 20 different vibration patterns, and unlike most patterns, some of them are actually good. My complaint about patterns is usually that they're too slow or that there's too much space between bursts of vibration, so they act as a tease without really getting me closer to orgasm. But many of the Le Wand's patterns are continuous vibration moving up and down in waves or fast pulses, so I can actually get off using them. This toy's vibrations are still so aggressively buzzy that I don't like using it on my bare genitals, because of the numbness and slight itchiness that ensues – but the Le Wand's patterns, applied to my vulva through panties and/or pants, can be kind of nice sometimes.
But for a vibe that costs $170, the Le Wand should be way better than it is. It should be rumblier and quieter, and it shouldn't be an obvious Hitachi clone. The Magic Wand Rechargeable costs only $125 and is superior in every way that matters to me. Get that one, or the also-wonderful (but electric, not rechargeable) Doxy Wand for $120. You'll be much happier with either choice than you would with the shrill, buzzy bleating of the Le Wand.
Thanks so much to Peepshow Toys for sending me this vibe to review!