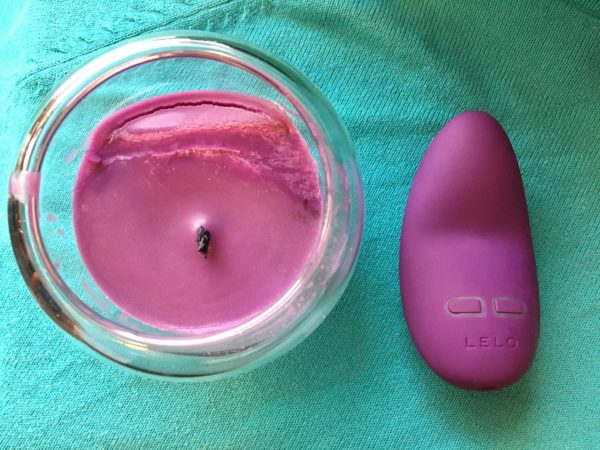 Lelo wants you to feel ashamed of your junk. There's no other possible explanation for this abomination. You don't create a scented vibrator unless you believe genitals are inherently smelly and gross. You just don't. So that is what Lelo must believe. Or, at least, it is what they must want you to believe, so you'll buy their products.
People were understandably upset when Lelo released their revamped Lily vibe with "aphrodisiac" scents in 2015. "Just what every girl wants: a vibrator that smells," Twitter users deadpanned. "There's still no credible scientific evidence that aphrodisiacs, y'know, work," Diane Kelly pointed out. "JUST MAKE A FUCKING VIBRATOR, LELO," Lilly begged.
Some concerns were reasonably aired about whether the toy's fragrance is actually "body-safe" as Lelo claims. They posted a "how it's made" blog post which explained the aroma comes from "scented pellets" mixed in with the regular plastic pellets that are melted down to make the Lily. They say the vibrator is "sealed and sterilized" in the final step of production, so theoretically the scent should be locked inside, rather than leaching out to fuck with your vulva's pH. But I'd still hesitate to recommend this toy to anyone with infection-prone parts. (After all, Lelo is the same company that somehow claimed it's a safety feature that you can't tell when their condoms are punctured.)
Lelo sent me the Lily 2 as part of one of their special Valentine's Day offerings, the Heaven Scent Pleasure Set. In addition to the vibrator, the set contains a scented candle – to continue the theme of "Let's cover up your icky body smells with perfumey fragrances!!" – and a bottle of Lelo's own lube. I'll talk about each in turn.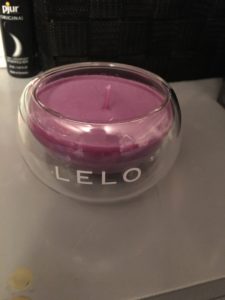 First, the candle – which is, admittedly, the main reason I requested this set over any of the other Valentine's sets Lelo recently came out with. I am a bit of a scented-candle fiend; Bath & Body Works is a staple of my mall trips, and I've been known to stand around in shops inhaling deeply from candles long past when my friends would've liked to leave. My thought process was, "Well, it's a Lelo set, so I probably won't like most of what's in it, but at least I'll have a scented candle to enjoy."
They kinda fucked up the candle too, though, because of course they did. It's supposed to smell like "bordeaux and chocolat" (yes, chocolat, spelled the French way, as only über-pretentious Lelo would). To my nose, it smells more like artificial raspberry candy – which, fine, but I wouldn't exactly describe that scent as an aphrodisiac. The wick on mine was also placed weirdly off-center, so that only about half of the wax actually got used, halving the burn-time of the candle. Boooo.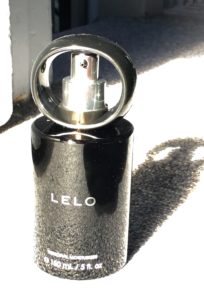 As for the lube – Lelo makes a big bragadocious deal out of telling you their lube is paraben- and glycerine-free (great!), but it still contains propylene glycol, a known irritant that can cause vaginal infections. I will concede that the futuristic-lookin' pump-top bottle thrills my inner fancyperson, and the lube sticks around pretty well and has a good consistency. But though the packaging claims this lube is fragrance-free, it smells like rubbing alcohol and tastes like bitter chemicals. And in this, 2017, the Year of Our Lord Sliquid, I should not have to use any lube that carries any risk of vaginal infection. Better options exist, and they don't even taste gross.
Now onto the vibe itself. The Lily 2, I will admit, is a pretty awesome vibe. The motor is noticeably stronger than that in the previous iterations of this toy. It's rumblier than your typical external vibe – not quite so rumbly as the Tango, say, but certainly closer to that end of the spectrum than many other clit vibes. My clitoris is a certified snob and I still find the Lily 2 plenty powerful and rumbly enough to get me off when combined with a great dildo.
The shape isn't my favorite. When the tip of the toy is nestled on my clit the way I like it, the buttons are planted in my mons, so I have to lift up part of the vibe to change the speed (which I do a lot). However, that's because I prefer to place vibrators on the shaft and hood of my clit, rather than the head; I'm sure there are plenty of people who will find the Lily's shape more intuitive and comfortable. It certainly curves nicely against my body and gives me placement options both pinpointed and broad.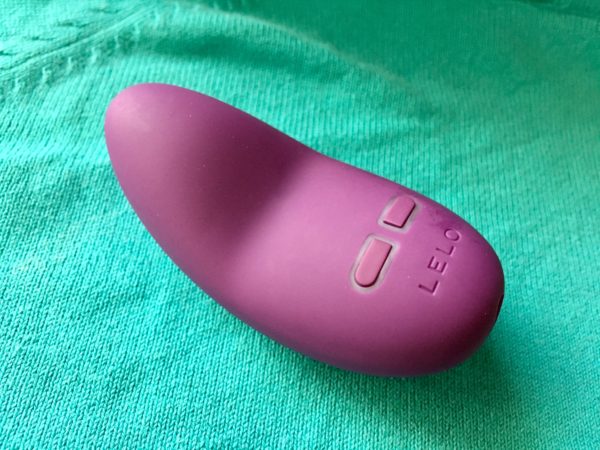 I also like the Lily's silky, matte plastic coating, its well-crafted and prettily-lit buttons, and the fact that it's waterproof. It's quiet, sturdy, locks for travel, and comes with a cute storage bag. There's a lot to like about this vibrator, actually. Which is why it's so disappointing and so typical that Lelo loused it up by adding a scent for no goddamn reason. (A scent which, by the way, I can barely smell when the toy is pressed against my nose, let alone when it's pressed against my clit.)
There was a time when Lelo made consistently good, standard vibrators that everyone loved. But in recent years, they've gotten into a bad habit of adding offensive gimmicks to everything. They made a cock ring for bankers, a We-Vibe ripoff, a lacklustre cunnilingus simulator, a tuxedo for your dick. They made shitty, probably-unsafe condoms and hired known abuser Charlie Sheen as their spokesperson. In short, they're a mess. Most of my blogger friends refuse to support them anymore, and I have to agree that I won't feel right recommending Lelo to anyone unless and until they apologize for the Hex condoms and their various sexist missteps. On top of all this, it somehow makes me even angrier that Lelo had a perfectly fabulous clit vibe which they chose to taint by adding a gimmicky scent no one asked for.
If you want a great rechargeable clitoral vibrator, get a Tango, Lust L2, or Form 2. If you want some lube to use with it, pick up some Sliquid. If you want a scented candle, grab one by Jimmyjane. If you want to spend $129 (!) on a better Valentine's Day gift than the Heaven Scent Pleasure Set, consider a night's staycation at a local Airbnb, a big gift card to your sweetie's favorite bookstore/makeup company/repertory theatre, or – hell – a Magic Wand Rechargeable. (Everyone needs one of those.)
But don't give your money to Lelo, especially not for Valentine's Day. There's nothing less romantic than abusive spokespeople, bitter lube, and genital-shaming.
Disclosure notice: Lelo provided this product to me in exchange for a fair and unbiased review.