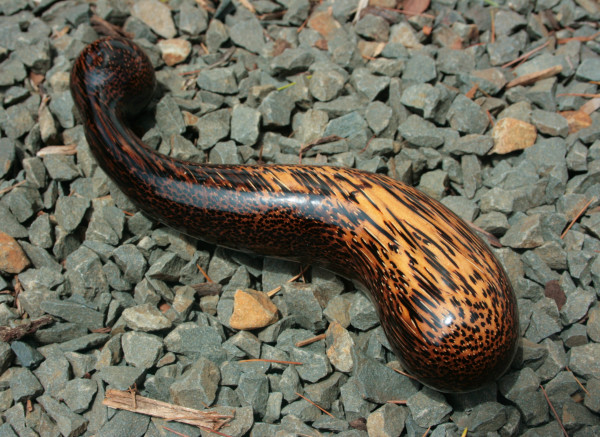 I have heard other reviewers describe G-spot stimulation as "addictive," but I'm not sure I ever really understood that until the NobEssence Seduction.
Multiple orgasms are not usually my thing, but after the first time I came using the Seduction, it was less than an hour before I glanced over at it and thought, "Yeah, I need to use that again." I did, and it was good enough to warrant the #GspotBLISS and #HOLYFUCK hashtags. That's high praise!
I bought my Seduction in Portland when I was there for DildoHoliday. Epiphora took us to a local sex shop, and while the rest of the group wandered around looking at the store's various wares, I found myself glued to the NobEssence display. In particular, I couldn't stop staring at the Seduction. I'd only ever heard good things about it, and had wanted one for so long but had never even been in the same room as one. And now, here was a gorgeous black palm Seduction, right in front of me. So I bought it, even though it set me back a hefty $160.
When a sex toy is that expensive, it had damn well better be good. And let me tell you: the Seduction is incredible. Money well spent, as far as I'm concerned.
You know that "Oh shit, yeah" feeling that suddenly kicks into gear as you get close to an orgasm? That's how my G-spot feels for most of the time that I'm thrusting the Seduction inside me. Its broad head is bigger than the G-spot toys I generally use, so it rubs over my entire G-spot with every thrust. There is no fucking around with this toy. Your G-spot cannot escape; the Seduction will find it.
Let's be clear: everything I've said about this dildo so far has been about its larger end. The ball-shaped smaller end is good too, but it's taught me something about my G-spot: it prefers broad stimulation, not pinpoint. Finely targeted pressure gives me more of that need-to-pee discomfort that sometimes puts me off G-spot play, while broader contact just feels good. As always, all bodies are different, but that's how my G-spot rolls.
However, that's not to say that I never use the small side of the Seduction. It makes for a terrific warm-up, helping my vag relax so it'll be able to handle the significant girth (1 7/8″!) of the toy's big end. And when that little ball is inside me, I can grind the Seduction's shaft against my clit with minimal awkward angling. The motion is similar to jerking off a penis, and I like to do it while I idly read erotica or watch porn, as a prelude to serious self-fucking.
The orgasms I have from the Seduction (paired with a good clit vibe) are all-consuming and life-affirming. Panda says that hers makes her come so hard she cries, and I believe it. The combination of thickness, firmness, and a sharp G-spot angle makes for some very intense sensations. This dildo is not for you if you like your toys thin, gentle, or flexible.
But if your G-spot wants to have the wind knocked out of it… if you want to fuck your own brains out until you're lying in a sweaty heap, possibly soaked in your own ejaculate… if you want orgasms that will make you weep and send fawning love letters to NobEssence… you need a Seduction.
Yes, it's expensive. But pleasure this ridiculous is worth paying for.