Sometimes you meet someone who seems perfect on paper, but there's just no spark in person. They're smart, funny, sweet, ambitious, adventurous, creative, charming, and a genuine pleasure to be around – but you just can't muster up a sexual attraction to them. It's frustrating as hell, and sometimes it can keep you from firmly rejecting the person, because they deserve to be wanted and you want to want them but you just… don't.
That's how I feel about the Pleasure Works Cadet. It's a perfectly fine dildo that deserves love, from somebody, someday. But it's not getting any love from me, hard as I might try.
The Cadet is made of silicone that has a little squish: it's bendier than O2 but significantly firmer than VixSkin. It has a mild, strange scent and taste that remind me of the chocolate from advent calendars (?!). Its base is substantial and makes it anal-safe and harness-compatible, and it's long enough (6.5″) that you won't render it too short by strapping it into a harness.
The 1.6″ diameter feels ideal to me. I don't need to warm up or stretch myself open before I take it, but it's girthy enough that squeezing around it feels satisfying.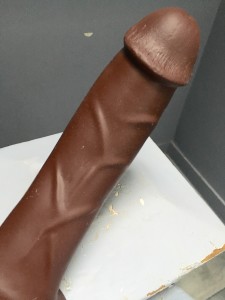 There's some raised veins on the shaft, but they're pretty mild so my vag barely registers them. The head has some weird ridgy texture on it, which Bex told me bothers her but which I can hardly feel. (I should note, however, that my vag has historically not been all that sensitive to texture. If you are, you might dislike this like Bex does.) The coronal ridge is definitely noticeable in use but it's not exaggerated; mostly it just reminds me of an average penis… which unfortunately means that it barely hits my G-spot. In fact, I only seem to get decent G-spot stimulation with this toy if I thrust it very fast.
And that's a problem I have with the Cadet: thrusting it fast takes effort. The textured shaft and draggy silicone create resistance, and I find the base hard to grip if I'm trying to pound myself at a decent clip. Adding more lube helps a little, but I hardly ever seem to gather the speed and momentum I want. And when I do manage it, usually my wrist hurts like hell afterward.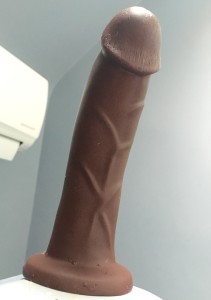 I thought I'd like the Cadet because it's theoretically long enough to hit my A-spot – usually toys need to be about 6″ or longer to reach that deep inside me. But nope, it doesn't even do that. The head is just slightly too wide and blunt to slide past my cervix into that pleasurable nook. When I push the Cadet all the way into me, it feels so close and yet so far. Dammit.
So, while I've had some pretty good orgasms with the Cadet, it's never going to be a favorite of mine. It barely hits my favorite spots, even when I run myself ragged trying to thrust it at top speed. If you're looking for an average-sized, realistic, silicone cock for strap-on purposes or otherwise, I'd recommend the Tantus Uncut #1, Vixen Leo or Mustang instead. They all make my vagina way happier than the Cadet.
Sorry, pal. I tried. But it's not me, it's you.
Thanks for sending me this toy, SheVibe!