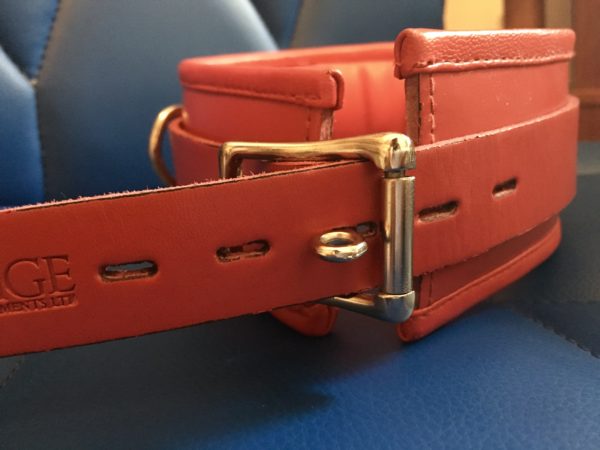 If there's one thing I've learned from practicing kink, it's that there's no such thing as objectively good or objectively bad.
What I like might gross you out. What you like might hurt me too much. What I hate might make you laugh. What you hate might turn me on. When it comes to kink, one man's trash is another man's pleasure.
I thought about that a lot while trying the Rouge Garments red padded collar I was sent by Bondage Bunnies. It's awkwardly wide (2.75 inches, to be precise), making it feel like a neck brace when I wear it. The thick padding seems like it would increase comfort, but it actually makes the collar bulkier and more restrictive. The collar's thickness and rigidness make it difficult to turn my head while it's on me. Its clasp is difficult to undo on my own, often taking several minutes of pushing, pulling, sweating and swearing before it'll pop free.
But look at that list of defects again, and you'll see that this collar is surely exactly what some people are looking for. Bondage toys are, by their nature, meant to be restrictive and uncomfortable; it's just that some people like more extreme levels of restriction and discomfort than others. For me, this collar was too much; for some folks, it'd be ideal.
My relationship to collars is, I will admit, somewhat frivolous. Aside from this one, I also own a pink and black Aslan Leather collar and one from Ardene that is technically a dog collar. For the most part, I consider them fashion accessories – but in a deeper sense, I do think of the Aslan one as "my collar." I put it on when I'm feeling subby and want the sense of calm I get from wearing it – or when a dom partner tells me to.
My Aslan collar is suitable for both everyday wear and kink play, because it's unobtrusive and not especially over-the-top. Wearing it in public makes me look more like a goth babe or a fashion-forward scene kid than a full-on kinkster. Its 1.5″ width is noticeable without being annoying, and it's made of leather so soft and pliable that it's always comfortable.
None of that is true for the Rouge Garments collar – but I know some people want to notice their collar when it's on, want to be aware of it at every moment, want to be constricted by its insistent bulk. And to those people, I say: I will not yuck your yum, although it isn't mine.
Thanks to Bondage Bunnies for sending me this product to review!