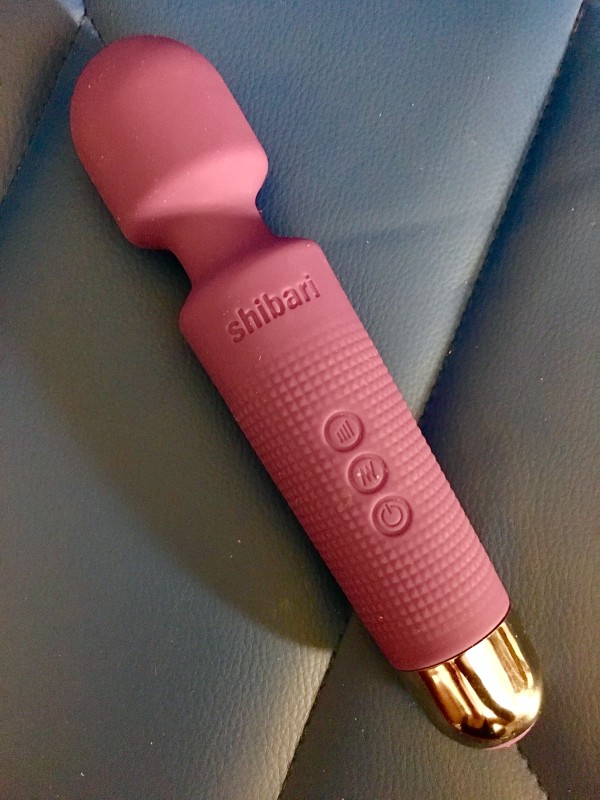 I wanted to like the Shibari Mini Halo Wand. And there is so much that I do like about it. But it has a fatal flaw that I just can't get past, no matter how much I try to convince myself it doesn't matter.
So let's get the Mini Halo's hamartia out of the way right off the top. When you turn it on, it starts at the strongest vibration speed. If you want to get to the lowest speed instead, you have to hit the "change speed" button eight times.
Please take a moment to visualize yourself trying to press a vibrator's button exactly eight times in the middle of a masturbation session – no more, no less. And then imagine yourself needing to do that multiple times during any given session. And then imagine yourself throwing the vibrator across the room in a fit of rage. Congratulations, you have just experienced a fraction of the aggravation I endured while trying to test the Shibari Mini Halo Wand.
See, when I use vibrators, I always begin at the lowest speed. My clit is sensitive so I need to start gentle and ramp up from there. If I start at a moderate or high power level, not only will it feel painful and uncomfortable, but it'll also get me real numb real fast. And that significantly lowers my likelihood of reaching orgasm. So the lowest speed is the way to go, at least at first.
If you read that last paragraph and thought, "That's not just you, GJ – that's how most people use vibrators," well, yes, I think you're probably right. Which is why it's so annoying that Shibari chose to design their wand this way. I could understand having the wand remember the speed you used last time and starting there, like the Doxy Wand does; I could even understand having the wand start at the top speed if there was also a "go to the lowest speed" button, to make that process instantaneous. But there isn't. You gotta hit that middle button eight fucking times to get it to speed number one.
If it seems like I'm harping on this a lot, that's because I am. And also because it irritates the fuck out of me. This wand could have been so great if not for this one issue.
The Mini Halo is a wonderful size for a wand vibrator. It fits in my hand comfortably, and is large enough to feel impactful but small enough to fit into a purse. The head is shaped such that you can get broad or narrower stimulation depending on how you angle it. The vibe feels solidly constructed, but retails for just $59, less than lots of "fancier" wands on the market.
The vibrations are excellent. They are deep, rumbly and penetrating. The intervals between each of the eight speeds are small, so the cranking-up process feels smooth and gradual rather than jumpy or jarring. The toy is rechargeable and holds its charge for a long time – I've had mine for over three months and have only needed to charge it once in that period. Although, admittedly, I probably only used it 7 or 8 times before deciding the deep, strong orgasms it delivers aren't worth the hassle of dealing with its tragic flaw.
If you want a rechargeable wand vibe, get the Magic Wand, Iconic Wand or PalmPower. If you just want a strong, rumbly, awesome vibrator, get the We-Vibe Tango, Lelo Siri 2 or (again) Magic Wand. If you think you can forgive the Shibari Mini Halo for its major defect, then go for it, because it's otherwise a top-notch toy – but as for me, I am far too lazy and uncoordinated to press a button exactly eight times after each and every instance of turning my vibrator on.
Thanks to Peepshow Toys for sending me this vibe to review!