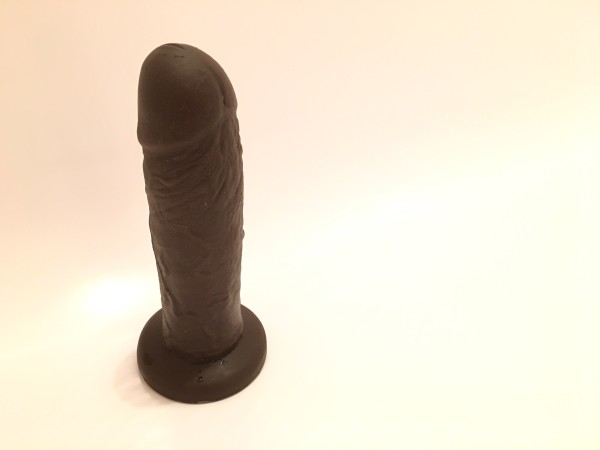 Last year, I had a fuckbuddy who would tease me about being a size queen. I'd show up at his house toting my Eleven or my Double Trouble, and he'd jibe, "You seem to like big toys." This always made me blush and deny his assertion, because there's a certain amount of stigma that comes with being a size queen… but the other reason I disagreed with him was that his comment wasn't quite right. I don't like big toys; I like toys that hit my internal erogenous zones really well. And while girth or length can help with that, they certainly don't guarantee it.
I thought about this a lot while testing the Tantus Sam, a new addition to Tantus' outstanding line of dual-density silicone toys. The Sam was marketed explicitly toward fans of large toys. At 1.8″ in diameter and 7.3″ long, it is indeed pretty huge. Not the biggest I've had, but still substantial. However, for all its enormity, it barely even does what I need a dildo to do: hit my favorite internal spots.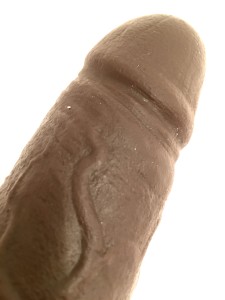 The texture of the Sam's shaft is ridged with veins. They're highly realistic-looking, continuing Tantus' pattern of producing gorgeously convincing realistic dildos over the past few years. While the veins drag across my G-spot with every thrust, they also drag across my whole vaginal wall, so the stimulation doesn't feel targeted. If I don't use enough lube (or don't reapply often enough), this texture can even feel abrasive.
The significant length of the Sam means I can't get it all the way into me – not even close. When shoved in as far as it'll go, the toy's tip nudges my A-spot, but it's not tapered enough to really get up in there. Sometimes I bash into my cervix with it when I try.
The toy's coronal ridge frequently irritates my vag, catching on skin – just for a second, but for long enough that I register pain and get pulled out of the moment.
Don't get me wrong – I've had some fabulous orgasms with the Sam. But it's made me realize something about the way my vagina operates. Girthy penetration intensifies my actual orgasm, giving me something to squeeze around when those involuntary muscle contractions hit – but for the build-up to orgasm to feel good and get fast-tracked, I need a toy that hits my spots. Girth alone isn't enough to make my vagina sit up, shut up and pay attention.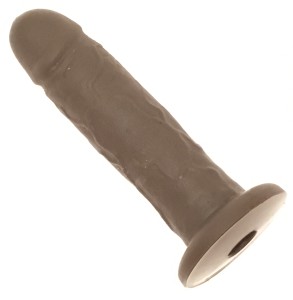 I think you'd love the Tantus Sam if your orifices like feeling filled up with something thick, and you're not too bothered about targeting specific areas inside you. But if you want something realistic that can multitask a little better, I'd recommend the Uncut #1, Adam, or Maverick. They're all in the same size range as the Sam but have curves and better-shaped heads for stroking G-spots or prostates. And none of them share a name with my dad, unlike the Sam.
Thanks for sending me this toy to try, Tantus!