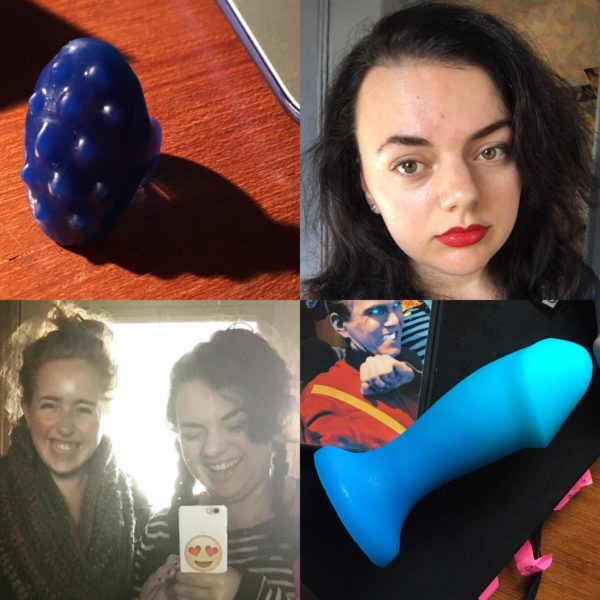 I was very smitten with November. After coming back from a two-week stint overseas, I felt even more in love with my hometown of Toronto than I normally do – not to mention, extra appreciative of the friends I had left behind here. I spent a lot of this month laughing, talking, and/or having sex with people who are super important to me, and all of it felt cozy and affirming. ❤️ Here are some of the products, ideas, and experiences I loved most this month…
Sex toys
• Kenton from Funkit Toys sent me a prototype of his Signet, a textured ring meant to be worn on the fingers for added stimulation during handsex. I wore it out to some events and several people marveled at my "elegant" ring, which I found hilarious. I was excited to use it with my FWB, since he's already one of the best fingerbangers I've ever encountered – and holy jeez, it was great. As soon as he started fucking me while wearing the Signet, my decibel level rapidly increased, such that he laughed and said, "Oh, you like that, huh?!" Indeed: the texture adds an intensity that makes fingerbanging – already a favorite act of mine – even more delicious. Go buy a Signet; you only have until December 9th to do so!
• I spent the first 8 days of the month in Europe with no sex toys at my disposal except the G-Spoon and Tango I'd impulsively decided to bring. When I'm at home, these are both "second-string" toys for me: I'll reach for the G-Spoon if I'm not up to the task of accommodating the Double Trouble or Eleven's girth, or if I specifically want to fantasize about having my A-spot fingered, and I'll grab the Tango if I want something more pinpoint than the Magic Wand or that I can take in the bath. But maaan, they sure did the trick. The easiest formula for getting me off is a rumbly clit vibe + an A-spot-focused dildo, and this combo totally wins by those criteria.
• I bought a Hole Punch Fluke in a gorgeous blue ombré colorway. My vagina is deeeeeply enamored. It's moreso a vaginal plug than a dildo; I like keeping it inside me while I watch porn and hold a Magic Wand to my clit. It's the laziest possible way to administer G-spot stimulation and I love it.
Fantasy fodder
• When I'm in the mood to watch a dominant lady boss people around and be mean to 'em – a rare craving for me, but a potent one when it does come up – my first choice is always Aiden Starr. She's one of the best dirty-talkers in the biz and she follows through on her smack-talk. I like this clip of "mad scientist" Aiden studying Daisy Ducati's ejaculations, and Aiden forcing an orgasm out of Sara Luvv with a clit pump and a wand vibe. Good gawd, lady's got game.
• I mentioned this in my Double Trouble post, and probably repeatedly on Twitter, but I'm not over my usually-vanilla-but-sometimes-vaguely-dominant FWB telling me, "See what happens when you trust me?" after I took his advice to relax into pleasure and he made me come. He told me later that he keeps his dom-y dirty-talk infrequent, partly because it makes him nervous but partly because the effect is heightened if his quips are few and far between. Um, yup. Very yup.
Sexcetera
• Mid-month, I had some friends over for a get-together, and among them were my favorite fuckpal and a beautiful lady. The day before, Suz had dreamed we had a threesome, so it was on my mind… as was the fact that each of these people had independently told me they'd be down to threesome with the other one. I took them each aside to separately ask if they were feelin' threesome-y, and they both said yes – so later that night, after my other guests had skedaddled, a magical threesome materialized in my bed. It involved marijuana, a double blowjob, fingerbanging, toy-ramming, ample use of the Magic Wand Rechargeable, and lots of giggly makeouts wherein me and Suz kept squealing "You're so pretty!" at each other. Overall: fantastic.
• Remember earlier this month when I told you all about how weed makes sex better for me? Yeah, I really practiced what I preach this month. At one point, my FWB and I got super high and he did stuff to my nipples with his hands and mouth, and I actually felt like I was sailing out of my body and into the astral plane from the sheer ecstasy of it. "That was hot," he told me afterward. Yes, it certainly was.
• Some of my work elsewhere this month: I enthused about temperature play and ranted about buying partners sex toys for Ignite. I have a column about the decline of PIV in the latest issue of This. And on our podcast, Bex and I talked about handsex, PIV, butt stuff, and sexting. (Are you subscribed to our show yet?!)
Femme stuff
• I wanted to buy something glamorous while in Italy ('cause "When in Rome"!), so I stopped into a Sephora and picked up Armani Rouge d'Armani lipstick in "Lucky Red." It's the exact kind of red I like best: classic, cool-toned, and creamy but not glossy. The magnetic-closure tube makes me feel like a futuristic megababe, and the shade itself is a hot pop of confidence. I loooove it.
• When I'm feeling sartorially uninspired, I like dressing with a particular character or occasion in mind. When I went to an Andy Shauf show this month, I dressed like a navel-gazing hipster so I'd fit in with his crowd. When depression made it hard for me to get out of bed on American Thanksgiving weekend, Bex sent me a picture of them in their fancy family dinner outfit and told me to wear what I'd wear if I was going to their dinner with them. Other recent "costumes" include "hot grown-up Wednesday Addams," witchy goth babe, and "butch greaser." Hey, whatever works.
• I've been wearing my hair very curly lately (see also, and also, and also). My hair is naturally wavy, but a little wizardry with DevaCurl gel and a Turbie Twist can kick it up to eleven. Having giant hair makes me feel powerful, and I dig it.
Little things
This guide to helping a partner who's having an anxiety meltdown (potential suitors, take note!). Putting lipstick on my five-year-old cousin at her request. The extreme peacefulness of the Ġgantija ruins. Curvy-lady statuettes. Hazelnut gelato, tiramisu, and cacio e pepe. Artistic advice from people I respect. My friend Lilly's post about the BlogSquad. My SAD lamp. Going clothes shopping with hot friends and gasping dramatically over how gorgeous they look. Dancing to the Elwins in a dim basement with a new friend. Crackin' jokes with my ex in a blessedly not-awkward way. "I'd die if I saw you; I'd die if I didn't see you there." Friends who happily accept my introvert-y proclivities. Making sweet potato risotto while listening to The Adventure Zone. Meeting a guy with swoopy hair at a party and telling him he looked like a Pokémon villain. Intoxicated BJs. Getting sex toys in the mail (always). Touch the Skyrim. Laughin' it up with Brent and a bunch of nerds at a Use Your Words playtest. Makin' New Year's Eve plans with some babes I adore. Telling stories at TMSG (ideally when the people the story's about are sitting in the front row and giggling at me). Sleeping At Last's Atlas: Year One and his new Christmas album. My FWB doing a spot-on impression of my sex noises for my amusement.
What were your fave sexy thingz this month, babes?