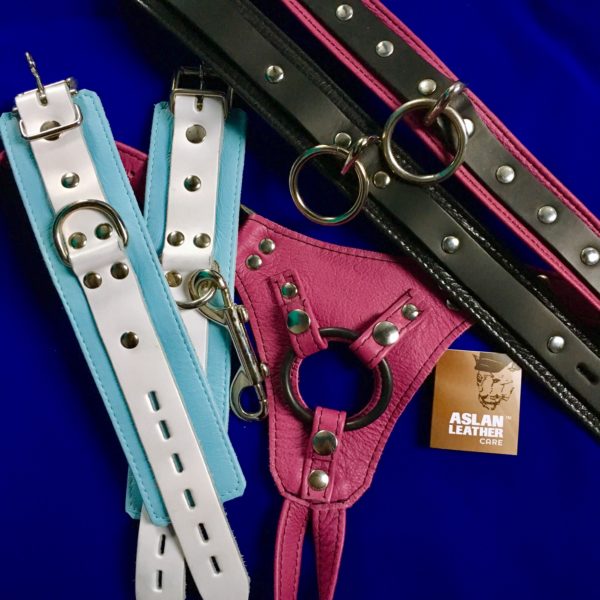 Here's a riddle for you. What's sexy as fuck, smells wonderful, and makes kinksters swoon?
No, not my vagina. Although: that too.
Nah, I'm talking about products made by Aslan Leather. Like my vag, they are glorious beacons of kinky wonderment, made right here in Toronto, and much-revered by sex-nerdy bondage enthusiasts. And this year I'm profiling Aslan as my favorite sex-products company of the year, because I just love 'em so very much.
I met Carey Gray – Aslan's fearless leader – at a Tell Me Something Good event back in mid-2015, when we co-judged that night's storytellers. Uncharacteristically for me, I struck up a conversation, because I just had to tell him how much I admired his beautiful products. He very kindly offered to let me review an item of my choosing from Aslan's catalogue – truly a kinkster's dream come true.
A few weeks and back-and-forth emails later, I found myself trotting down an alley to Aslan Leather's sorta-secret workshop in downtown Toronto. I had requested the Crystal Blue Cuffs, and the craftspeople plucked a pair from their overflowing stock drawers and handed them to me, all nicely wrapped and pretty as hell. On my streetcar ride home, I kept taking the cuffs out of my bag, holding them to my nose, and inhaling deeply. Like many people, I have a visceral reaction to the smell of leather: it's intoxicating, inviting, and sweetly sexy. Even now, if I open a drawer containing one of my Aslan products, the scent wafts out to greet me, and I feel both comforted and turned on.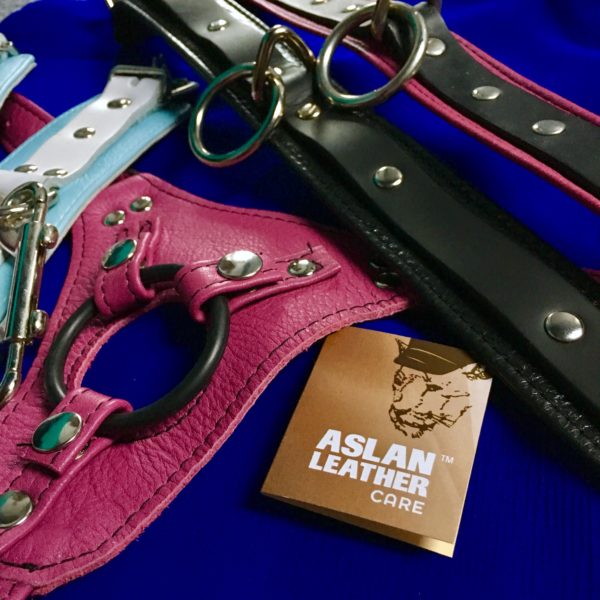 Since acquiring those gorgeous cuffs, I've picked up a few more Aslan products: two collars (one black and one pink, natch), and a pink harness. All of them are absolutely stunning, well-made, sensuously fragrant, and buttery-soft. I swoon a little every time I touch or see or smell an Aslan item. They are simply top-of-the-line, as far as I'm concerned.
A materialistic kinkster's heart is never sated, so I have a few more toys on my Aslan Leather wishlist. I'd love to own one of their ballgags (somehow I've never used a ballgag!), their pink leather paddle, and the ankle cuffs that match my wrist cuffs. I'm also all starry-eyed for the line of bluish-purple leather toys they released as a posthumous tribute to Prince (SheVibe carries the harness from this line, and it's a stunner).
In 2017, I hope to widen the variety of companies and craftspeople that comprise my kink-toy collection: I want a ballgag from Oddo Leather, a leather paddle from 6Whips, a Lexan glitter cane from RavenHawk, a chest harness from Mad Elephant, and a torquemada from Creative Kink. But for now, I'm pleased as punch that Aslan Leather items make up most of my kinkwear "wardrobe." They make me feel like the cutest little subby princess when I wear 'em, and that feeling alone is worth the price of the products.
What was your favorite sex toy company of 2016?