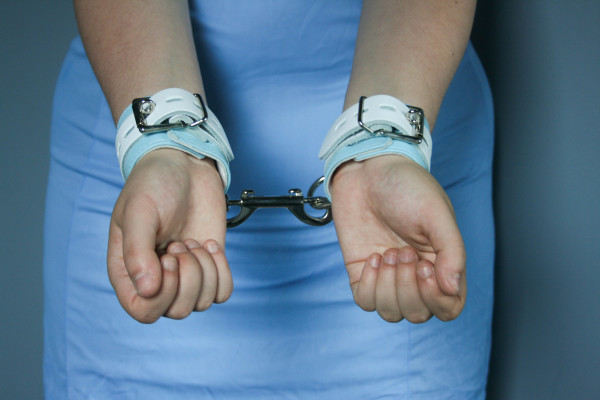 One of the reasons it's so exciting to be sex-positive in Toronto is our proximity to Aslan Leather. They make top-quality leather kink goods in their tucked-away downtown hideout. Their stuff is handmade, gorgeous, and all comes with a lifetime guarantee. Ooh, baby, yeah.
They were nice enough to hook me up with some Crystal Blue Cuffs to try. Actually they offered me anything I wanted, but since I already have what is perhaps their best-known and most-lusted-after product – the Jaguar harness – I figured I'd give their bondage goods a shot.
These cuffs are right up my alley: blue (my fave!) and white, classic kinky styling, and androgynous in such a way that they can look super femmey on someone like me but could be boyish in someone else's aesthetic context. Yuuuum.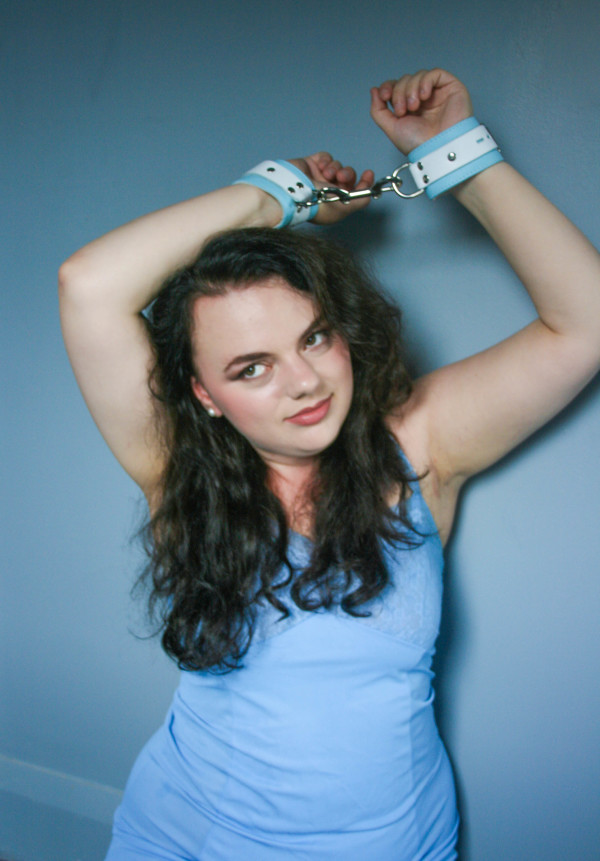 The cuffs are 2″ wide and have six holes that the buckle can go into. On my average-sized lady-wrists, the 3rd hole is the one in that sweet spot where comfort meets security. I've heard from other folks that Aslan is open to customization requests, so if you have particularly tiny or large wrists that these cuffs can't accommodate (unlikely), they could probably help you out.
I find these cuffs verrrrry comfortable. They're lined with vegan (a.k.a. fake) leather, which is softer than real leather and cushions your wrists slightly. The vegan leather is also a great feature for if your wrists get sweaty, because the moisture that could potentially stain real leather has no effect on the fake stuff. Brilliant.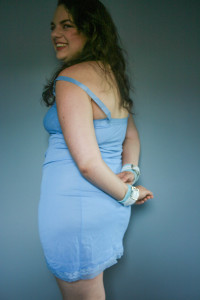 As always with Aslan products, the leather of these cuffs feels gorgeously soft and broken-in, and has that classic leather smell that is deeply sexy but not overpowering.
The buckles have a hole in them that enables you to padlock them, if you're so inclined. Unlike kink products made by companies who don't know their shit, these are designed with practicality in mind. You can't wriggle out of them once they're properly buckled and connected. In fact, during the photoshoot for this review, I kept having to ask my photographer friend to uncuff me so I could get into different positions!
The cuffs don't come with a connector, but Aslan sells a basic one, as do a lot of sex shops. You can also just tie the D-rings together with string or rope if you're feeling lo-fi (but make sure you're able to cut yourself or your partner free in a hurry, incase of an emergency!).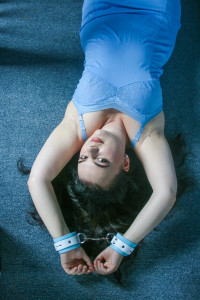 The comfort and prettiness of these cuffs makes me inclined to wear them in non-sexual scenarios too, as fashion accessories. They're just so damn lovely. If you can pull it off, I say, go for it: it's a kinda-subtle and adorable way to advertise your kinkiness on the streets!
If you, like me, enjoy matching your ensembles, Aslan can fill that need for you: the Crystal Blue color scheme is also available in ankle cuffs, a collar, a Jaguar harness and a Minx harness. You would be the cutest submissive on the block if you had a little ensemble of co-ordinating kink-wear!
You can buy Aslan products on their website; a smaller selection of their pieces is also available through various other shops, like SheVibe, Come As You Are, and Early to Bed. And buy them, you should, because they are stunning, high-quality, and they actually do what they're supposed to do: make your BDSM fantasies a reality.
Thank you so much to Aslan Leather for these wonderful cuffs!
Also: shout-out to my friend C.P. for taking these awesome photos. She also shot my bio photo and various other photos on my site, and is generally the best.