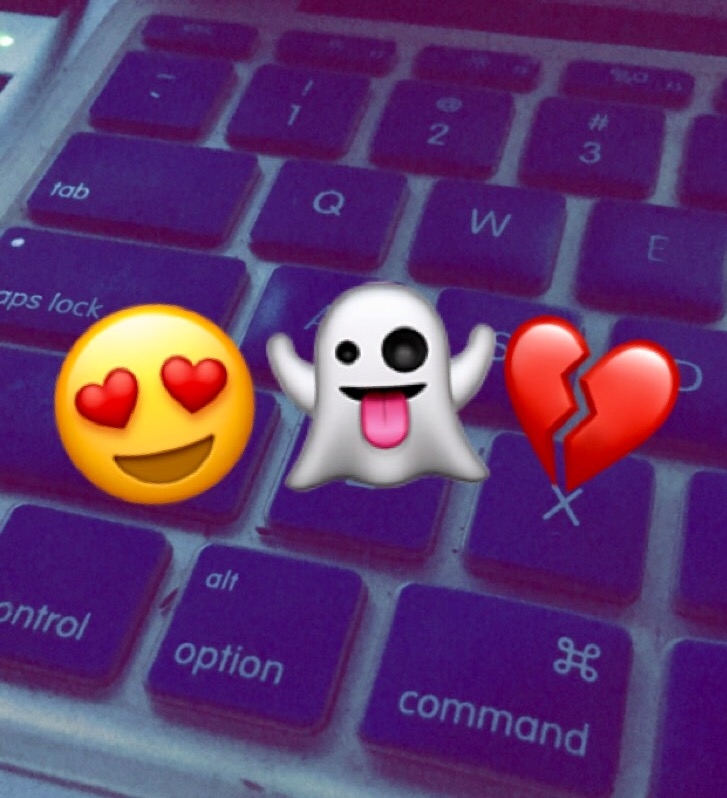 Sunday night. I am depressed. I have been depressed for a solid week, with no hypomanic reprieve. Shit is dire.
I have guzzled more wine than I ought to've, and smoked more weed than is probably reasonable. There are one or two crusted tears on my cheeks, but mostly I'm numb. Aching to feel something; aching to ache.
A new OkCupid message lands in my inbox, and I open it with the characteristic slowness of a person weighed down by depression. "Fuck. This profile was an intensely enjoyable read that had me grinning like a total idiot," it reads. "I don't even know where to start except HEY (for now)." Then he asks me something about toxic jelly dildos, which I mention in my profile. My ears perk up, and so do I, a little.
I flick through his profile – pictures, paragraphs, compatibility question responses – and it achieves the rare thing of making him seem more interesting rather than less. (Most men are atrocious at writing online-dating profiles.) I message him back.
Our conversation kicks into high gear almost immediately. Jokes. Stories. Questions. All-caps shouts of "ME TOO!" and sparks of recognition. He likes my puns. I care if he likes my puns. I talk about my work and he doesn't take it as an invitation to ask invasive questions about my sex life, as so many OkSuitors before him have. I am absurdly, miraculously, hastily hooked.
He tells me his full name – "incase you'd like to move this over to Facebook/creep me for mutual friends/affirm I am in fact a real person and not an elaborate cat-fishing account" – and, to my shock, it's almost exactly the name of a person I used to be in love with. Their first names are as close as Lee and Leo, and they have the same surname. Intellectually, I understand that this doesn't mean anything. Emotionally, it seems to mean quite a lot. It feels like the universe is shining a spotlight on this boy and shouting in my ear: Notice this person. Pay attention. He could be important.
We move things over to text. We talk about sex in a way that is flirty but not explicit – my favorite, when I don't know someone well yet. He's such a good flirt that I'm screaming and cackling at my phone – indeed so good that a friend christens him "Mr. Goodflirtz" when I relay the key points of our conversation later.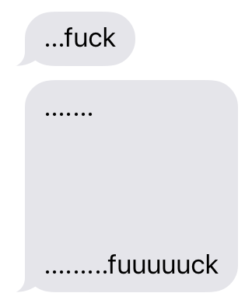 I send him a picture of me. Not a nude – just a cute selfie, where I'm pleased with how I look, and I look like the kind of girl that a man like him might be interested in. "Fuck," he writes back. "…Fuuuuck. I mean you are just so fucking good-looking." More cackling at my phone. More blushing, sweating, and covering my eyes. My heart is thudding.
But it's late, and I have to get some sleep – which I laughingly tell him even as he's still blowing up my phone with compliments in little green text bubbles. "Yes yes sorry," he writes. "Good night."
I do a thing I have done too many times, and have promised myself not to do again: I get over-invested. I turn his name and face over in my mind. I lie awake thinking about the dress I'll wear on our first date, and what we'll do after he tugs it off of me. Eventually, somehow, I fall asleep – and dream about his pretty mouth all night.
On Monday morning I am pinged awake by my phone's text tone. "That picture was the first thing I saw this morning as it was still open on my phone," I blink sleep out of my eyes to read. This is followed by some gratuitous information about how his dick is reacting to said photo and what he is doing about it – information I find charming, not alarming, because at this point I feel like I know him. He is a wizard with words. His words alone have made me want to kiss his face, suck his dick, build some kind of future. It's ridiculous.
"I'd gladly take any other pictures you'd like to share," he adds – politely, I think. But I have a boundary around this, which I explain to him: I don't like to sext with people before I meet them in person. It often makes me lose interest in them, or feel weird, so I tend to avoid it, especially if I suspect I might actually like the person. "Fair enough," he writes back. "Let's hang soon, then."
"I am free tonight or Thursday," I tell him, and he replies, "Thursday is probably best, but mayyybe tonight." We talk logistics – locations, times – and lapse once again into giggly half-sexts laced with wordplay. I'm still barely awake; I tell him I'm going back to sleep, and I'll be in touch later.
That afternoon, I send him a selfie of me looking put-upon and adorable. "This is my 'You should have drinks with me tonight' face," I caption it.
No answer. I try to keep myself occupied with other diversions. Four hours pass. I complain to my best friend, stare at my phone for far too long, then decide to take a nap, hoping I'll wake up to a text notification.
I wake up a few hours later. "I'm dying of anxiety," I tell Bex. "Why hasn't he texted me back?!" Bex, the greatest friend anyone could hope for, replies: "You don't know much about him. Maybe work got out of hand, maybe he has food poisoning, maybe something came up with his family, maybe a friend just went through a breakup, maybe he was up all night last night and fell asleep, maybe he got hit by a bus, maybe he's secretly a superhero and is fighting his arch nemesis, maybe he burned all of his fingers making tacos and can't use a phone, maybe his phone broke and he's at the store trying to get it fixed, maybe Pennywise lured him into the sewers with the promise of all the pussy he could eat, maybe he is volunteering at an animal shelter and got distracted by all the puppies, maybe he got lost in that weird circus store y'all have and has no phone service and is wondering if he's going to starve and should start eating his own arm… I could keep going." I laugh, but I'm still sick with anxiety.
"Or maybe he's a dick who decided to ghost after 12 hours," Bex continues, "in which case, you dodged a bullet, because you don't want to hang out with him, because he's a dick."
I do want to hang out with him, is the thing.
My anxiety disorder has decided this is the most important thing in the world. I barely sleep, barely eat. I feel nauseous over the idea that not only does "Mr. Goodflirtz" not want me, but no one wants me, no one has ever wanted me, no one will want me ever again. I wonder if he was only ever looking for a sexting partner. I wonder if he Googled me and got scared off. I wonder if he was using fake pictures and fake information to solicit nudes from me. I wonder if he was an undercover creep from 4Chan or the Red Pill. I can't stop wondering. My sleepless night is a whirlpool of uncontrollable wondering.
On Tuesday morning, I resolve that I will not text him.
On Tuesday afternoon, I text him. "Hey, would Thursday still be a good night to get drinks?" I hate myself immediately after pressing "send."
By Tuesday night, he still hasn't answered. I log onto OkCupid to stare longingly at our messages – and I see that he's online. After fighting the urge to anxiety-puke, I fight the not-altogether-different urge to message him some variation of "Yo, what the fuck, bro?!" I have to physically close my computer and walk away from it to keep myself from doing this. It feels like the most difficult thing I've done in a very long time.
On Wednesday I go to a therapy appointment. I sniffle and sob while telling my endlessly compassionate therapist about this dumb boy and all the dumb feelings I'm feeling about him. It's a double-whammy: I'm hurting because he disappeared, and because I'm embarrassed by how much this has hurt me. He didn't owe me anything. I know that. And yet I can't help feeling wronged. Dropped. Ghosted.
"You just lost your job, you're still dealing with the fallout of unrequited love, and then this happened," my therapist points out, reasonably. "You've been rejected a lot lately. Rejection hurts. But it's not a reflection on you. It doesn't mean you're unloveable."
Tears stream down my face. I know she's right. But I don't believe she's right. They are two different things.
My phone's been on Do Not Disturb mode for the duration of our appointment, like it always is – and as I walk out my therapist's office door, I press the home button, blindly hoping. But nope. Still nothing. The ghost is still dead, and so, it seems, is my heart.
A fuckbuddy I was supposed to see on Wednesday night texts to say that he's sick, and to ask if we can reschedule for next week. I know him well enough to know he isn't lying, but my anxiety suspects he might be – because I distrust all men right now. If someone could be so enthusiastic about me and then disappear off the goddamn face of the earth, then everyone could be lying about everything. I ignore the anxious voices in my head and choose to accept that a request to reschedule is indeed a request to reschedule – not another rejection, perched upon my already precarious heap of recent rejections.
On Wednesday night, I spend hours in bed just numbly staring at the ceiling, trying to figure out what I did wrong, what I can do differently going forward. I grab my phone and open Tinder. I know it's bad. I know. It's like an alcoholic trying to nix their "one last" hangover with "one last" hair of the dog.
But it makes me feel a bit better. I flirt with a few boys, until I find one I actually connect with on some level. We talk, and joke, and learn about each other, in the formulaic dance that early online-dating interactions all tend to follow. It's not fiery with white-hot excitement like it was with Mr. Goodflirtz, but it's something.
We schedule a date, and I go to sleep, dreaming of someone new.
I don't think about my ghost much on Thursday. But late that evening, my phone's text tone beeps, and my heart leaps into my throat. I claw the thing out of my purse at lightning speed.
"How are you feeling today?" a friend has texted to ask – and I'm so goddamn angry at myself for being disappointed.